Executive MBA+, blended format taught in English
The Executive MBA follows an innovative design with a structure formed of a Core Period and a specialization Module. The Core Period covers the characteristic areas of study of an MBA, while the Module applies this knowledge to your area of interest. You may then choose 1 out of 8 specialization Modules, changing the program format and language of instruction if you wish. Your program is hereby transformed into a multilingual, multiformat program.
The blended format adapts to your personal and professional needs, without you having to sacrifice any work commitments and having to travel to Madrid. You will have the opportunity to access an international network that consists of coursemates following the program from different locations around the globe This format truly reflects the working practices of the world we live in today, and helps everybody to remain connected without actually having to relocate.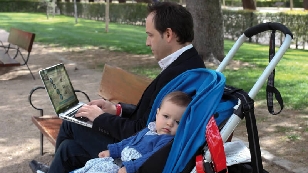 Ver Detalles
Pre-program (optional)
Before beginning the masters program, students attend pre-programs online in Management Accounting and Financial Accounting, accessible via the IE Online Campus.
Intake 1:
APR Intake 2:
NOV
If you do not have prior experience in these areas, it is recommended that you complete the pre-programs to ensure you have a basic knowledge of them before these subjects are taught during your program.
Courses
Financial Accounting

Gives an understanding of the fundamentals of accounting which allows students to understand the mechanics behind accounting records. This is developed via the simulation of a real company case.

Management Accounting

The course develops through the simulation of the creation of a company, in which students must complete actions which require the use of the material taught, thereby demonstrating its importance.
Extend
Period in Madrid
Students are introduced to the first subjects and attend a series of conferences that cover various disciplines within Humanities, and workshops about management skills and competencies. It's the time to get to know your class mates and professors, with whom you will share an unforgettable experience that will change your professional career, and ultimately, your life.
Intake 1:
APR Intake 2:
NOV
Classes are held from Monday through Saturday, supported by a very intensive course syllabus which will require you to dedicate an estimated 12 hours a day, in whihc you'll have to alternate between lectures and of group work.
Courses
Orientation Day

The program begins with the Official Opening Ceremony and the Orientation Day, which includes workshops such as Case Methods, Networking, Ethics and Collaborative Tools.

Face-to-face Period

Includes workshops in Strategic Communication, Teamwork and Diversity Management. It's a time to deepen integration between class members. The period lasts three days and takes place in Segovia.
Extend
Online Period
Once the week in Madrid has been completed, the Core Period of the program continues online. This marks the beginning of an intensive and extremely demanding learning process, which aims to strengthen your skills and provide you with the knowledge necessary to continue your professional progression.
Intake 1:
APR Intake 2:
NOV
The program aims towards transforming its participants. It will help you to plan your personal strategy for the future and to attain professional leadership. We want to create and develop professionals who are competent, confident in themselves, capable of taking on responsibilities and leading organizations and simultaneously help them maintain their professional ethic which characterize a successful manager or entrepreneur.
Courses
Leading people in organizations

Financial Reporting and Analysis

Economic Environment and Country Analysis

Commercial Management and Marketing

Innovation Strategy & IT
Extend
Period in Madrid
This period lasts 1 week and takes place in Madrid. It closes the first online Core Period and gives way to the summer break in August. It will mark the completion of certain subjects, and professors will therefore set group presentations or another form of evaluation which complements the work carried out online.
Intake 1:
MAR Intake 2:
OCT
The Executive MBA+ Blended is the most balanced program in terms of online and face-to-face education, offering the best of both worlds. It's ideal for those professionals looking for the flexibility of an online course in order to accommodate their professional schedules and personal lives, as well as maintaining regular face-to-face contact with their fellow students, and enjoying the full experience of an on-site master's program.
Extend
Online period
During the second period, students will acquire a global and integrated outlook towards the actions and strategies of different organizations. It is in this period that each problem that may affect a business is analyzed, highlighting the impact that it will produce in all areas of the busyness, thus integrating the knowledge acquired up until this point.
Intake 1:
MAR-JUL Intake 2:
OCT-DEC
In every period of online study, you will work with a different group, chosen from amongst your fellow class members by the program directors.
Courses
Management Accounting

Competitive and cooperative strategy

Finances for decision making

Creating value through operations

Entrepreneurial Management
Extend
Choose your Module
Please select a specialization module that you would like to pursue during your program.
Extend
Specializations
+Advanced Global Management
We help students develop new skills and adopt a broad perspective in relation to business and companies. We want them to become strategists, architects of their organizations and leaders. They have to learn how to manage the threats and opportunities that arise in an increasingly complex and competitive environment where it becomes more difficult to maintain a competitive advantage.
+Marketing
Allows students to acquire the necessary skills to exploit the comparative advantages of their company and convert them into substantial competitive advantages, which will assist in the development of their professional careers.
+Healthcare
Helps students acquire the tools they need to face specific industry challenges and allows them to become efficient players and leaders in the sector.