Global MBA, combining online and face-to-face learning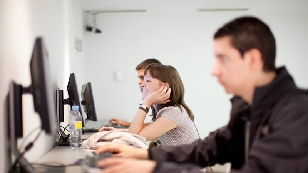 Details
The IE Admissions Department conducts a rigorous recruitment process to select students among the large number of candidates applying for admission by choosing dynamic, motivated, creative, candidates with high potential, who excel not only in their academic and professional lives but also through their interpersonal skills.
Online application
The online application will allow us to get to know you and to decide if you are a suitable candidate for this program. During this process you will have the opportunity to attach all documentation required. You can save your application at any time throughout the process, it will not be reviewed by the Admissions Committee until it has been submitted and the application fee has been paid.
Admissions requirements:
University Degree and Transcripts
A minimum of three years of post-graduate professional experience
IE Global Admissions Test (ieGAT) or equivalent (GMAT or GRE)
English track: Non-native speakers are required to provide an English language certificate (TOEFL, Pearson PTE Academic, IELTS or Cambridge CAE/CPE)
Online application
2 Letters of Recommendation
Work Verification Letter
Work Organizational Chart
Passport copy
Passport photo
Curriculum Vitae
3 Essays
Interview
Those candidates who have completed and submitted their online application and pass the initial evaluation made by the Admissions Committee, will be invited to a personal interview. During this phase all submitted documents will be examined in close detail to assess whether the candidate's profile meets the program requirements, and whether he/she will therefore add value to the class, as well as develop their own skills and knowledge and gradually, themselves. Since the interview is an essential element in the admissions process,it is recommended it be conducted in person. If a candidate does not have the opportunity to come to our campus in Madrid, he/she has the option to attend the interview via video (Skype), in coordination with an IE event, or with a representative from one of IE's 25 offices worldwide.
Final decision
Once the interview has been completed, the Admissions Committee will evaluate all aspects of the application as a whole and will make its final decision:
1. Unconditional Admission - will be granted to applicants who have met all the requirements and whose profile fits the program.
2. Conditional Admission - will be given to applicants who have the right profile but have not yet met all of the requirements. Once this last step is completed, the Unconditional Admission will be granted .
3. No Admission -the candidate does not fit the profile of the class.
The admission to a program is valid for 2 intakes, the one for which the candidate applies, and the next one. Admission does not guarantee a place in the requested intake, so it is recommended to secure a place through a place reservation as soon as possible.
Your personal data will be entered into a file belonging to Instituto de Empresa S.L. for the purpose of sending you information on its activities.
You consent that all communications may be made by electronic means.

You can exercise your rights of access, rectification, cancelation and opposition in accordance with current legislation (Data Protection Act 15/1999, December 13th) by requesting to do so, in writing, addressed to Instituto de Empresa at Calle María de Molina, 13, 28006, Madrid, or by e-mail to soportededatos@ie.edu.