Named the "most innovative curriculum" of any MBA program by Bloomberg Businessweek, IE´s International MBA strives to develop General Managers and Future Leaders by integrating theory, practice and creativity, over the course of 13 months. The programs is considered one of the leaders worldwide and combines entrepreneurship, diversity and the humanities with a unique focus on social responsibility. To maximize the learning potential of every student, IE strongly believes in facilitating the exchange of ideas, cultures and experiences in a highly interactive environment, to bring students closer to markets, and real business practices.
Pre-Program and Core Period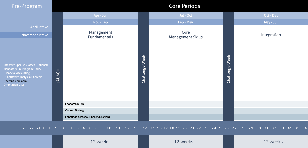 Details
The Core of the International MBA is designed to convey a global perspective of business and requires all students to undergo the same curriculum to achieve a sound foundation in General Management and a well-rounded understanding of business.
In addition, the importance of soft and interpersonal skills is emphasized through the Challenge Weeks and the Leadership Lab, while being able to prepare and plan future career paths is stressed as part of Career Strategy.
IMBA+
The IMBA+ period offers value-added options to customize the MBA experience to your needs through for example corporate internships, consulting projects, international exchanges, dual degree programs with for example Yale and MIT, and the IE Venture Lab.
In addition, students can turn their program into a bilingual one, by completing the Core in one language (either English or Spanish) and IMBA+ in another.
For more information, please use our interactive program structure below
Pre- Program
Getting into the right mindset before the program starts
Intake 1:
APR Intake 2:
NOV
Around one month before the actual program start of the International MBA, students attend several mandatory online classes to build a strong base from an academic, and careers perspective. As an optional part, students can choose to attend a free Spanish Crash-Course that is held on IE's campus in Madrid.
IMBA Opening Day
Courses
Quantitative Analysis

Financial Accounting

Careers pre-program

Intensive Spanish Course (Optional)
Extend
LAUNCH
Leadership, Awareness, Understanding, Networking, Communications, Humanities
Intake 1:
APR Intake 2:
NOV
Before starting the first core period, students participate in LAUNCH, an intensive series of fun and interactive classes that is part of the Challenge Weeks. The main objective is to train and prepare students in a range of competencies necessary for strong and successful performance at the managerial level.
Extend
Core Period 1
Management Fundamentals
Intake 1:
APR - JUN Intake 2:
NOV - FEB
The first period of the Core leverages the skills of students from different academic backgrounds and equips you with the tools you will use throughout the remainder of the International MBA. This period also includes a thorough introduction to entrepreneurial studies - a cornerstone of IE Business School's approach to business education.
Prof. Lee Newman: Positive Leadership in the Workplace
Liz Fleming: The new Entrepreneurship Law in Spain
Courses
Communication Skills

Financial Accounting

Managerial Decision Making

Managerial Economics

Leading People & Teams

Strategy

Entrepreneurial Management

Introduction to General Management

Leadership Lab I

Career Strategy I
Extend
Challenge Week 2
Pushing yourself beyond your comfort zone
Intake 1:
JUN Intake 2:
JAN
A one week long interval during which students get a taste of real life as they have to analyze, debate and present findings on different project engagements presented by external collaborators.
Extend
Core Period 2
Core Management Skills
Intake 1:
JUL - OCT Intake 2:
FEB - MAY
Extend
Challenge Week 3
Striving in uncertain and ambiguous environments
Intake 1:
SEP Intake 2:
MAY
Most recently the 3rd challenge week has focused on how to manage change within an organization. During the five day challenge, students will tackle numerous problems related to Change Management in the form of a case study designed exclusively for IE Business School by a top consulting firm.
Extend
Core Period 3
Integration
Intake 1:
OCT - DEC Intake 2:
MAY -JUL
In the third period, which concludes the Core, students will develop a global vision of management, looking at the world through the eyes of a general manager - internally with a focus on effective organizations and change management, as well as externally by considering the role of business in society.
Prof. Enrique Dans: Challenges in Social Media
Daniel Corsten: Are we compulsive Consumers?
Courses
Business, Government & Society

Corporate Finance

Managing People at Work

Marketing Strategy

Supply Chain Management

Integrative Core Plus I

Integrative Core Plus II

Leadership Lab III

Career Strategy III
Extend
IMBA+
Customize your Program
Intake 1:
JAN - MAY Intake 2:
SEP -DEC
The IMBA+ period, allows students to customize their International MBA program based on individual needs and interests by choosing from a variety of options which are listed in the link below. Some of these options may vary according to the intake.
Courses
Electives

IE Venture Lab

IMBA in Practice (Internship)

Social Impact Project

International Exchanges

Consulting Projects

Dual Degrees
Extend
Final exam and Graduation
Team Work
Students of the International MBA are divided into small workgroups, which are carefully formed to ensure maximum diversity. These kinds of groups are not fixed and will change over the course of the core part for each period of the program to maximize the opportunity of working with different peers.
Interactive Learning and the Case Method
As part of the International MBA, student will have access to a wide range of multimedia tools: simulators, interactive graphics, videos and podcasts, completely interactive case studies and technical notes, as well as online investment tools, such as Bloomberg, housed in IE's very own Trading Room. Overall, each area of business is studied using practical cases, most of which deal with the real problems that may arise in different company contexts.
What is a case study
Multimedia Cases - IE Learning Methodologies