Program Structure
The +Healthcare Management specialization combines short face-to-face periods with online interactive distance learning periods; a format that guarantees maximum flexibility allowing participants to follow the program regardless of their geographic location, travel schedules and work commitments.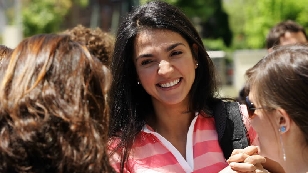 Ver Detalles
The Global MBA+ and Executive MBA+ Programs are part-time and compatible with your professional activity. These two Master Programs have been designed to provide you with a global view of business and the necessary analytical skills while further developing your entrepreneurial and innovative spirit ultimately aiming to transform you into a highly effective, creative and socially responsible manager.
You can personalize the program to your needs by selecting from the available language and format options.
Extend
Face-to-face
Face-to-face +Healthcare Management kicks off with a short residential period in Boston. To ensure a 360º view of the biotech industry, students visit the most relevant companies in the sector, where they get to interact and network with top executives, and attend a series of conferences on the latest challenges and opportunities in the industry.
Intake 1:
SEP-FEB
Why Boston
To strengthen the link with the real world, the first face-to-face period will be held in Boston, amid the world's largest density of biotech companies. Boston is home to a wealth of prestigious universities and advanced research centers with a long history in the creation of business from science and technology, and to international headquarters of many of the sector's leading companies.
Courses
Introduction to Biotech Management

Economics of Healthcare

Business Development in the Life Sciences

Biotechnology Marketing & Sales Management

Operations & Quality in the Life Sciences

Finance & Global Life Sciences Business

Strategy Implementation & Uncertainty Management

Innovation and R&D Management in the Life Sciences

Intellectual Property in the Life Sciences

Regulacion of the Life Science Industry

Entrepreneurship

Career Development Workshops
Extend
Online
Online interactive learning occurs between each face-to-face period, ensuring continued learning and connection between classmates for the duration of the program. Students can study from anywhere in the world and follow the program regardless of their geographic location, travel schedules and work commitments, and can implement new knowledge and skills immediately in their everyday workplace.
Intake 1:
SEP - FEB
For over a decade, IE has been investing and adapting its platform to efficient, effective online learning. This platform hosts all program materials and discussion forums, and is open 24/7, allowing students to interact at the time that best fits their schedule.
IE's methodology comprises 3 main phases:
Individual preparation: reading cases, chapters, technical notes, etc.
Group discussion and assignment: completion of the group assignment as indicated by the professor.
Class forum: open class debate where every intervention is published in written form, promoting maximum reflection and analysis among all students prior to posting their contributions to the discussion forums.
Extend
Face-to-face
The 2nd face-to-face period is held at IE's urban campus in Madrid. This is the last official get-together of the +Healthcare Management class, where participants will have to present their final group project presentation to the panel.
Intake 1:
SEP - FEB
This is especially interesting for all entrepreneurs among the group, as they will have the opportunity to present their projects to the Venture Lab and find potential investors to make their entrepreneurial project come to life.
Extend
FINAL PROJECT PRESENTATION AND GRADUATION