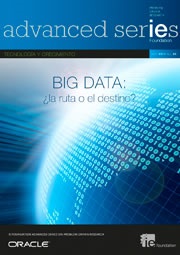 Big Data
*This publication is not available at the moment in English version. Este informe, en colaboración con Oracle se centra en el concepto de "Big data" y los principales retos asociados con este uso para fines de negocio. Tras el inicio del tercer milenio, las compañías tienen acceso a la información de una forma sin precedentes. Los datos, que se generan a través de un sinnúmero de aplicaciones y de sistemas que sirven como soporte a los procesos de negocio, las transacciones comerciales y las redes sociales, entre otros, se encuentran no sólo en formatos estructurados y en bases de datos tradicionales, sino también en forma de imágenes, voz, posicionamiento geográfico, etc. La información está disponible en tiempo real, lo que significa que las organizaciones pueden acceder a ella tan pronto como se genera.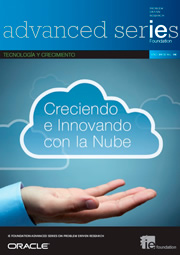 Creciendo e Innovando con la Nube
* Note: This publication is not available in English version. Este informe, en colaboración con Oracle, trata sobre la Computación en la Nube representa una convergencia de dos grandes tendencias en TI: la eficiencia de TI, a través de un uso más eficiente de recursos de hardware y software altamente escalable; y la agilidad del negocio, mediante la utilización de las TI como una herramienta competitiva que permite un despliegue rápido, potencia el análisis de grandes volúmenes de información, y posibilita responder en tiempo real a las necesidades de los clientes. Este documento introduce la Computación en la Nube, describe su potencialidad para fomentar la innovación en las empresas, y analiza la situación actual en España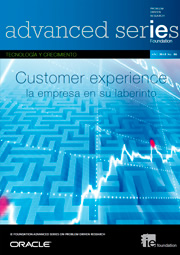 Customer Experience, la empresa en su laberinto
* Note: This publication is not available in English version. Este informe, en colaboración con Oracle, se centra en el cambio que se ha producido en el escenario empresa-cliente y la forma de relacionarse con los mismos. La empresa sólo puede permanecer en el mercado si se adapta escuchando, conociendo y comunicando. Escuchando de forma inteligente a través de todos los medios por los que el cliente decide hablar de o con ella. Conociendo, más allá de la información transaccional, la información social. Comunicando sin notas de prensa, hablando con personas y como personas, y generando contenido que aporte valor y al que al que el cliente quiera suscribirse. Nuevos tiempos,nuevas herramientas, nuevas habilidades.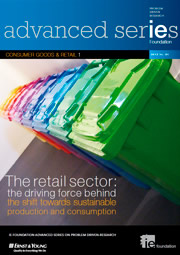 The Retail sector
This report in collaboration with EY pivots around the thesis that the retail sector can use its strategic positioning to have a real and effective influence on suppliers and consumers, making all phases of the product value chain – design and manufacturing, packaging, transportation, and consumption – more sustainable.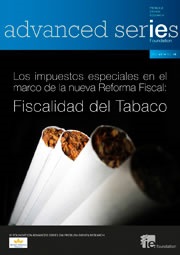 Download Report
*This report is not available in English version. Este informe en colaboración con British American Tobacco se centra en el impuesto especial con la mayor capacidad recaudatoria tras el de hidrocarburos: el impuesto sobre el Tabaco en España. En España, más de un 79% del precio final de los cigarrillos corresponde a impuestos (IVA e Impuestos Especiales sobre las Labores del Tabaco). En 2013 este impuesto aportó a las arcas públicas 9.119 millones de euros a través de impuestos especiales e IVA del tabaco, lo que representa un descenso del 2,8% respecto a lo embolsado en 2012. Desde 2010, como consecuencia de la caída de ventas legales a través de la red de expendedurías de tabaco del monopolio minorista, la contribución del tabaco a las arcas públicas ha retrocedido un 7,65%.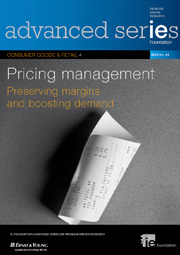 Pricing management. Preserving margins and boosting demand
This report, in collaboration with EY is about the range of factors that are squeezing business margins, such as decreased consumer spending, increased market transparency via internet and low-cost competition from emerging industrial powers, like China. Executives must focus on pricing, because they can no longer rely on sales growth and inflated markups. As companies' most powerful profit lever, pricing is the most effective way to boost profits.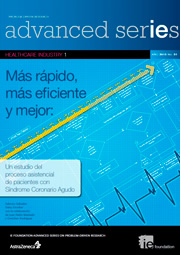 Más rápido, más eficiente y mejor
*Note: This publication is not available in English version. AstraZeneca, como compañía innovadora en la investigación, desarrollo y producción de medicamentos, ha querido ir más allá de la búsqueda de soluciones para un determinado problema de salud e innovar también en la gestión sanitaria. Para ello, se ha centrado en la gestión de una patología concreta por su relevancia e impacto en la Atención especializada, como es la patología del Síndrome Coronario Agudo. El crecimiento del gasto sanitario constituye una gran carga para las finanzas públicas de los países de la Unión Europea, y amenaza con convertirse en insostenible en un futuro cercano. En España, la atención sanitaria representa el 32% del presupuesto de las comunidades autónomas, las cuales acumulaban ya en 2010 una deuda de 15.000 millones de euros. Las proyecciones indican que de no corregir tal tendencia, en 2050 más del 50% del presupuesto de las comunidades autónomas tendría que dedicarse a la asistencia sanitaria y la deuda global del sistema podría alcanzar los 50.000 millones de euros.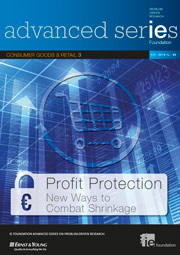 Profit Protection. New ways to combat Shrinkage
Retail is a vibrant part of the Spanish economy. This report, in collaboration with EY, would like to talk about the reduction of the growth and profit expectations for Spanish retailers and their suppliers due to the current global economic crisis. Many firms are exploring new ways to increase profitability and growth. Shrinkage contributes substantially to retail losses. Reducing shrinkage is therefore an important opportunity and perhaps "low-hanging fruit" for retailers to amplify their profits.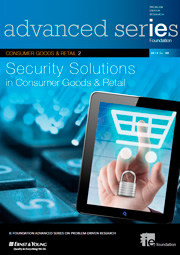 Security Solutions in Consumer Goods and Retail
This report, in collaboration with EY, is about the constantly evolution in Technology and so is the way we use technology in our daily lives. To a greater or lesser extent, cloud computing, social media, and mobile devices are part of our lives. What new risks do companies face when implementing new technologies for use by employees and customers?