IE Law School is a hub for innovation, technology, critical thinking and enriching experiences. To achieve this, and as part of its aim to build lasting professional relationships, the school works closely with the American Bar Association (ABA) International Law Section. The ABA is the largest voluntary association of lawyers worldwide; it serves to raise the standards for legal education, advocate for the profession, advance the Rule of Law and provide resources for its members' professional growth. This year, the ABA International Law Section held its Fall Conference in Espacio Maldonado (Madrid), with IE Law School as the host of the kickoff event with more than 300 attendees.
A SPECIAL WELCOME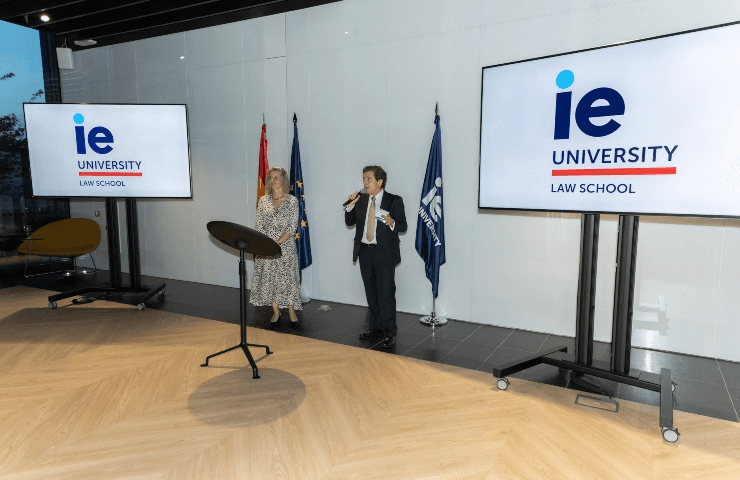 The Madrid Fall Conference began on Tuesday, September 13 with a special inaugural speech given by His Majesty King Felipe VI. Attendees excitedly gathered for the incredible opportunity to be welcomed to Spain's capital by H.M. King Felipe VI himself, with time for pictures and introductions following. The event continued strong with a high-level discussion between top attorneys, a keynote from the US Ambassador to Spain and Andorra, Julissa Reynoso Pantaleon, a series of panels and a short networking break.
Afterward, attendees selected their final afternoon panel. IE Law School's dean, Soledad Atienza Becerril, served as the moderator to leading international professionals prepared to discuss the future of legal education in a session titled, "Responding to Global Challenges and Opportunities in the Legal Profession: Are Law School Curricula Past Their Sell-by Date?"
DISCUSSING THE FUTURE OF LEGAL EDUCATION
Panel speakers, Constanza Vergara Jaakkola, partner and corporate development director for Pérez-Llorca; Victoria Cromwell, co-vice chair for IBA Academic & Professional Development Committee; Martin Hogg, head of the National University of Ireland School of Law; and Mari Cruz Taboada, partner and head of client management & legal innovation for Lexington Consultants, dove into various topics including online education, recruiting, training and contracting talent, and legaltech.
The speakers offered in-depth insights into the current happenings in the industry. Victoria noted young lawyers are looking for the opportunity to upskill and the ability to qualify, recommending that law schools embed content that introduces students to other jurisdictions and teaches them to be "O-shaped lawyers."
Similarly, Constanza emphasized that institutions must disrupt the status quo and start training toward what the newer generation wants: "we must adapt to them, but they also must adapt to us." Mari Cruz explained why lawyers should be trained in both hard and soft skills, while Martin covered the importance of law and technology, and how many leading law schools are putting tech—such as basic coding—into the curriculum.
The most important trend, according to Soledad, is internationalization. Legal education is becoming more international and institutions like IE Law School are adapting to the shift by building more international training into their curricula. Students at IE Law School are given the opportunity to internationalize their practice by participating in moot courts, studying abroad, specializing in jurisdictions outside of Spain and learning from an international perspective.
A VISIT TO THE INCREDIBLE IE TOWER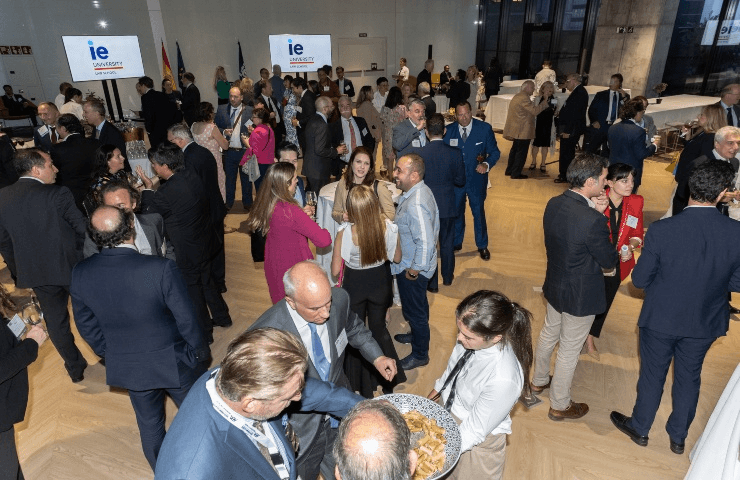 The panel discussions closed and attendees were transported to IE Tower for a special cocktail event in which IE Law School was incredibly honored to host. Soledad welcomed attendees and alumni, describing IE Law School as a multidisciplinary, global driver of innovation. Its international nature is further proven by the 150 countries represented among its students, with the third-most prevalent nationality being US students. The school shares the values of the ABA International Law Section, promoting a space for debate and networking within the legal profession.
Soledad then welcomed Marcos Ríos Larrain, ABA International Law Section chair-elect, to the microphone. Marcos described IE Law School as "one of the most dynamic and modern law schools that you can find—even compared to international institutions—with LL.M. programs that go beyond." Marcos went on to thank Soledad and IE Law School for the invitation to the stunning IE Tower, and for being such a large part of the ABA International Law Section Fall Conference.