At IE Business School, we're passionate about taking your learning experience outside of the classroom and into the real world; offering you as many opportunities to expand your horizons as possible.
5
min read
The Global Immersion Week is a unique opportunity to dive into the real world of international business markets by visiting your choice of one of three destinations. Available for our Executive MBAs and Global Online MBA students, the Global Immersion Week allows you to have the opportunity to expand your network with students from other executive programs, attend masterclasses, visit companies, and meet local and global executives, all while exploring a new culture.
Each year, IE Business School offers the Global Immersion Week in three distinct locations. In 2022, our students had the choice to attend Berlin, Dubai or San Francisco—three distinct opportunities to make the most out of their Executive MBA.
Dubai
Federik Von Hagen is a business executive with over ten years of experience in financial services—he currently heads an international business strategy team based in Frankfurt.
Having lived across the world, Federik decided to immerse himself in yet another international community and pursue his Global Immersion Week in Dubai.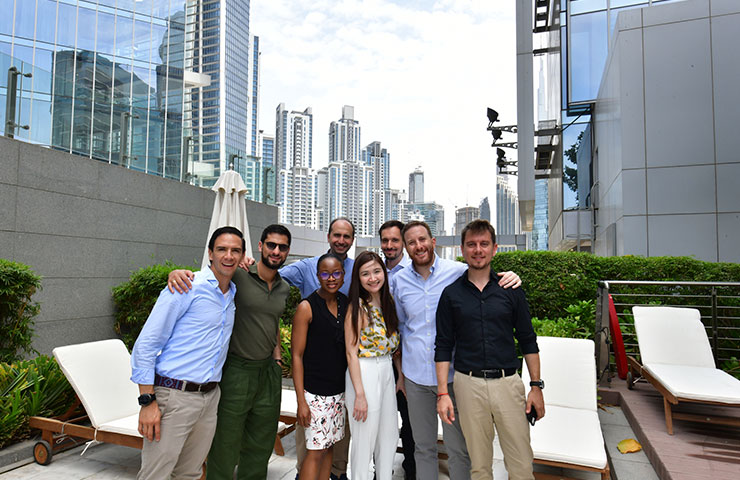 For Federik, this executive degree has taken his international network to new heights. Specifically, Global Immersion Week allowed him to capitalize on the program and learn from like-minded professionals. Federik opted for Dubai because of its mindset, which drove its transformation from a small desert town into a global hub. When he looks at the Burj Khalifa, he knows that in Dubai, the sky's the limit.
For me, Global Immersion Week is an essential part of the program as it allows you to put theory to practice and further expand your network with real-life companies.
During Global Immersion Week, Federik attended talks with global heavyweights including Google, Cisco and Uber, learned vital lessons from the founder of Algodriven, and discovered the interesting story behind Kitopi—a cloud kitchen.
It's unique to learn how a company like Uber manages to localize their offerings in the region, for example, by empowering women in Saudi Arabia after they were allowed to drive. In addition to global tech companies, it was extremely interesting to meet regional players that scale out of Dubai.
Berlin
Yuliya Yudina currently works within the digital, AI and fintech industries; she decided to immerse herself in Berlin to experience another side to these dynamic startups.
As part of the Executive MBA program at IE Business School, the Global Immersion Week is a valuable opportunity and I took advantage of an incomparable chance to enrich my learning experience.
Yuliya attended many inspiring speeches during Global Immersion Week. For example, she discovered how companies are addressing sustainability and innovating new solutions for existing issues. She also learned that "innovation is as much about discipline as it is about creativity."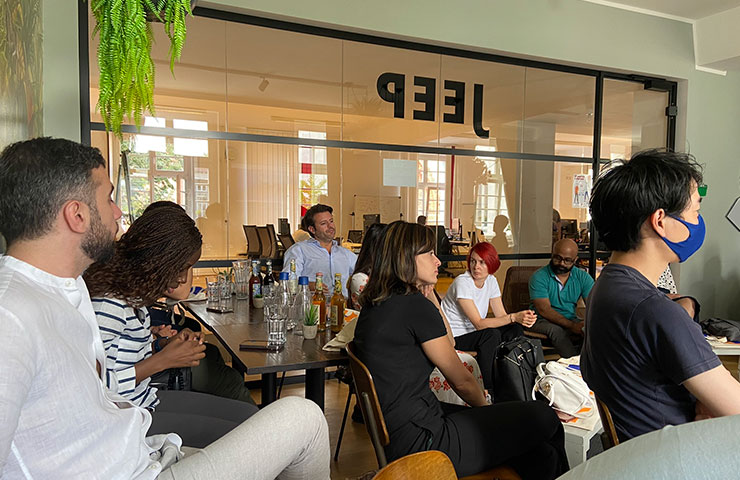 As part of the week, Yuliya attended talks with fintech SumUp, e-commerce company Zalando, and Merantix, an AI campus.
In addition, she immersed herself in the culture and history of Berlin—an enriching and mind-opening experience.
It is difficult to pick a particular moment as the most interesting. I believe the overall experience—the learning, the meetings and networking in a multicultural, urban setting—was the highlight. Individually these experiences would have been interesting, but together they were truly incredible.
San Francisco
Divya Subhash is a sales specialist for business cloud services at Microsoft with a passion for sustainability, technology and innovation.
The Executive MBA has fuelled her with knowledge and the Global Immersion Week was an opportunity to take this beyond theory and to San Francisco, the Disney World of Tech Business.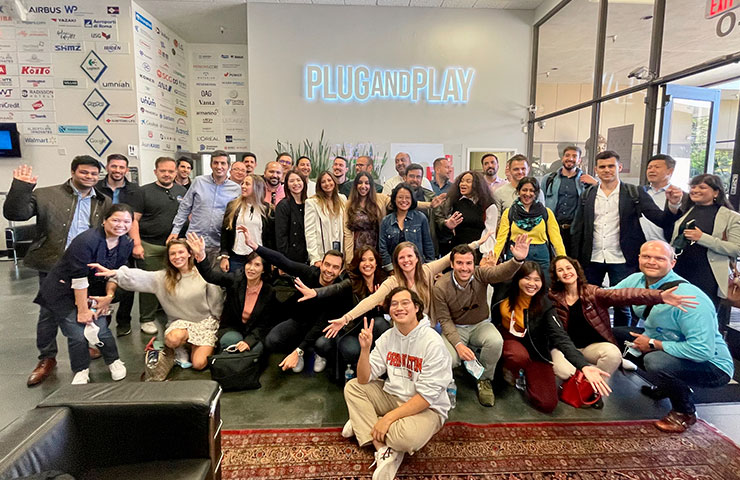 Divya had the opportunity to hear from tech professionals at the top of their game—including Timothy Marks, Engineering Leader at Twitter—and attended the Plug and Play meeting, a networking opportunity bringing together change-makers and industry leaders. Of course, Divya took advantage of her time there and also attended cultural events such as visiting the Ferry Building and exploring downtown.
This experience of Global Immersion Week has definitely lit a passion for pursuing innovation and entrepreneurship.
Mei Yi Kok also participated in the San Francisco Global Immersion Week. Mei is the Head of Projects and Partnerships at The Boralis Group with over ten years' experience in managing complex data-driven projects.
Based on the new insights gained in San Francisco, Mei concluded that there are two types of companies in the world today—tech companies and "expired" companies. Modern-day professionals must either understand businesses through big data or quickly become obsolete.
She also developed her own perspective surrounding the importance of staying competitive no matter what industry you work in. During Global Immersion Week, Mei was inspired to step outside of the box and be open-minded about new developments and how they might shape the industry's future.
The Global Immersion Week was an eye-opening experience, allowing me to involve myself in what to me seems to be the cutting edge of how businesses are evolving today.
Making the most of each opportunity
Global Immersion Week is a key part of taking your learning to new heights and enhancing the Executive MBA experience overall. Our students' time abroad has set them on the path to future success in an ever-changing world. Having learned an incredible amount in such a short space of time, here's what our students had to say to future Global Immersion Week participants:
"Remain headstrong and enjoy the enriching journey of the Executive MBA at IE Business School, with its plethora of programs and immersive sessions."
            —Divya Subhash, Executive MBA student and IE Global Immersion Week Participant
"Global Immersion Week is an experience that I would advise any professional to take, whether they are pursuing a corporate career or entrepreneurship. It gives access to the most recent business knowledge, a network of great professionals and, moreover, a lifetime of memories."
            —Yuliya Yudina, Executive MBA student and IE Global Immersion Week Participant
"The program really helped me find new innovative solutions and provided me with a holistic view on business challenges. I didn't expect such a change in mindset."
            —Federik Von Hagen, Executive MBA student and IE Global Immersion Week Participant
"Each session provided us with very meaningful insights about industry trends and—more importantly—the motivations behind these leaders and entrepreneurs."
—Oscar J. Herbon
"For the students that are doing the blended problem like me, we don't have the opportunity to meet our classmates regularly, so the GIW was a good opportunity to expand my network with students from other programs."
            —Antonio Andújar Fernández
"The amazing entrepreneurial energy in Silicon Valley was incredible. I returned to my home feeling so privileged to have had the opportunity to live this. Without a doubt, I recommend everyone to do this trip. It has been one of the top moments of the MBA so far."
            —Paula Civale
"I wanted to go to San Francisco to open my mind. That's my main takeaway, not just from the people we met but also from my colleagues. Each of them had a different story and background. It ignited something in me to do things differently, take risks and make decisions that will challenge me."
            —Gabriela Quijada
"This program will give you the tools you need to become a true change agent for society, the environment and the economy as a whole. Take advantage of every person, class and interaction, and do not underestimate any courses. You will find learning opportunities everywhere."
            —Juan Pablo Watty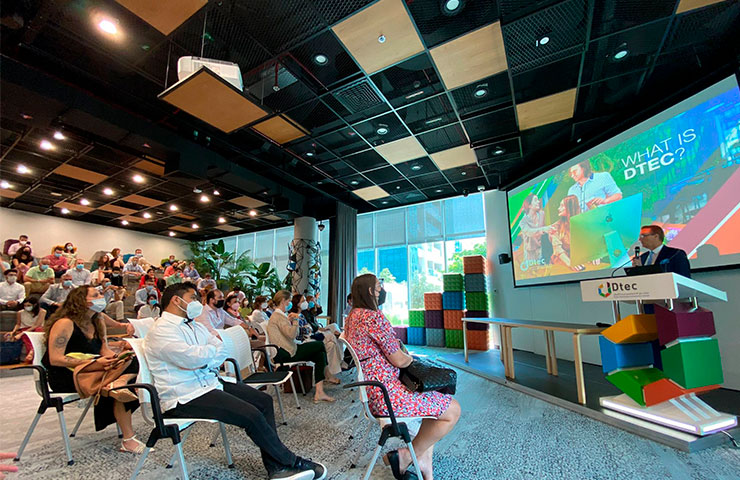 The Executive MBA is an innovative program preparing the next era of transformational business leaders.
By joining, you can also take part in mind-opening professional, personal and cultural experiences around the world like the Global Immersion Week.