IE University strives to foster a keen entrepreneurial spirit in each and every student, no matter their background or field of study. Through various entrepreneurship initiatives, program content, and funding opportunities, we make sure that any student who wishes to successfully launch a startup has the tools and resources to do so.
3
min read
With that in mind, each year we organize IE Venture Days. These events allow student-led startup teams to pitch their ideas in front of a jury of judges and an audience of international investors and entrepreneurs.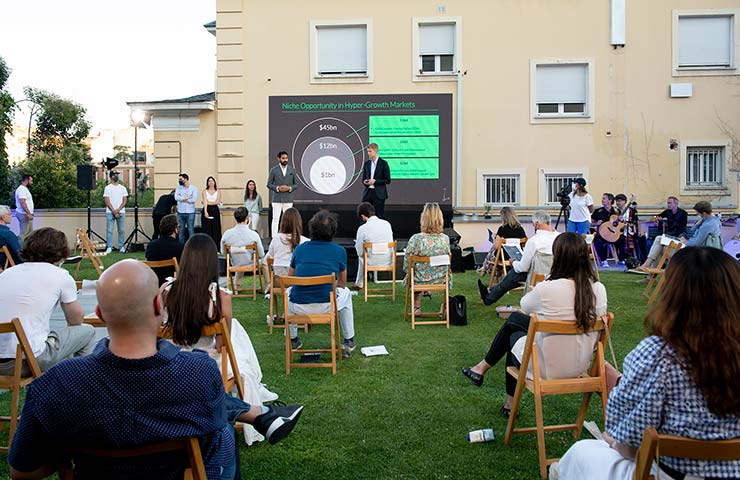 During the July 2021 edition, 73 fascinating business ideas were presented and 12 finalists were selected. Here are some of the highlights!
What is IE Venture Day and who can join?
IE Venture Day is the culmination of students' time spent in IE Venture Lab, one of our on-campus startup incubators. After developing their ideas and receiving experienced guidance from business mentors, students pitch their business plans at IE Venture Day. In addition to receiving visibility and feedback on their idea, students also have the chance to gain real funding for the startup.
Indeed, in the past nine years, IE University's best startups have attracted funding worth some €80 million.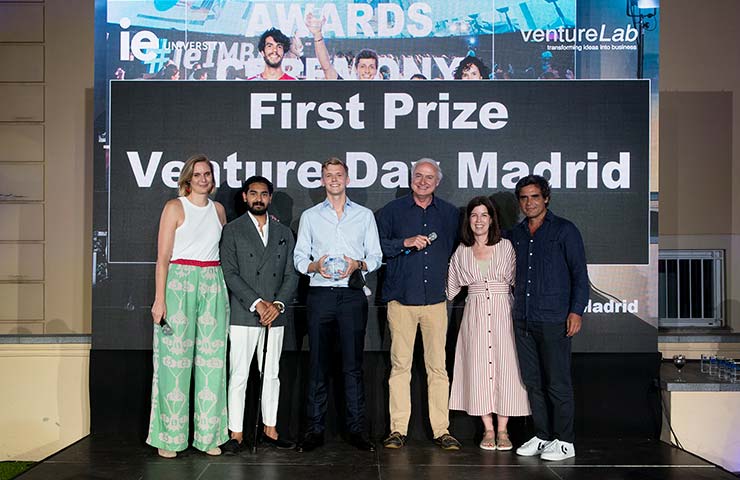 IE Venture Lab is open to any and all IE University students and alumni, no matter their school or program. Just like in the classroom, the work groups tend to have a diverse mix of academic, professional, and cultural backgrounds. For more information about how to join IE Venture Lab, visit the official website.
IE Venture Day 2021 finalists and winners
The latest edition of IE Venture Day, in July 2021, was a strong line-up of exciting pitches and sharp competition, with the 73 teams of student- and alumni-led startups being narrowed down to just 12 finalists. Below, we give a snapshot of each of the 12 lucky finalists:
– Gundo is a rating and recommendation system embedded in the online grocery shopping experience.
– Roble Academy is a health and entertainment app that promotes healthy aging through cognitive and physical training, well-being suggestions, learning opportunities and social activities.
– Rhyde tackles the fundamental need for more sustainable urban transport by professionally refurbishing used electric scooters.
– Wanna offers monthly subscriptions for you to order your lunch from nearby restaurants for just €6.
– Tooth Finder is a digital ecosystem that aims to improve the supply chain and drive collaboration in the dental sector.
– Refuge makes zero-waste, sustainable skateboards.
– Lazare produces and sells premium vegetables using a robot-operated, AI-controlled vertical hydroponic farm.
– SafetyIn aims to increase the safety of women drivers and passengers with a simple seatbelt add-on.
– Adictic is a tool to help you succeed in the fashion business.
– BlackMilk is a marketplace for memes. Using NFT technology, it enables people to create, buy or sell memes using cryptocurrency.
– CandidTails is a pet wellness company offering an all-natural CBD product made specifically to help animals with anxiety, arthritis, epilepsy and more.
– Bondz helps the elderly stay connected with their family members by facilitating deeper and more meaningful engagements across generations.
All finalists presented comprehensive and novel business ideas, and we're very proud of them all! But there can only be one winner, and in this case, it was…. Rhyde! Congratulations to Rhyde's founder, Erik Ojantakanen, who took home First Prize in addition to the Sustainability Award.
We'd also like to offer our congratulations to Refuge, who came in second place, and SafetyIn, who took home third.
To get a glimpse of some scenes from the event, check out this video: