We sat down with Master in Business Analytics and Big Data student Jorge Meneu to find out how the program contributed to significant changes in his professional life and prepared him for a career in this rapidly evolving field.
3
min read
Embarking on a new educational journey can be a daunting challenge, especially when it means leaving an established career behind and shifting into an entirely different sphere. Prior to the Master in Business Analytics and Big Data, Jorge Meneu studied to be an industrial electronics engineer and was working on a self-employed basis.
The global pandemic changed more than just his day-to-day life. As he explains, everything changed:
The pandemic was a game-changer for all of us. During this time, I was not only stuck within four walls but, in the future, I thought I would be stuck inside the four walls of an industrial plant—and I didn't want to stay working in that forever.
So it was time to reinvent himself and set out on a new professional pathway that was more suited to his interests going forward. During his undergraduate studies, he particularly enjoyed an area known as computer vision, a subset of machine learning which involved finding patterns in videos and images. This piqued his interest and pushed him to pursue a master's degree that would give him a solid foundation in data science. Jorge found the Master in Business Analytics and Big Data and quickly realized it was a perfect match.
So what was it about IE University that solidified Jorge's decision? One of the greatest draws was the state-of-the-art nature of the courses on offer. He highlights how much of his previous engineering education came at traditional institutions, studying areas that seemed increasingly outdated in 2023. He explains how he always felt there was a significant gap between theory and practice, making the principles and methodologies implemented at IE University a welcome change. As he underlines, "I figured I needed something that was coupled directly with business so I could really apply my skills to real-world problems."
And the program did not disappoint. In fact, Jorge was soon delighted to find that, at times, he and his classmates would be working with technologies that had been released only earlier that week, often under the guidance of knowledgeable professors who were "big players in different industries."
Opening doors to a multitude of job opportunities, Jorge has since been able to secure interviews for positions as a data analyst, a data scientist and a data engineer.
He believes the knowledge acquired has given him an edge and empowered him to thrive in what is a rapidly evolving field. In that sense, he felt the curriculum was comprehensive, covering the entire spectrum of data science, from big data pipelines to natural language processing and deep learning. He was also able to complete his AWS certificate, which provided him with a solid understanding of cloud computing and its role in scalable data science solutions. Meanwhile, citing the example of ChatGPT, he found it thrilling to be learning about groundbreaking technologies at precisely the moment they burst onto the market, reiterating:
Leveraging that knowledge at this specific moment is like being in the right place at the right time.
Another aspect of the program that Jorge found hugely beneficial was the diverse nature of his cohort.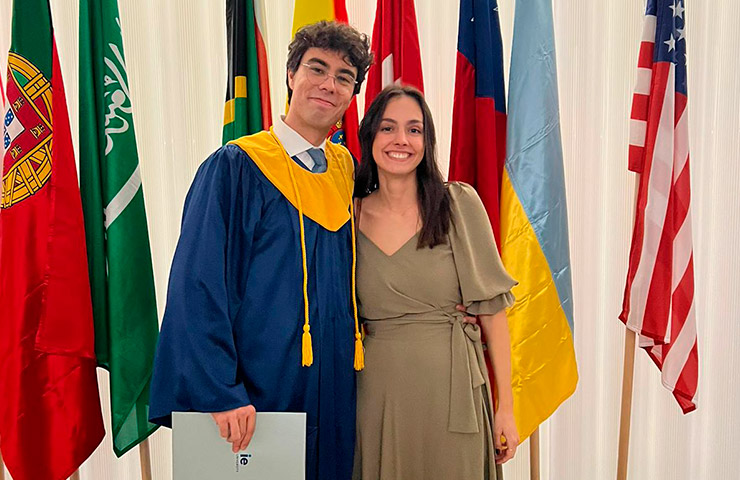 He explains how studying in a group with such a wide range of ages, backgrounds and nationalities contributed to a well-rounded learning experience.
This was added to the perfect blend of academic study and the entrepreneurial and business-focused environment, which is so carefully fostered at IE University. In a career sense, he says the program was a turning point as it, "basically opens up endless possibilities: job opportunities, a chance to reinvent ourselves and update ourselves in order to get on a train that may not pass by again."
Reflecting on what he calls a transformative experience, Jorge would recommend the Master in Business Analytics and Big Data to anyone who is eager to grow and looking for a path to personal and professional development. He highlights the importance of embracing adaptability and flexibility in a rapidly changing world but is certain the program will provide graduates with all the tools they could possibly need to achieve great things. As he puts it:
You can either jump, change and evolve with the world, or stay where you are and get completely drowned out by all these forces around you.