Araceli Garcia Cuartango (CEO Axión, CEO Lineox) is the academic director of the Master in Computer Science & Business Technology program at IE University. She's preparing tomorrow's talent for the frontline of business technology and has an eye for taking business professionals to the next level of their technological careers.
4
min read
We recently interviewed Araceli, who shared her insights on where business and technology collide, how technology is changing the face of business and how the Master in Computer Science & Business Technology stands out as an innovative program that empowers students to impact the modern business world.
Why is it crucial to incorporate technology into a company's commercial strategy?
Technology today is a must. In fact, there is no business without technology. It's similar to how finance was a few years ago—you need it to be business literate because it is everywhere and used for just about everything.
Why do students enroll in the Master in Computer Science & Business Technology? What are the employment prospects after graduation?
Students may enroll to enhance their background with technology, to transition into more technology-related roles, or to understand the importance of technology to develop their own ideas as an entrepreneur. What they all share is how they recognize that technology is everywhere and therefore integral to their future successes.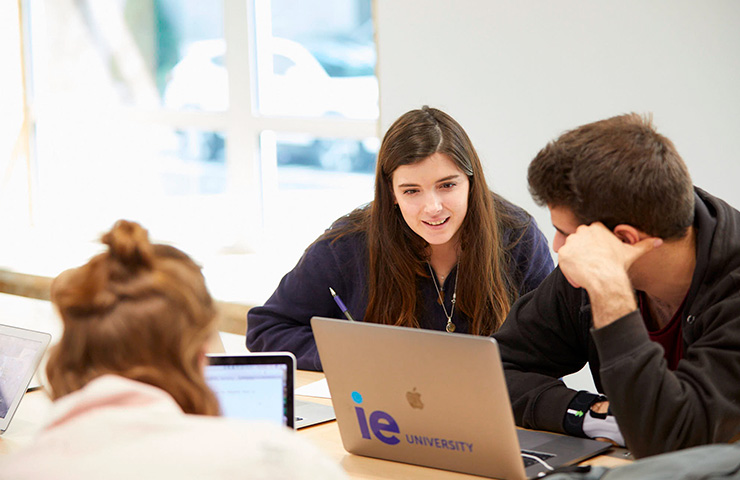 Regarding the employment prospects, participants often go into consultancy where they can apply their original background together with the skill set gained throughout the program.
Some opt for more strategic consultancy firms, while some others go for pure technology positions.
We have a number of participants working in cloud-related services, data science and data analytics, and many work for companies in technology management. Previous graduates are currently working for companies including Google, Amazon, McKinsey, Accenture, IBM and Deloitte.
How hands-on is the program?
We take a very hands-on approach. We try to avoid teaching the theory without the practice, so about 30-40% of our classes are based on hands-on methodologies, along with the labs themselves. For some classes we dive into theoretical knowledge first, such as for mathematical models or machine learning.
Our students also put theory to practice in the more traditional aspects of computer science, including databases and operating systems, as well as in the classes based on new technologies and trends. For instance, we provide practicals in data, machine learning, artificial intelligence and the Cloud.
Who teaches the hands-on classes?
I would say 90% of our professors come from big technology corporations. This means they're able to condense what's really important to develop a career in their expertise into the classes. Given that they're practitioners in the field, they can also adapt their teaching very quickly as the technological landscape changes. This pragmatic approach provides intensive training in computer science in just one year.
Do the students get any certifications?
We offer certifications that are very hands-on. The students are prepared and motivated to add the certifications to their resumes, and are very successful in obtaining them.
We offer the Oracle certification in databases, the IBM artificial intelligence certification and both the Google and Amazon cloud architecture certifications.
What are the main skills that students develop within the program to help them with their future careers?
We mainly focus on developing technological knowledge and skills. Instead of going deep into one subject, the students explore a wide range of topics to gain a good understanding of the whole technological landscape. We also encourage our students to apply technology in an innovative way to boost a business or to create their own company.
They look at artificial intelligence, deep learning and reinforcement learning, as well as big data, data analytics, blockchain and software engineering and learn to apply these technologies to business. We prepare our students to have technology conversations with suppliers and be ready for work at the intersection of technology and business.
How suitable is the Master in Computer Science & Business Technology for people without technical or computer science backgrounds?
If you have a business background, it's easy to think that you won't be able to keep up with those with computer science knowledge. However, this master's program is adapted for a range of backgrounds, so you can enroll even if you don't have previous computer science knowledge. In fact, that's what it is designed for.

Around 90-95% of our students come from business and STEM careers other than computer science. They don't have previous knowledge in the field, and this master's program is prepared for that. We cover all the topics from scratch and it's a very hands-on approach to make it easier to understand and tackle the basic concepts. It is much easier to learn with on-the-job training than by only reading the theory.
Why is it important to change the way that we see the world?
It's not that technology can change the world, technology has already changed the world—whether we like it or not.
Mobile technology is everywhere, even in areas where it's difficult to establish landlines. I think we're now in a surge of artificial intelligence and robots and this all incorporates computer science. So, it's not that technology is going to change the world, it is already changing the world, and we will go beyond that. When you understand technology, you're in a better position to understand how it can be beneficial.