Going for a run is a fantastic way to get to know a new city. Explore Madrid and its surroundings at your own pace, and get a great work out in the process.
4
min read
Living in the Spanish capital and looking for a great place to run? While it's true that certain parts of the city are jam-packed with pedestrians, bikers and dogs galore, there are also some amazing oases of green space—both in the city and just outside—where you can get in a refreshing workout with a view.
Here are our five favorite places to run in Madrid, from most urban to most rural.
1. Retiro Park
This park is a staple in Madrid. Located within walking distance of the center, the space is a hotspot for all kinds of physical activity. A stroll through the park will reveal yoga groups, skateboarders, roller bladers, even karate classes… And as you may have guessed, it's a fantastic spot for runners. While not ideal for any long distances—the park is only 5km wide—if you're in the mood for a quick and easy run right in the city center, this is your place.
If you're pressed for time and can't get to the park on foot, you can take many bus lines or get off on metro stops Retiro, Estación del Arte or Ibiza.
2. Madrid Río
Since its renovation, which kicked off in 2008, Madrid Río has become a local favorite for picnics, long walks and pleasant morning runs. The pavement running trail spans 10km and features rose gardens, modern metal bridges and the historic Manzanares River. You can find more detailed information about the park's paths here.
While there are many different points along the river to start and end your run, we recommend taking the metro (line 3 or 6) to the Legazpi stop, by the Matadero cultural center, and running north towards Príncipe Pío.
3. Casa de Campo
There are two excellent ways to get in some great runs in Madrid's largest park, Casa de Campo. You can make your own way through the many trails that span the park or sign up for a race with others. Throughout the year there are dozens of benefit 5Ks or 10Ks that start and end in this green space that covers a whopping 4,257 acres.
You can get to Casa de Campo, which is to the west of the city center, by taking the metro to stations Lago, Casa de Campo or Batán. Principe Pío is also an option, located a short walk from the park's entrance. Remember to watch out for wild boars!
Pro tip: If you're looking for a longer or more challenging race, you can search marathons and mini-marathons happening in Madrid and other major Spanish cities throughout the year.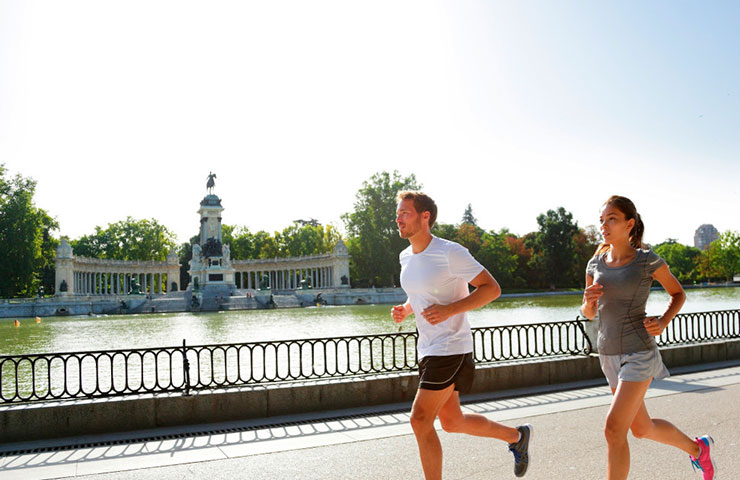 4. Juan Carlos I Park
Underrated and off the beaten path, this regal park kills two birds with one stone: you can enjoy a nice, long run while appreciating modern art. A collection of outside sculptures, man-made lakes, and massive olive groves set this 148-acre space apart from the rest.
Follow the famous "Sculpture Path" for a well-marked 5km track. For a longer run, you can go down the park's additional routes, like this 12km circular trail.
Juan Carlos I Park is further out from the center—you'll take the metro line 8 towards the airport and get off at Feria de Madrid—but it's worth the day trip for its unique running trails.
5. Sierra de Guadarrama
These trails aren't for the faint of heart. If you're a serious distance runner who likes a challenge, head to the Sierra de Guadarrama mountain range just a one-hour train or bus ride from Madrid city. There, you'll find endless trails ranging from medium to high difficulty. We recommend using the app Wikiloc to find and follow them—you can search by length, difficulty, location, etc. and save them if you enjoyed it.
Here are a few specific running trails you can follow in Madrid's mountains:
Easy: El Escorial is a gorgeous mountain town easily accessible from Madrid city via train (line C3 or C8 from Atocha) or bus (line 664 or 661 from Moncloa) featuring a wide range of running trails, including this 13.5km circular route. This trail is great for those just getting into training long distance, or those training for a race in the mountains.
Medium: For 12.7 kilometers, this moderate trail in Las Dehesas offers some gorgeous views of the mountains, plains and forests of Madrid's sierra. You can take the train from the city by hopping on the C8 from Atocha or Chamartín.
Difficult: Make a day trip out of this running trail next to Alcalá de Henares. The town, which you can get to on the train line C2 from Atocha or Chamartín, is a picturesque Spanish pueblo. Have a nice breakfast and a café con leche before your long 19.7km run.
Very difficult: This trail in La Pedriza will stretch you to your max. You'll run, jump, climb and crawl through this path over about 25 kilometers. Block out a whole day, pack water and snacks, and bring a buddy along for safety! To get to La Pedriza, you'll take bus 72 from Plaza de Castilla and get off in the town Manzanares el Real. From there, you'll have to walk (or run) to the trailhead—just follow the route on Wikiloc.
So there you have it: the best Madrid running trails. Running in Madrid is an incredible way to get to know the city (and mountains) through a new lens while doing your body good. Pick a trail, sweat out the stress of studying and enjoy the view!