Bridging the Digital Divide: Webinar series on Advancing Financial Inclusion
Powered by IE Africa Center and UNCDF Policy Accelerator
IE Africa Center and the UNCDF Policy Accelerator have partnered to co-create a series of thought-provoking and insightful webinars that aims to bridge the digital divide and advance financial inclusion for all, with a special focus on women's financial inclusion and consumer protection in the digital financial ecosystem.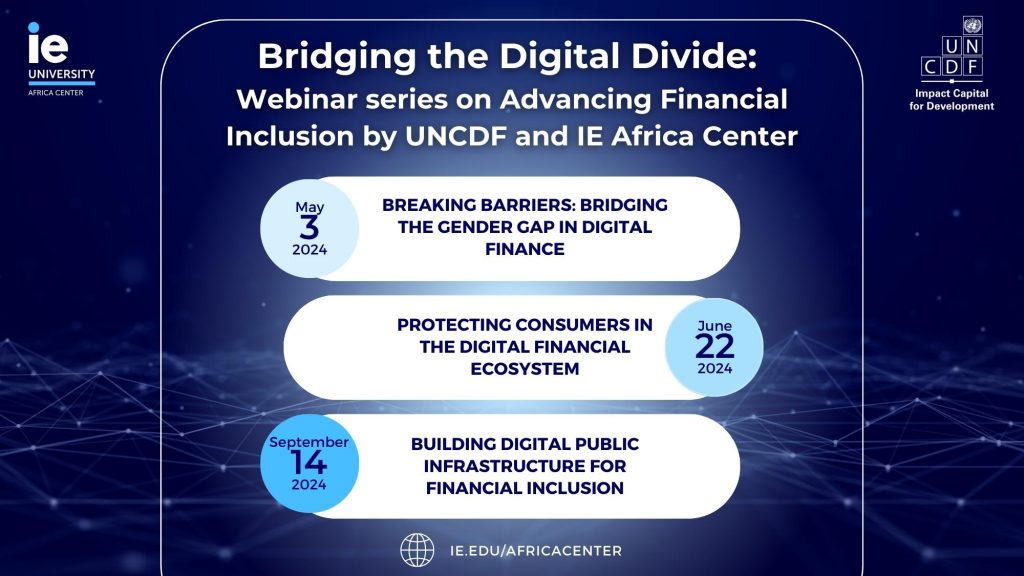 Led by experts from the United Nations Capital Development Fund (UNCDF), IE University's Africa Center, and private sector organizations, each one-hour webinar will delve into crucial topics related to digital financial inclusion, including evidence-based research tools for gender-intentional policymaking, protecting consumers in the digital financial ecosystem, building digital public infrastructure for financial inclusion, and risks and opportunities related to women's digital financial inclusion.
This webinar series will offer invaluable insights into the challenges and opportunities of digital financial inclusion, and the concrete steps that can be taken to ensure that digital financial services are accessible, affordable, and appropriate for all. You will also learn about the latest research and best practices for gender-intentional policymaking, consumer protection, and the development of digital public infrastructure, as well as the strategies and partnerships that are essential for advancing financial inclusion and building more inclusive digital economies.
Whether you are a policymaker, researcher, practitioner, or simply interested in learning more about digital financial inclusion, this webinar series is not to be missed. So register now and join us for a dynamic and engaging discussion on the future of digital finance and financial inclusion!
The first webinar in the series will take place on 3 May 2023 at 11 am and will feature a panel discussion on "Breaking Barriers: Bridging the Gender Gap in Digital Finance." For more information and to register, click HERE.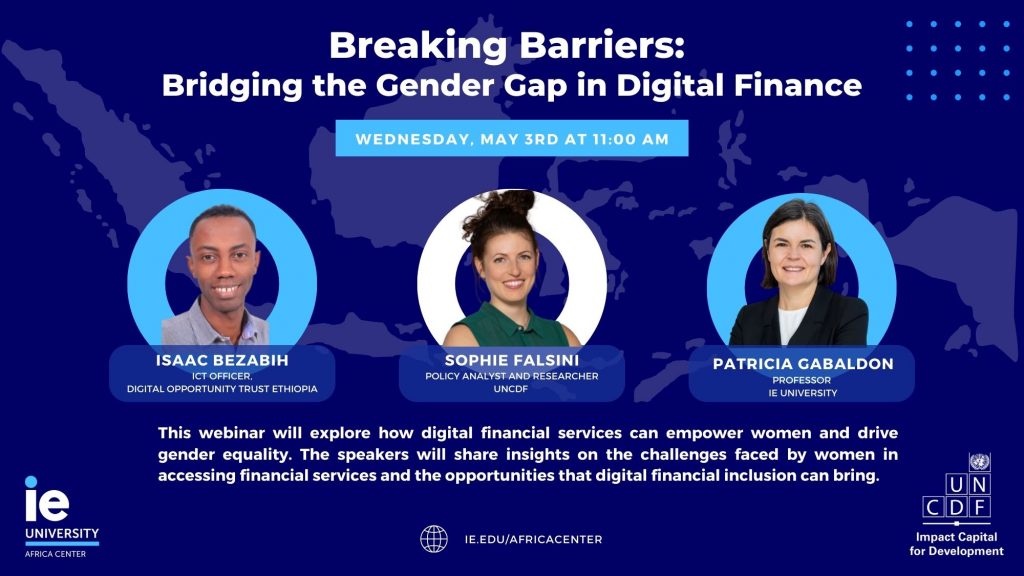 Webinar Series
Webinar 1: "Breaking Barriers: Bridging the Gender Gap in Digital Finance"
Date: 3 May 2023
Description: This webinar will explore how digital financial services can empower women and drive gender equality. The speakers will share insights on the challenges faced by women in accessing financial services and the opportunities that digital financial inclusion can bring.
Webinar 2: "Protecting Consumers in the Digital Financial Ecosystem"
Date: 22 June 2023
Description: This webinar will focus on the importance of consumer protection in the digital financial ecosystem. The speakers will discuss the risks and challenges faced by consumers in using digital financial services and how to address them through effective regulation and industry best practices.
Webinar 3: "Building Digital Public Infrastructure for Financial Inclusion"
Date: 14 September 2023
Description: This webinar will explore the role of digital public infrastructure in advancing financial inclusion. The speakers will share insights on the importance of building a robust digital infrastructure, including digital IDs, data transfers and payment systems, to facilitate access to financial services for all.
About UN Capital Development Fund
The UN Capital Development Fund makes public and private finance work for the poor in the world's 46 least developed countries (LDCs).
UNCDF offers "last mile" finance models that unlock public and private resources, especially at the domestic level, to reduce poverty and support local economic development.
UNCDF's financing models work through three channels: (1) inclusive digital economies, which connects individuals, households, and small businesses with financial eco-systems that catalyze participation in the local economy, and provide tools to climb out of poverty and manage financial lives; (2) local development finance, which capacitates localities through fiscal decentralization, innovative municipal finance, and structured project finance to drive local economic expansion and sustainable development; and (3) investment finance, which provides catalytic financial structuring, de-risking, and capital deployment to drive SDG impact and domestic resource mobilization.
About IE Africa Center
The vision of the Africa Center is to promote an African-centric view of both modernity and the future by partnering with African innovators and their institutions on the continent and across the diaspora, to build academic content and research designed to reshape the world. IE Africa Center collaborates with knowledge experts and thought leaders to bring the African perspective to global conversations on humanities, education and social innovation.