IE University's Master in International Development offers a hands-on approach to learning, featuring opportunities to undertake exciting projects with real-world applications.
4
mins read
For those looking to generate a positive impact on the planet, tackle the complex issues facing the global community or promote socio-economic and environmental prosperity around the world, IE University's Master in International Development is a unique and inclusive program which trains students to do just that. What's more, as it's developed in partnership with the UN System Staff College, students gain access to world-class training from experts in the field.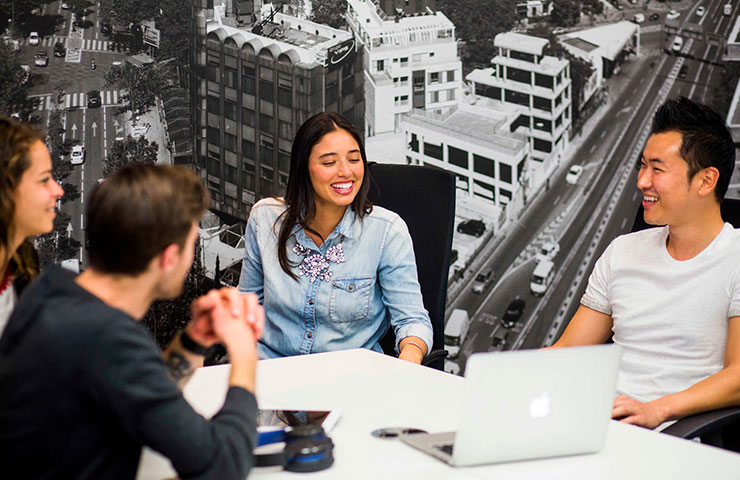 The program revolves around the UN's 2030 Agenda for Sustainable Development, focusing on the 5 Ps: people, planet, peace, prosperity and partnership.
Every aspect of this program is designed to equip ambitious professionals with the skills and expertise to make a lasting difference.
A hands-on approach to learning
The projects are an important tool in achieving this and feature heavily in the students' learning. With a focus on tackling real-world issues, the practical experiences prepare students to perform in organizations at an international level upon graduation. The process of discussion and debate, while analyzing successful case studies, empowers them to develop not only theoretical knowledge of the field, but the skills that are so vital in daily professional life.
Centered around collaboration, students work hand in hand with both teachers and fellow students to produce products, services or research that really matters. The scope and topics of each one varies widely, especially as students are encouraged to explore their own individual interests in diverse contexts.
It's no surprise then that the projects our students take part in are unique and highly original from one year to the next. Even so, they often share a common thread, fueled by each student's personal passion to become a force of positive change in the world. Below are two examples that fully illustrate the potential of these projects.
AR for Sustainable Development Goals
For this project, students were tasked with using modern technology to raise awareness about the Sustainable Development Goals (SDGs) in younger generations. Inspired by the list of 17 long-term objectives established by the UN in order to promote global equality, prosperity and sustainability, students Maxime Le Lijour, Orphée Sadegh Zadeh and Jean-Baptise Bove decided to create filters on social media to connect with young people.
The team realized that in order to change the world, it is vital to get future generations on board, and their project leveraged the power of social media to do just that. Inspired by Instagram and its popular filter feature, the IE University students decided to implement augmented reality (AR) technology in order to catch the eye of younger social media users.
With the support of the community at IE University, these three pioneers were able to overcome the many challenges they faced. Empowered by their own passion, talent, contacts and the University's resources—namely the Campus Life, the Learning Innovation Lab and the SDG Club—the students developed their unique Instagram AR filter. Now, even after the team's graduation, the project has taken on a whole life of its own. IE University is even looking forward to implementing the AR-powered filter across other social media platforms such as TikTok.
New materials for educational purposes and beyond
While studying his Master in International Development at IE University, Ricardo Maia embarked on a research project exploring pedagogical innovation in a technology-driven world, in collaboration with two professors at IE University. The project aimed to create new educational materials which facilitate hybrid learning during the COVID-19 pandemic, when millions of students across the world were unable to access face-to-face education.
Working with Borja Santos, Executive Director and Professor at IE University, and Patricia Gabaldon, Vice-Dean of Pedagogical Innovation, Ricardo Maia helped to develop informative pedagogical materials, with a focus on international development. They created infographics and educational materials using a Results-Based Financing (RBF) approach. This unique method helped to improve the quality and impact of the social program by linking development funding to predefined results, driving efficiency as a result.
Thanks to Ricardo's passion, and the success of this project, he continued to work on it after graduation, taking on a role of Research Assistant for Pedagogical Innovation at IE University. Together with Borja Santos and Patricia Gabaldon, Ricardo explores how, in today's world, technology can provide innovative tools that may help students learn more efficiently.
The project explored the ways in which online materials provide pupils with a more adaptable learning experience, making creative use of technology a possible solution. His goal was not only to transform the classroom by creating tools for education, but also to help the world rethink its use of technology in general and encourage more innovation.
Innovation and development is the future
These projects are just two examples of the amazing work carried out by students in the Master in International Development at IE University. Their projects demonstrate the skills and expertise acquired in this program, and each participant's passion for positive change.
Thanks to the active approach to learning in this master's program, young professionals are equipped with all the skills necessary to excel in their future careers, and become the positive force for change which the world needs during difficult times.