The Master of Laws (LL.M.) at IE University is a transformative journey that guides you toward your professional and personal ambitions and helps you to unlock your global potential.
3
min read
IE University's Master of Laws (LL.M.) is an intensive program for dedicated and well-rounded legal practitioners who want to make an impact in their chosen field. With several specialization tracks on offer to help set you apart from the crowd, the Master of Laws (LL.M.) advances your career to new heights.
The faculty of our Master of Laws (LL.M.) is made up of industry experts who have worked in firms all over the world and who have now decided to share their insights with future legal leaders at IE University. We caught up with Renata Karvelis, Senior Associate Director in the IE Talent & Careers team at IE University, to hear her insights on making your mark in the legal sector.
Breaking into a competitive field
Originally from Brazil, Renata Karvelis has worked in the legal sector for over 20 years, having held positions in both international law firms and multinational companies. She's also lived, studied and worked across the world, gaining a multicultural perspective and a unique understanding of global trends in society and the legal sector. She now works within our IE Talent & Careers team, helping students find their next role.
As a result of our ever-changing world and the increasing impact of globalization on our societies, there is an increasing need for international lawyers. In spite of this, the legal sector's job market is still highly competitive, and even more so for international law firms. Renata told us that to stand out, applicants must be "passionate about law and have a clear client-oriented approach."
Renata also pointed out the commitment required to work in an international law firm, highlighting the long working hours and the fact that "students must excel academically, but they should also be fluent in more than one language and have the skills required to work in a fast-paced, dynamic and demanding environment." Having worked in many international law firms herself, Renata advised students looking to secure a job at top firms that "being a qualified lawyer in the jurisdiction where the student wants to practice is a very advantageous asset, if not a mandatory requirement."
Many IE University Master of Laws (LL.M.) students go on to work in international law firms, overcoming the competition thanks to their stellar résumés and the skills they have gained both during their program and their extracurricular experiences.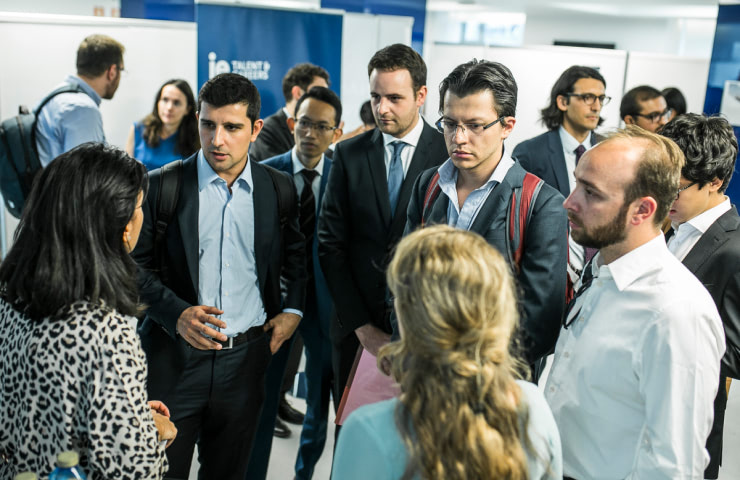 In fact, 25% of recent Master of Laws (LL.M.) students went on to work in international law firms, with many others landing roles in consulting firms or as in-house lawyers.
An ecosystem of career support
Getting ahead of the game with your job search is always beneficial. Aside from helping you narrow down your goals and understand the sort of organization you want to work for, you'll be more aware of the opportunities available for your level of experience and qualifications. Renata told us that students should "start the job-hunting process early, invest a consistent amount of time and use all the tools available to them."
At IE University, we have IE Talent & Careers, which is committed to helping students take their next professional steps. In Renata's words, their mission is to "provide students with professional guidance, helping them match their interests and skills to the most appropriate career opportunities."
Through the power of mentorship, IE Talent & Careers empowers students to make informed decisions and set meaningful goals, unlocking their unique strengths and creating a roadmap for their personal success. Renata and her colleagues work alongside students through every step of the job-hunting process, with the student as the driving force for their future decisions.
We provide the map but the student is in the driver's seat. – Renata Karvelis, Senior Associate Director in the IE Talent & Careers team
The IE Talent & Careers team can provide advice on conducting an effective job search using different tools and strategies, how to prepare an impactful résumé and cover letter and how to excel during interviews. And the support doesn't end when you graduate:
you'll also be able to benefit from the IE Talent & Careers team's help as a member of the IE Alumni Community, as they offer lifelong support no matter what you go on to do.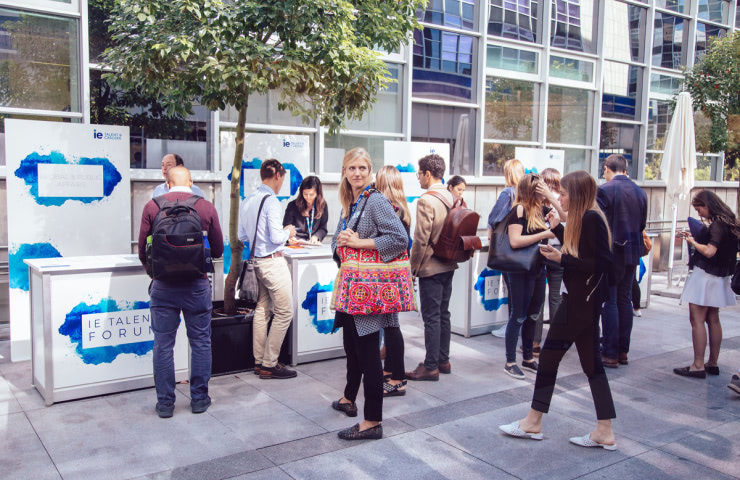 Whatever career advice you need during, or after, your Master of Laws (LL.M.), IE Talent & Careers is there for you every step of the way and can help to inspire you and propel you forward in your career as a legal professional.