Our IE University students were lucky to welcome a visit from the former Secretary-General of the United Nations, Ban Ki-moon. This offered an opportunity for students to learn about his incredible influence with climate change and sustainability, hear about his previous work within the UN, as well as take part in interactive discussions.
4
min read
As the eighth Secretary-General of the United Nations, Ban Ki-moon's priorities have revolved around a set of unique global challenges and helping the UN deliver meaningful results. He took office in 2007 and was unanimously reelected to continue his term until the end of 2016.
In fact, IE University honored Ban Ki-moon's achievements throughout his impressive career at the United Nations.
During his time with us, we awarded him with an IE University medal and welcomed him into our IE Community.
Sharing insights and expanding horizons
Just a few hours after arriving from Seoul, Ban Ki-moon dove straight into the IE Community and attended the Closed Door Meeting with Master in International Relations and Master in International Development students.
The meeting was an interactive conversation with our master's students. Ban Ki-moon's vision for the future was center-stage as Jaime de Aguinaga, Vice Provost for Strategy and Development at IE University and former UNDP official, moderated the session; helping our students get the most out of Ban Ki-moon's experiences.
Here at IE University, we strive to offer our students as many real-world experiences and expert insights as possible.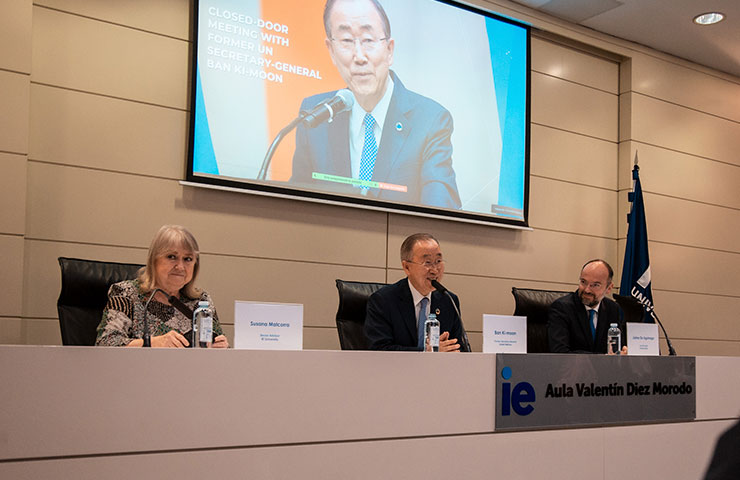 To inspire their global futures, we invited Ban Ki-moon to IE University for students to see how our global perspectives could interact. On this occasion, it was our Master in International Relations and Master in International Development students who had the opportunity to listen to Ban Ki-moon about the insights he gained during his time as Secretary-General of the United Nations. They also had the chance to engage in a conversation with him and learn from his invaluable perspective as someone who has experience dealing with major challenges.
Motivation for the future
To help kick-off one of the first IE Blue Talks, Ban Ki-moon joined IE University's Provost, Manuel Muñiz. From his inspiration for becoming a diplomat to the war in Ukraine and what it means to be a leader, there was a lot to be learned from Ban Ki-moon during the third episode of the IE Blue Talks. 
The former Secretary-General also tackled topics such as climate change and the importance of empowering young people, in line with his work to position sustainable development and gender equality as top priorities for the UN.
In promoting diversity and inclusion, Ban Ki Moon also pushed for the creation of UN Women. – Manuel Muñiz, Provost of IE University and Professor of Practice of International Relations.
Ban Ki-moon's influence on these issues reaches across borders.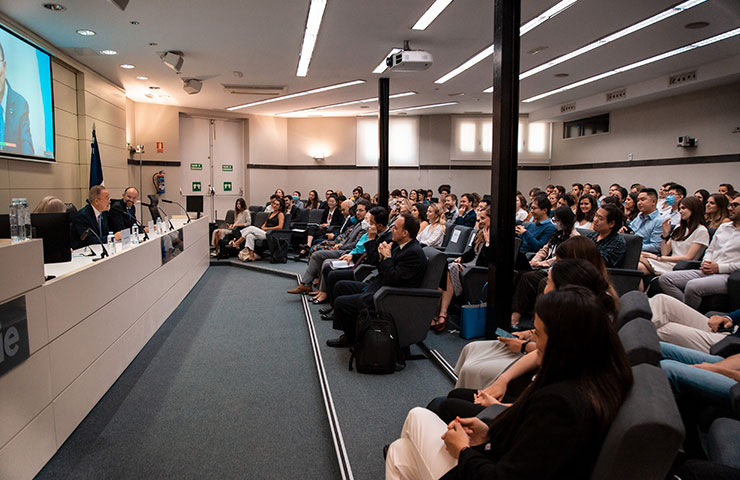 His focus on raising awareness on global topics such as sustainability and climate change is strongly connected to our values and core philosophy at IE University.
Joining our international community
At IE University, we understand the importance of sustainability in order to ensure future progression. Santiago Íñiguez, President of IE University, opened the ceremony and emphasized the different dimensions of diversity we have on campus and how working together can help us make a difference. With this in mind, Ban Ki-moon was awarded the IE University medal by President Íñiguez for his work on the United Nations' Sustainable Development Goals (SDGs).
We have here a little United Nations, not only in the number of passports on campus but also in the way we understand diversity. – Santiago Íñiguez, President of IE University.
Following the ceremony, Ban Ki-moon led a keynote address to discuss the challenges of global governance with IE University students, faculty and our special guests at the Solemn Public Event at IE Auditorium.
IE University will enhance its global activities, launching new programs in sustainable studies and environmental sciences. – Ban Ki-moon, Former Secretary-General of the United Nations.
Further sharing insights with the IE Community, he attended a dinner with IE Business Leadership Forum. The event was a business roundtable where he could offer his sage advice to members of the forum, CEOs of Spain's leading companies, IE School of Global & Public Affairs faculty, and Susana Malcorra, the Business Leadership Forum President and former Argentinian Minister of Foreign Affairs.
Universities like IE University, and young people like you have a crucial role to play going forward. – Ban Ki-moon, Former Secretary General of the United Nations.
We'd like to thank Ban Ki-moon for his time at IE University and for inspiring the global citizens of the IE community. He's helped pave the way for the next generation to tackle global challenges and lead us to a better, more sustainable future.