Sustainability is at the core of IE University's philosophy, and our actions back this up across our entire community.
4
min read
It's all too easy to just talk about sustainability, particularly in business. It can be written into a mission statement or stated as a goal to satisfy interested stakeholders, and then conveniently forgotten. Or perhaps it may not be followed up with sufficient vigor because "other priorities" get in the way.
As a leading higher educational institution, IE University aims to place sustainability at the heart of everything we do. It's not just a secondary consideration behind our principal objectives—it's built into the very fabric of those objectives, and the culture of the University and its community.
Joining forces with the UN
In fact, we have signed an official agreement with the United Nations to jointly leverage innovation and technology in pursuit of the 2030 Agenda for Sustainable Development. This unique alliance brings together world-leading institutions in the search for innovative, sustainable solutions to challenging and urgent global problems.
Based in a new hub within the IE Tower in Madrid, multiple stakeholders will collaborate in developing new products, training, executive coaching, advisory programs and education initiatives. Driving social innovation through big data, AI, the Internet of Things, and blockchain technology, the objective is to expand and accelerate the implementation of the 2030 Agenda.
Global Compact Network
But this isn't all the work we do to help drive forward the 2030 Agenda. As a founding member of Spain's Global Compact Network, we frame every aspect of our sustainability ambitions within the UN's Sustainable Development Goals. We've even set ourselves a 10-year challenge to reduce our greenhouse gas emissions to zero by the year 2030. To achieve this, sustainability has been placed at the core of the curriculum, campus operations and the University's entire culture.
10-year challenge: Off to a good start
Despite the difficulties posed by the COVID-19 pandemic, the first year of the challenge has proven to be a resounding success. Six key focus areas were selected to get the challenge off to the strongest possible start in 2020.
WATER—Single-use plastic bottles were reduced with the installation of drinking fountains and the promotion of reusable containers.
ENERGY—We purchased more energy from renewable sources as part of a commitment to ISO 50001 compliance by the end of 2021.
PAPER—Continuing our 10-year effort to reduce paper consumption, with recent efforts involving students planting trees in the Doñana National Park.
PLASTICS/SINGLE-USE PACKAGING—Launched an awareness campaign to promote the use of recycled plastic, or compostable, plant-based alternatives.
WASTE—We are on the way to ISO 14001 implementation, actively promoting recycling within the institution.
TRANSPORT—New formulas for the sustainable movement of our community between campus buildings. Car-pooling initiatives. Introduction of electric shuttles and bicycle racks.
In total, our community spent over 53,000 hours on social impact initiatives in 2020.
2021 Challenge
The challenge for this year is to continue increasing that figure. We aim to build a more sustainable community through initiatives like the Center for Social Innovation and Sustainability, and broadening the drive across IE University and into the wider area.
Our Sustainability Guide offers practical, everyday advice on how each individual can do their part in their daily activities while they study with us. But, rather than just following guidelines, many of our students have placed themselves on the front line of the drive for sustainability. We couldn't be more proud that our diverse community has responded to the 2021 Building Communities challenge, engaging with the positivity and innovation that exemplifies the IE University mindset.
The role of student clubs
An important focus for the effort are IE University's clubs. There are over 100 clubs, which are set up and run by the students, and many have a specific focus on sustainability. These clubs reach well beyond campus walls to engage the wider community through activities, awareness events and peer education.
In 2020, many clubs put responsible consumption at the center of their activities. By choosing one or more key focus areas to impact—water, paper, energy, plastic, fashion or food—the clubs and their members play an integral role in moving the ten-year challenge forward.
This concerted drive from the entire student body demonstrates that individual efforts can and do combine to make a significant impact, if undertaken cohesively toward common goals. The targets for 2021 include increasing still further the number of people involved in community-building and social-impact activities. Local improvement projects will be developed, and new associations created with common social or environmental purposes.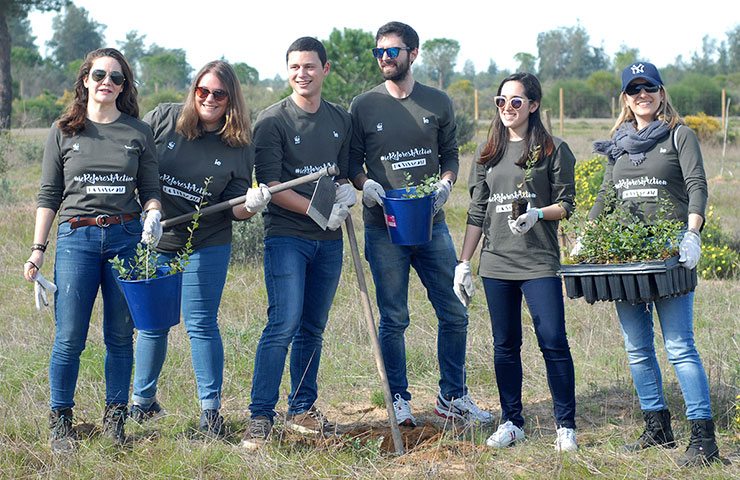 Knowledge dissemination through research publication, seminars and workshops will be complemented by a drive to cultivate both corporate and social philanthropy in our students. ​
Entrepreneurial sustainability
The entrepreneurial mindset that underpins the IE University philosophy recognizes the role of sustainability in successful, future-forward business strategies. And events being held in 2021 will bring the correlation between these two key business considerations into sharp focus.
IE University events cover everything from masterclasses to conferences to online networking. For example, the "Strategic Management: Business and Sustainability" and "Sustainability as a company advantage" masterclasses are set to be held in March. These events will center on the commitment to sustainability at IE University, and the clear connection between sustainability and profitability in tomorrow's businesses.
As with so many problems facing our globalized world today, the key to finding solutions for climate change, unsustainable consumption, waste, social inclusion, poverty and diversity issues, lies in education. At IE University we take our responsibility to encourage generations of innovators and leaders who will overcome these all-important challenges.
There's still a long way to go before we attain 2030's goals. But with the commitment, inventiveness, determination and proactivity of our institution and its community, we're definitely on track to reach our objective.