IE School of Global and Public Affairs were honored to host this year's Association of Professional Schools of International Affairs (APSIA) annual deans' meeting at the IE Tower.
5
min read
APSIA brings world-leading graduate schools with international affairs specialism together, comprising 38 full-member schools from 10 different countries and 29 additional affiliated schools. In Spain, IE School of Global and Public Affairs is currently the only member.
This year's ASPIA meeting was especially keenly anticipated, as it was the first in-person edition held since 2020 because of the COVID-19 pandemic, as well as being the first time the conference has been hosted in Spain.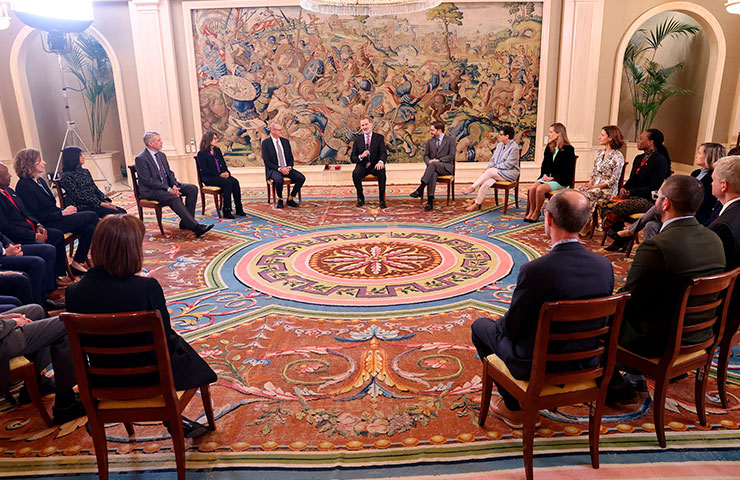 Representatives from some of the most prestigious universities in North America and Europe were in attendance, with representatives from Asia participating virtually.
The conference lasted for three days, from April 20–22. It provided a platform for deans, faculty members and the public alike to talk about how the world has changed in the past two years, the effect of COVID-19 on education, how the war in Ukraine will affect international relations, and the general shift in geopolitics and international affairs.
Manuel Muñiz, dean of IE School of Global and Public Affairs and provost of IE University, called the event an opportunity for the deans of the world's most prestigious schools of foreign affairs to discuss how to continue providing students with the best possible education. He pointed out that higher education institutions must adjust to a changing international landscape if they're to continue preparing students to face a global order that's changing rapidly.
Other topics for discussion over the event's three days included the increasing digitalization of the educational space, mental health on campuses and ways to create a more inclusive world.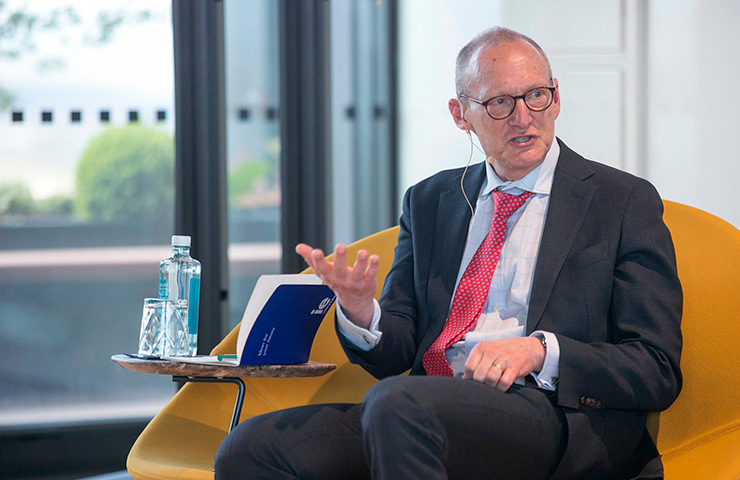 Asking the deans
Deans from leading schools of international relations education worldwide were posed three key questions over the course of the Meeting's events.
What does it mean being an APSIA member?
"It's a wonderful opportunity to connect in Europe and beyond … to other schools of international affairs, to learn from their experience, see what we can do better and share best practices." – Cornelia Woll, President, Hertie School, Berlin.
How would you say the international order is changing at the moment?
"We're seeing threats to democracy from all levels, whether it's government to government, or from bottom-up movements that are happening in various societies and countries that are really putting pressures on some of the democratic ideals that I think, in many cases, we've taken for granted." – Clarissa Slotterback, University of Pittsburgh.
"We're at a hinge-point of history. So many things we thought were settled are unsettled now. We're at a point now where there's a question of whether the so-called liberal order will endure." – Fritz Mayer, University of Denver.
How is the career of international relations evolving?
"There's a need for more technical training, as well as interdisciplinary, for international relations experts. For example, with climate change; you can't do climate change policy if you don't understand the science of climate change." – Caroline Freund, University of California San Diego.
Covering the topics that matter
Delegates discussed the future of APSIA at an executive committee meeting which opened the event. APSIA's executive director Carmen Iezzi Mezzera moderated a discussion on what could be learned from member institutions and affiliates, and APSIA's future in a changing educational landscape.
Wednesday April 20 saw the event's only forum completely open to the public, both online and in-person. "Brave New World?" explored the future of international relations in light of the COVID-19 pandemic and the current conflict in Ukraine.
Moderator Manuel Muñiz was joined by Arancha González, dean of the Paris School of International Affairs; and James Levinsohn of Yale University's Jackson Institute for Global Affairs.
Under discussion were significant events shaping global politics, including US/Chinese tensions, the war in Ukraine and a world that's changing quicker than international organizations can adapt. The "war on democracy," as Manuel Muñiz described it, has brought the so-called "global west" together in sanctions, while Latin American, Sub-Saharan African and Middle Eastern countries have remained on the sidelines.
Delegates covered potential long-term impacts of the conflict for international relations, as well as how such events change the mindset and approach to the study of the subject.
Schools are shifting, in foreign policy studies, toward addressing global issues such as human rights, poverty and AI, for example.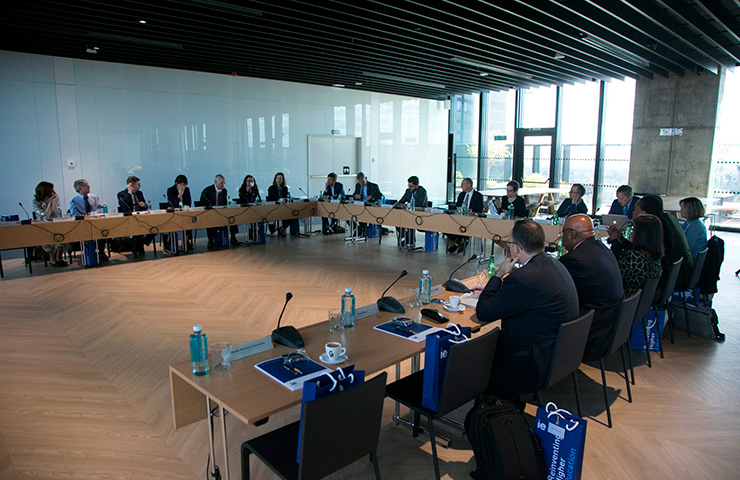 An audience with His Majesty the King
The undoubted highlight of the whole three days was an audience with His Majesty, King Felipe VI of Spain on Thursday, April 21. The deans and His Majesty discussed global affairs and exchanged views on topics that will shape the global agenda. Being an alum of the APSIA member school Georgetown SFS, His Majesty was very welcoming to the deans.
That same afternoon, Fritz Mayer, dean of the Josef Korbel School of International Studies at the University of Denver, moderated a discussion panel on the challenges of navigating the changes in the coming decade. Smaller, group discussions also addressed mental health issues, academic freedom and brand risk.
Diversity and the Great Resignation
Friday began with group discussions about faculty diversity and the effect of resignations in the education industry, followed by an open conversation moderated by Shlomi Dinar, the associate dean of the Florida International University Steven J. Green School of International and Public Affairs.
That afternoon saw the panel discussion "Advancing International Affairs Education Amid Democratic Decline and Geopolitical Tension" take place in a hybrid format. Speakers Arancha González and Carissa Slotterback, dean of the University of Pittsburgh Graduate School of Public & International Affairs, joined moderator Nolan McCarty of Princeton University.
The final discussion panel of the event was moderated by Caroline Freund, dean of the University of California, San Diego School of Global Policy and Strategy, Here, discussion centered around adapting schools' curricula for the marketplace.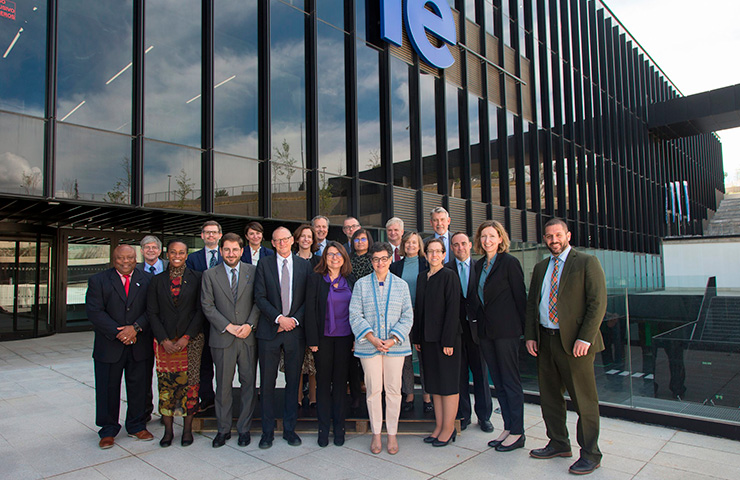 Participants debated which courses should be taught to meet future educational needs, and how to support the different teaching styles post-pandemic.
Commenting on the chance to get together with fellow APSIA school deans "tackling similar challenges about how we prepare the next generation to lead the world," Johns Hopkins University's James B. Steinberg said the event was an "opportunity to get new ideas, to share experiences, and to think about how we can contribute collectively to this very important public objective."
Preparing the future
The 2022 APSIA Deans' Meeting was about more than just academic discussion, of course. Participants also took in some of Madrid's famous cultural landmarks, visiting a number of sites including City Hall, the Prado and Sorolla Museums and the Spanish Royal Academy. There was even an excursion out of Madrid to the city of Segovia, a UNESCO World Heritage Site. As well as taking in IE University's campus, our visitors toured the Alcázar, the cathedral and of course the famous aqueduct, before enjoying a musical concert to close proceedings.
Carmen Iezzi Mazzara, executive director of APSIA, concluded that "The city of Madrid and IE University provided a wonderful backdrop against which to consider the future of international affairs, as well as explore ever-better ways to prepare future generations for the many professions of international affairs."