At IE University, we take a practical approach to learning. Each IE Experience is curated to empower students to become the next best version of themselves. The IE Trading Room gives our Master in Finance students a firsthand look into the day-to-day of a trading desk, from negotiations and valuation models to interpreting mathematical results. We caught up with two IE Trading Room participants to find out more about their experiences.
4
min read
The Master in Finance places students in the reality of modern financial markets. Ranked as one of the best in the world year after year, the program gives students a firsthand look at today's latest market trends. From asset management and corporate finance to private equity and artificial intelligence, the up-to-date program equips professionals with the means to confidently tackle the competitive world of finance.
As part of the Master in Finance, students are given the opportunity to step out of the classroom and into the IE Trading Room for many of their finance classes. Equipped with the tools people use to assess the markets—including Bloomberg and FactSet—the Trading Room allows students to perfect their craft before they head to the real world of work.
The IE Training Room starts with the basics of creating a portfolio, which leads to analyzing it and then to managing it.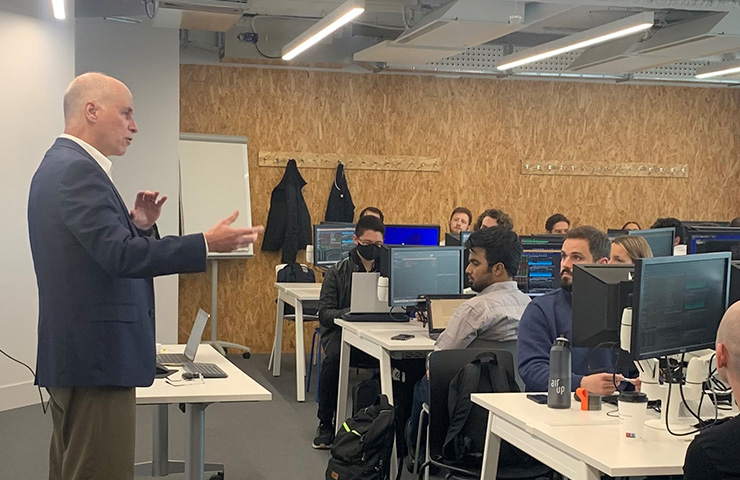 With access to resources from financial and business news, trade and security pricing to portfolio risk and performance analytics, students will dive into the world of finance and gain hands-on experience and insight into the world of a professional money manager. What's more, students are given the opportunity to complete the Bloomberg Assessment Test to showcase their newly acquired skills.
A unique, hands-on learning experience
Master in Finance student Gian Gael Gonzalez Büchsenschütz describes the IE Trading Room as a "must for every aspiring financial professional, as it allows you to experience the day-to-day of finance while still at university." His time in the Trading Room is focused on staying on top of financial markets by reading news and research reports and monitoring relevant market data to understand market shifts and movements.
Mathias Matousch, also a Master in Finance student, has used the Trading Room in a variety of ways. When he first started the program, he went to the Trading Room to look at basic company information and overall market news. As he further progressed in the program, he and his classmates used Bloomberg to review specific company data such as financial statements and earnings estimates. Later on, he chose electives that incorporated use of the Trading Room as part of their core teaching content, mainly to enhance his portfolio management skills for his final project, which includes creating a stock portfolio.
I think what makes it so attractive is the fact that it's the most widely used information platform in the financial industry, so whatever we learn here in the Trading Room can, and will, be applied the same way in our future career, notes Mathias on how it helped shape his learning experience.
Firsthand insights that add value
The skills gained in the Trading Room give students a firsthand glimpse into their future careers. These types of experiences are unique to IE University and to programs like the Master in Finance.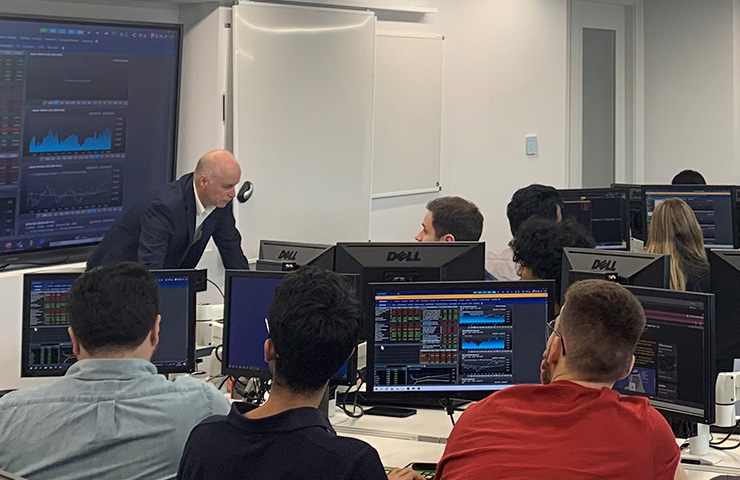 Gian Gael goes on to explain that, "The true value added is the practice and knowledge students gain with professional tools."
He further notes that "Having seen and used the tools used by financial professionals truly makes you stand out as a candidate and will give you the required skills to succeed in your career from early on."
Mathias explains that the lab enhances students' ability to collect and interpret company data, analyze what financial markets around the world are doing as well as what drives them, and give them the opportunity to practice with programs used by industry participants. He also believes the Trading Room gives students the chance to apply what they learn about company analysis or the implementation of trading ideas by "using real-life applications and not just understanding them by reading pages out of a textbook."
Trading Room advice
Master in Finance students, among students from other programs, are lucky to have facilities like the IE Trading Room at their disposal. Gian Gael believes that it "will prove useful for interviews, as you can be on the same level of knowledge regarding markets as every other financial professional." He would also suggest that future students "spend time in the trading room and experiment with the resources given to them; prepare for interviews by using the tools that are used daily on the trading floor; and take as many electives as possible that use the Trading Room."
Although learning new functions and shortcuts can take a lot of time to get used to, Mathias explains that it is worth it as you become more proficient. As with any student, curiosity is key. Mathias encourages students to maintain their curiosity: "The best way to learn is to ask a lot of questions during class and spend time putting in the effort to understand the tools and their functions."