Recently, our Big Data, Computer Science, and Digital Business master's students visited Amsterdam to meet with giants from the tech, data and business world. The week-long trip allowed them to discover different aspects of various businesses while meeting professionals at the top of their field. While making professional connections, students were also able to deepen personal connections and build their networks.
4
min read
We want our students to leave IE University feeling equipped to take on leading roles at cutting-edge companies all over the world. For this year's Global Immersion Week, students from the Master in Business Analytics & Big Data, Master in Computer Science & Business Technology and Master in Digital Business & Innovation flew out for a planned study trip to Amsterdam.
The trip was specially designed to ensure our students not only learn academically but also gain real-life, hands-on experiences. They also got an invaluable opportunity to network with each other and with corporate leaders from some of the most successful tech and data companies in the world.
The Amsterdam experience
The trip began with a broad perspective on the industry, delivered by Joël Dori from StartupAmsterdam. Students got the lowdown on how the organization, along with the City of Amsterdam, brought together the public and private sectors to support startups, scale-ups, entrepreneurs and more. It was a fantastic way to kickstart the tour!
The lineup also included Deloitte Digital and o9 Solutions, who delivered informative talks to the group. In this case, the focus was on dissecting how computer science and consultancy come together, as well as highlighting different ways in which Augmented Intelligence (AI) can play a part in the digital supply chain.
The next few days included delicious dinners, a visit to an international consultancy boutique and a talk from Beatrice Murage and her team at Philips. The students also had a meeting with senior executive Jorge Milburn, along with other analytics and HR executives who came bearing exciting gifts from Tesla.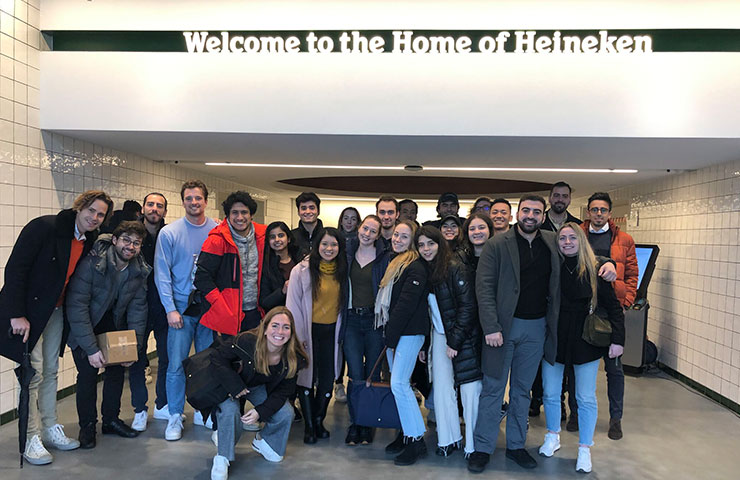 Other highlights of the trip included a visit to Adyen and the HEINEKEN Company, as well as getting to talk to the mind behind the Marketing Intelligence Department at Uber.
Another fascinating talk diving into career shifts was delivered by Ron Kersic, where he explained his transition from Airbnb to banking at ING Nederland.
Meeting with high-level executives, such as Tim Paauw, the CTO of Xonmia, provided our students with the perfect chance to pick their brains—an opportunity most people do not often come by. They heard about what his typical day-to-day looks like and how he got started on the journey to entrepreneurship, inspiring our students to dream bigger.
Experiencing the life of tech professionals in different fields was also highly beneficial for our students as they got a first-hand look at where their master's degree could take them.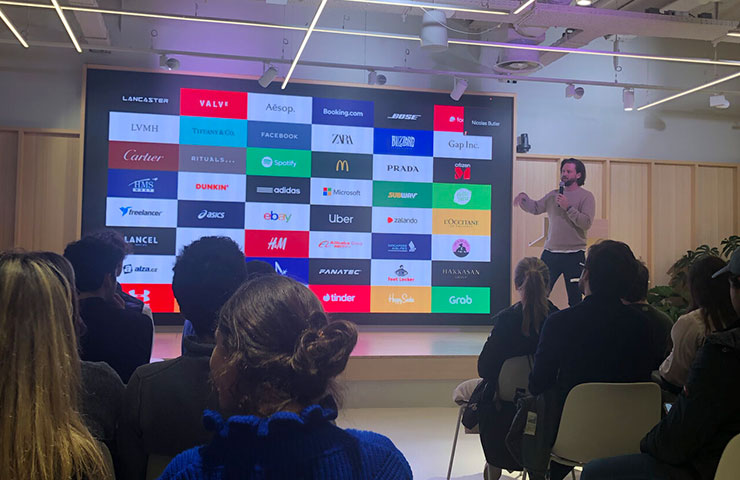 On the very last day of the Global Immersion Week, representatives from Elsevier Pharma & Life Sciences Solutions and Yamaha Motor Co. Ltd engaged the group in insightful conversation.
Opportunity for open conversation
Part of what made the trip so useful for students was giving them the platform to converse with some of the biggest names in the tech and data industry. Diego Garate, a Master in Business Analytics & Big Data student, notes that "it was a space for open conversation that helped me to connect, share experiences and nurture my career."
One of the biggest takeaways of the trip was exploring different aspects of technology, including AI and machine learning, architecture, cloud technologies and how they link to business strategy.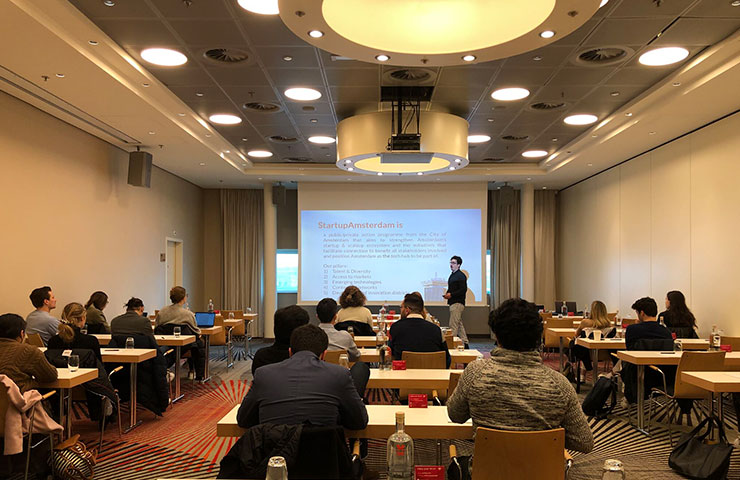 Of particular note was the fact that many companies stayed beyond their allotted time, speaking to our budding professionals in one-on-one conversations.
An all-in-one professional and bonding experience
A key part of IE University's trips abroad is to make students feel like they are taking tangible steps into the professional world.
Networking opportunities with major corporations and a chance to talk to leading industry professionals is not only a fantastic experience at the moment, but also helps prepare students for their future.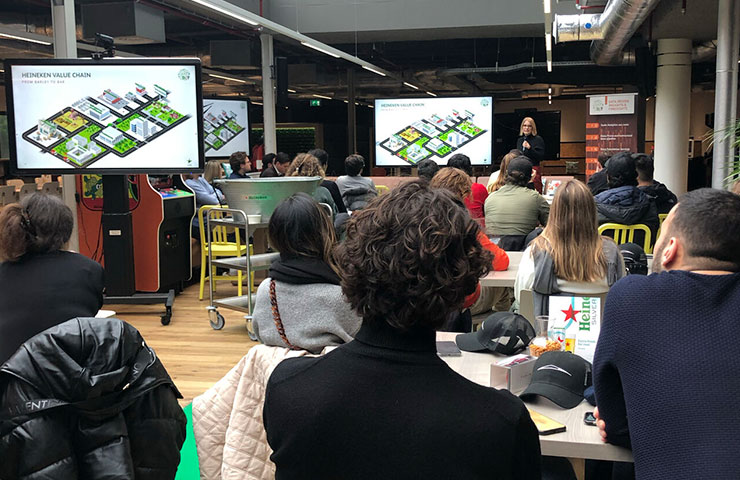 Sophie Sutherland is a Master in Digital Business & Innovation student. She loved having the opportunity to get to know her fellow students better, as well as bond with people from other programs. She also emphasized the uncertainty that many participants feel before graduation and how important it is to gain experience and explore opportunities in a holistic way. "If students are unsure of the job they want after the master's program, then the Global Immersion Week can help inspire them."
A blend of academic, professional and personal learning
Melissa Escoffery Arias particularly enjoyed the scope of the trip. "We got the chance to learn from two perspectives: what both big companies and startups are doing in terms of data and digital innovation, as well as what roles they're recruiting for." For Melissa, graduation is right around the corner, so seeing "concrete real-life examples of what we're learning in the classroom" is a great opportunity to see what life might look like after IE University.
On a personal level, Melissa took great interest in being able to hear the perspective of other students through various questions that were asked during company visits, as well as on a personal level during downtime.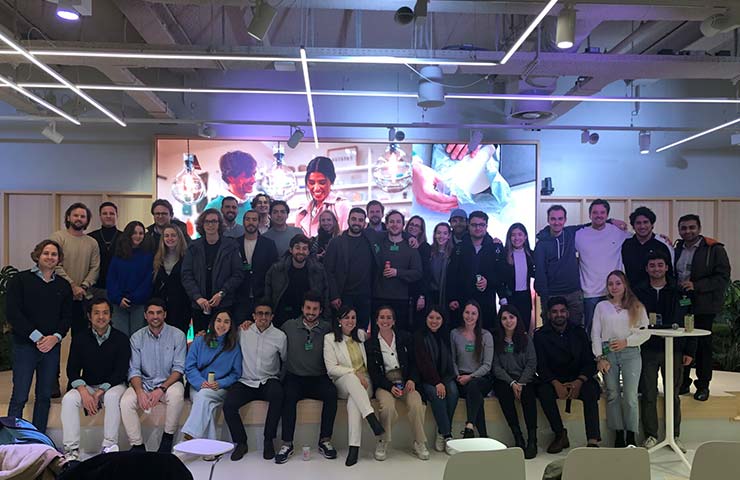 Our tech, data and business programs seek to prepare every student to enter this fast-paced ultra-competitive field.
Through hands-on learning experiences, we imbue our students with the cutting-edge skills they need to stay ahead of the competition in the professional landscape.
Trips such as this most recent one to Amsterdam are an invaluable part of the training process, exposing students to the real world of work and giving them the perfect chance to expand their professional networks with the highest quality contacts.