In collaboration with the U.S. Department of State, IE University is leading Tech4Democracy, a powerful initiative to identify entrepreneurs dedicated to developing technology that will promote and protect democracy worldwide.
4
min read
The IE University Center for the Governance of Change (CGC), alongside the IE Center for Entrepreneurship and Innovation and IE PublicTech Lab, have been working tirelessly in alignment with the ideas presented in Joe Biden's Summit for Democracy last December to carry out the Tech4Democracy initiative. What is Tech4Democracy, and what does it mean for the IE University community going forward?
History of the initiative
Tech4Democracy was born in early 2022 following the White House's Summit for Democracy in December 2021, a virtual event that emphasized how tech can fight against authoritarianism, misinformation and fake news, as well as address corruption and advance respect for human rights.
As Dr. Eric Lander, President Joe Biden's Senior Science Advisor and Director of the White House Office of Science and Technology Policy, explained, the goal of the project is to "harness innovation to advance technologies that have the potential to further our shared democratic values, including privacy, freedom of expression, access to information, transparency, fairness, inclusion, and equity."
At the time of signing, Manuel Muñiz, Provost of IE University, participated in a panel that discussed digital authoritarianism and how to build technologies with democratic values at their core.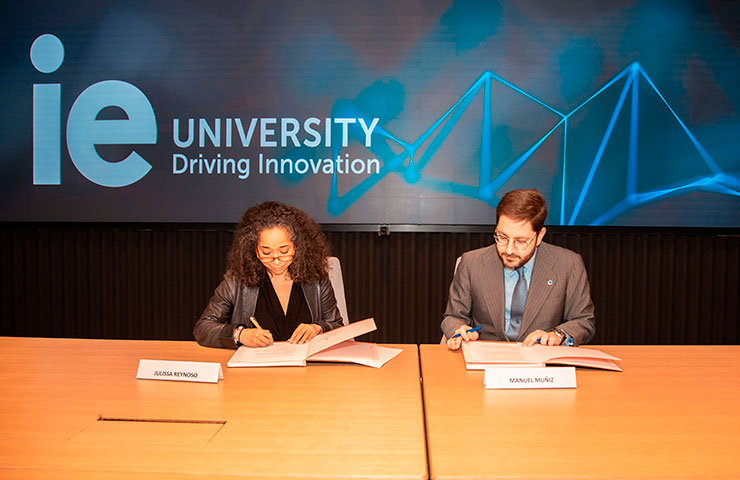 He shared how IE University's goals were deeply aligned with those of the Department of State: "As a global academic institution with a strong commitment to the values of democracy, openness and diversity, we at IE University are honored to contribute to the effort launched by President Biden to forward democracy-affirming technologies."
Structure and progress
Tech4Democracy consists of two interdependent and mutually reinforcing pillars: first, a series of startup/scaleup competitions; and second, applied research that aims to predict the technological needs relevant to democracies around the world in upcoming years.
IE University's Tech4Democracy Global Entrepreneurship Challenge will bring together cross-sector experts, investors and entrepreneurs to foster democratic values, employing innovative new ideas. At the same time, a line of long-term applied research will work toward highlighting lessons learned from this challenge. This combined emphasis on innovation and academic rigor exemplifies the values and institutional goals of IE University.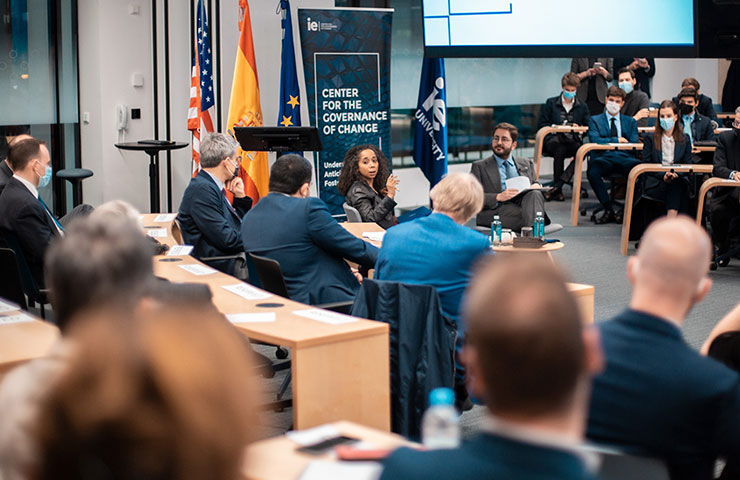 Competitions will take place in multiple countries over the course of 2022, all with the goal of presenting their ideas in IE University's Venture Lab.
For example, on June 28, 2022, the first official Tech4Democracy Venture Day was held in Madrid at the IE Tower with New Zealand's Prime Minister Jacinda Ardern as the keynote speaker, who was joined by Anne-Marie Slaughter, professor emerita of Politics and International Affairs at Princeton University, Manuel Muñiz, provost of IE University, Jeremy Cliffe, writer-at-large at The New Statesman, Daniel Innerarity, chair of Artificial Intelligence and Democracy and Amy Larsen, director of Democracy Forward Microsoft.
Among all startups and scaleups that apply, 10-12 are pre-selected and 5-6 compete. IE University plans to host similar Venture Days in North America, Latin America, Africa and Asia throughout the rest of the year. Finally, a select few winners will share their innovations at a Global Venture Day coinciding with the second Summit for Democracy in December 2022, hosted by President Joe Biden.
Looking toward the future
IE University students are constantly immersed in a technological environment, encouraging them to take a leadership role in the modern business and social landscape that has been so deeply transformed by technology. As CEO of IE University Diego del Alcázar Benjumea describes it, "we believe in the power of the entrepreneurial mindset to change the world for the better."
For that reason, IE University is eager to collaborate with the U.S. State Department to mobilize democratic governments, businesses, investors, academics and civil society to exchange views, defend and safeguard democracy both today and tomorrow. The Global Entrepreneurship Challenge welcomes initiatives that focus on democracy-affirming technologies such as:
1. Data for policy making
2. Responsible AI and machine learning
3. Tools to fight disinformation
4. Digital identity and trust
5. Transparent and inclusive government data
And of course, participating startups (or scaleups) will benefit from IE University's extensive resources and toolkits for budding entrepreneurs, such as mentors, networking and partnership opportunities, competitions, Microsoft Hub access, and more. In addition, Tech4Democracy will encourage large-scale and sustainable industrial development of these digital technologies.
Tech4Democracy is an institutional collaboration meant to empower the best ideas by providing world-class support, resources, and a platform for change. The support of the U.S. Department of State, combined with IE University's global commitment to foster positive change through education, research provides the perfect opportunity for ideators to apply critical thinking skills to worldwide challenges that pose a threat to democracy. Given the current geopolitical landscape worldwide, it is more important than ever to take actions toward peace and stability. Technology is a powerful tool to help us do so. As Jeremy Cliffe stated at the event, "Technology, when it's shaped from the better angels of our nature, can be very good indeed."
Stay tuned for more developments in technology, innovation, academics and social impact.