The Marketing, Communication & Sales (MARCOM) Speaker Series is an initiative for students who are enrolled in one of IE University's six marketing and communications master's programs. This series of talks allows students to learn about the contributions that top-level professionals are making in the marketing and communications world.
3
min read
To bring the MARCOM Speaker Series to life, IE University invites accomplished speakers from different marketing fields to share their experiences and talk about the latest industry trends. This career-driven series ensures that attendees stay up to date with the MARCOM industry, a key sector that dictates how brands present themselves.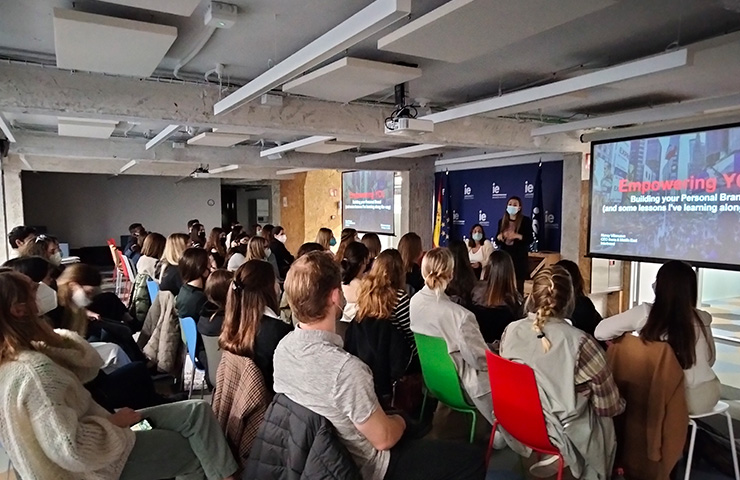 Students come face to face with industry experts who are working with some of the biggest companies worldwide, learning about the challenges they've encountered as well as their career highlights.
The MARCOM Speaker Series also broaches topics that students will not necessarily encounter in the curriculum. From the meta world to NFTs, students will gain first-hand insights to the latest industry trends.
Which brands can we expect at the MARCOM Speaker Series?
Up to this point, we've had a number of inspiring speakers join us for the series. One such speaker was Nancy Villanueva, CEO Iberia & Middle East at Interbrand. She discussed her experience as CEO, sharing insights into her professional routine and the challenges she has faced. Interbrand also discussed global hiring opportunities and asked students to submit their CVs.
Other speakers have similarly discussed prospects for recruitment—an invaluable opportunity for students thinking about life post-graduation.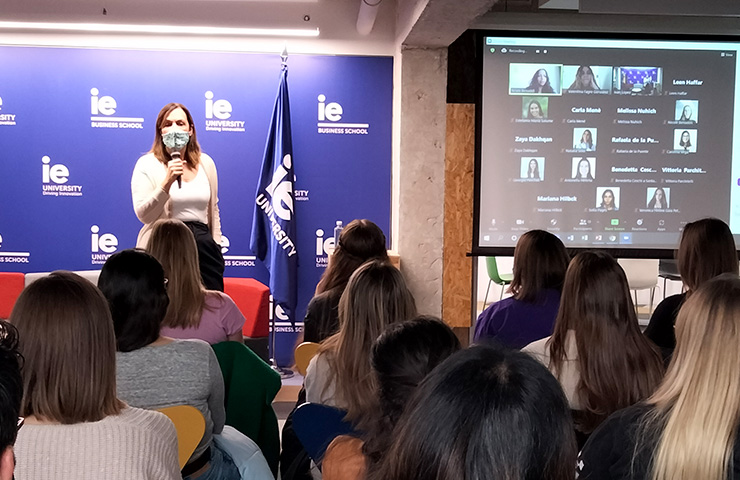 Carla Szemzo, vice dean at IE Business School, has been one of the key driving forces behind the MARCOM Speaker Series. She believes that students have a lot to gain from this series, citing its career-focused perspective as one of its unique benefits.
So far, students have enjoyed hearing about real-world experiences and have relished the chance to open new doors and discover potential recruitment opportunities. In order to boost your career profile even further, I recommend that all students take part in extracurricular activities, get applications in early, and of course, never stop learning—something the MARCOM series aims to help with.
Not just a speaker series: what else do MARCOM programs provide?
MARCOM students also have the chance to participate in the Global Immersion Week. Students will spend three days in London visiting top companies and agencies and will get to know CMOs and marketing team leaders.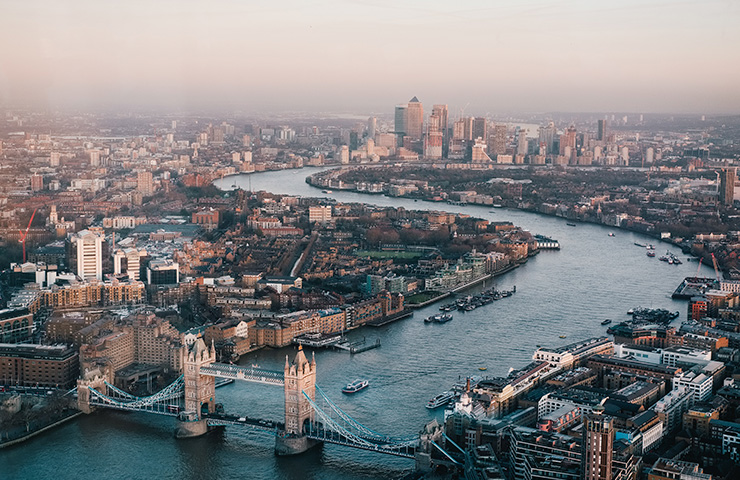 This is the perfect experience for students who are keen to discover global trends and want the opportunity to network abroad.
Students will also get to meet IE University alumni who currently live and work in London. They will be able to provide an insight into life after graduation, and share how they achieved success.
Looking to the future
IE University is unique in that it offers such a diverse range of undergraduate and master's marketing programs. The MARCOM Speaker Series is the perfect initiative to cement the university's position as a global leader in marketing and communication education.
The series is currently open to master's students, but plans to set up relevant events for undergraduates are already in the works. With further ambitions for more exchanges and international opportunities, as well as multi-campus experiences, the future looks bright. Stay tuned!