The rich variety of opportunities available to students at IE Business School includes mentorship programs that have been created to be beneficial to both mentors and mentees alike.
4
min read
In line with IE University's values, the mentor programs for the Master in Creative Direction, Content and Branding and the Master in Customer Experience & Innovation succeed by adopting a human-centered approach.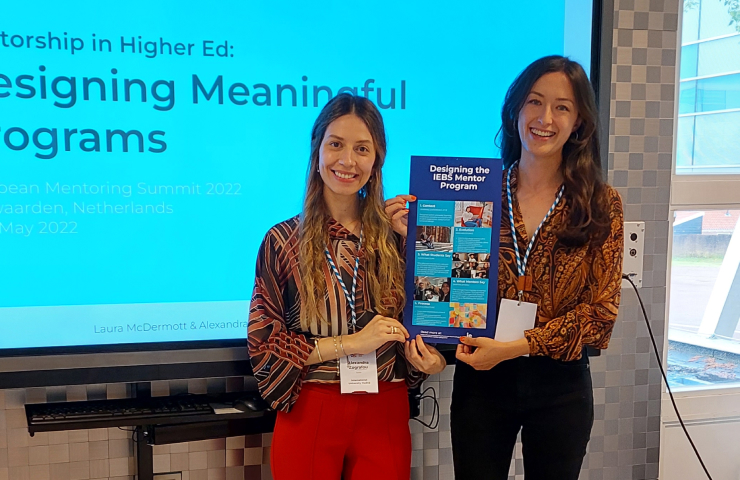 The goal of the programs is to give students the best start possible as they embark on a new phase of their personal and learning journeys.
Mentor Manager Alexandra Zografou and Mentor Program Founder Laura McDermott tell us more.
An evolving program
The mentorship programs first began four years ago and have evolved into the structured, student-centric sessions we have today. Set up by alumni for students, and built around a human-centered ethos, what was initially a straightforward "buddy" system connecting incoming students with graduates of previous cohorts now looks very different.
Social activities outside of the sessions allow mentors and mentees to build strong relationships, with mentors using their experience of the programs to anticipate their mentees' needs.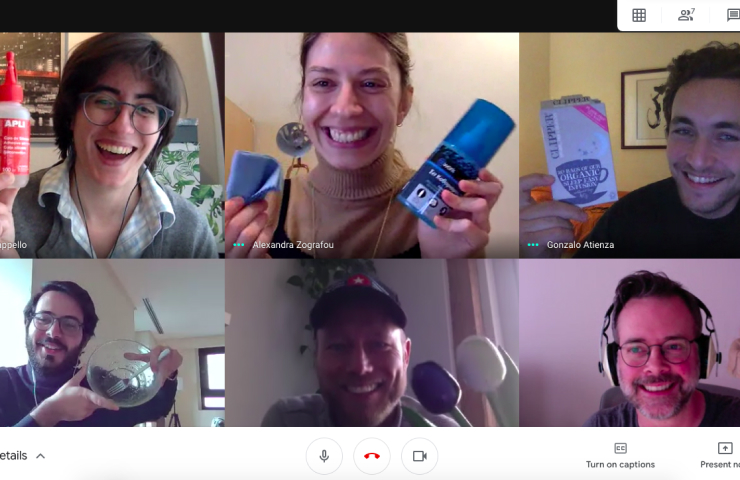 From six starting members, the initiative has grown exponentially. And it's a two-way street; Alexandra and Laura explained that mentoring gives as much back to the mentors as they give their mentees. "Our programs have been created so that our mentors and mentees learn from each other. We focus on 'deep skills,' including teamwork, empathy and self-awareness. There's a trend that we're going towards those skills being really important," Laura tells us, "and they're being cultivated for the mentors and mentees alike."
Insight from people who have been there
Laura, herself an alum of the Master in Customer Experience and Innovation, explains that mentors become role models to their mentees—they've been through what the mentees are going through and know what it's like to experience the program as a student. This gives them a unique perspective to share their knowledge, while at the same time they gain insight into what cutting-edge practices current students are learning. That's an invaluable benefit to the mentors in a constantly changing world.
And it doesn't end there, even for the mentors. "In terms of concrete professional opportunities, three of our Master in Customer Experience and Innovation mentors are now teaching at IE University in their respective areas," Laura confirms. In this respect, the mentorship program acted as a stepping stone to professional enrichment. Mentors have also taken advantage of networking opportunities, with other mentors and mentees, but also through panels and interviews tied to the program.
Collaboration with other programs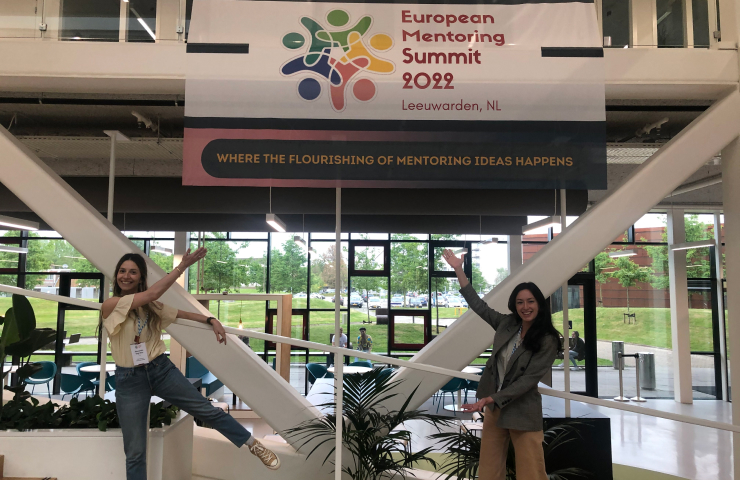 Once a month, members of both programs are invited to hour-long community socials after mentorship sessions.
This helps to foster a strong sense of community, sharing best practices and what they're currently up to. This sense of community is important for Alexandra, who believes that empathy lies at the core of both programs.
But while she says this sort of "design thinking" is what students of the Master in Customer Experience and Innovation students are exposed to, and "trying to weave into their projects," its importance is perhaps not so obvious for Master in Creative Direction, Content and Branding students.
These different ways of thinking across programs can be addressed through peer-to-peer collaboration, Alexandra believes, saying it would be particularly interesting to have peer-led sessions, expanded among other programs. This could see Master in Customer Experience and Innovation and Master in Creative Direction, Content and Branding mentors and mentees learning from each other in a productive exchange of knowledge and insights.
Circular models of knowledge exchange
This kind of knowledge-sharing and understanding between different groups is a small part of what Laura and Alexandra call circular knowledge exchange. In an age where, for the first time, four different generations of people can be found working within the same companies, circular knowledge exchange in particular promotes communication and knowledge sharing across different age groups.
And while this is exactly what the IE University ecosystem has always encouraged, it's now being addressed specifically as part of the mentor program. Circular knowledge exchange, Laura told us, opens up further opportunities for creativity and co-creation to flourish.
Looking to the future
There are no plans to slow the rapid growth of the program. Alexandra and Laura will be presenting at the European Mentoring Summit in May 2022 as they seek to extend the program's reach even further. They'll also be presenting at the 28th EMCC Global Mentoring, Coaching, and Supervision Conference in June, so they're going to be busy!
In the longer term, sharing IE University's alumni mentorship processes with other universities and even industries is an eventual goal. Creating best practices and initiating debate with other universities across the US and Europe is a key objective too, as recognition of the importance of mentorship and the power of programs like IE University's spreads ever further. Laura and Alexandra recognize that's ambitious, but that's not going to stop them going for it.