Our program offering, the Master in International Legal Studies (LL.M.), positions you to drive sustainable development through a unique specialization in International Economic Law.
4
min read
Business and trade have been a central part of humanity's story for as long as we can remember. In fact, it led to the establishment of the first set of rules to guide cross-border trade. These have now grown into a massive body of law called International Economic Law.
"Fast-changing and ever-evolving, this branch of law serves as the foundation on which the entire world economy is built."
International Economic Law
At IE Law School, we understand the need for relevant higher education that primes you to make a meaningful, positive impact on both individuals and society at large. The Master in International Legal Studies (LL.M.), follows this well-established trend, providing you with an in-depth overview of international law. The program follows our unique comparative methodology, helping you develop the skills you need to practice law effectively across jurisdictions.
Choosing the Master in International Legal Studies (LL.M.) opens the door for you to specialize in one of two seminal areas of international law: Human Rights and International Economic Law. In the case of the latter, study involves analyzing the full spectrum of public international law, private international law and domestic law that govern the conduct of sovereign states in international economic relations. They also regulate how private parties—like multinational companies—handle cross-border economic and business transactions.
Why International Economic Law?
"In the wake of increased globalization and digitization, international economic activity is on the rise. This growing interconnectedness means our International Economic Law specialization is more relevant than ever before."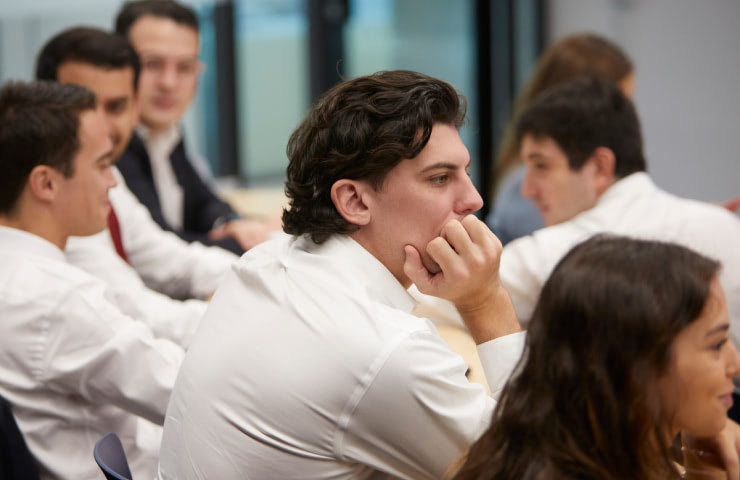 There are many reasons why legal practitioners looking for a vibrant, global career will choose this specialization. These are our top five:
1. Learn the legal ins and outs of international business
The International Economic Law specialization takes you behind the scenes to explore the laws underpinning international business transactions. You'll gain a comprehensive overview of the legal side of doing business across borders, including the sale of goods and services, licensing and protecting intellectual property, financing and foreign direct investments, and dispute resolution, among others. You'll also understand how different political, legal and socioeconomic contexts affect the global economy, gaining insights into how to address multijurisdictional supply chains in order to maintain, or even boost, economic development.
2. Develop a holistic, multidisciplinary perspective
Traditionally, International Economic Law touches on the different aspects of public international law, private international law and domestic law that apply to transnational business transactions. But with numerous ties to areas like commercial law, political science, social sciences and international relations, this specialization both offers a broad, holistic view of the field and encourages the development of a highly versatile skill set.
Our International Economic Law specialization is multidisciplinary by design, especially with the magnitude of global economic activity today. It encompasses a wide array of knowledge branches that you can choose from to build your future career, including:
international trade law, international financial law, international labor & service law, environmental law and more.
Consequently, studying this specialization will help you unlock career opportunities in a variety of industries and sectors.
3. Push for sustainable economic development
The fight for sustainability isn't confined to the world of environmental or social sciences. Instead, it's a major concern for the global economy. Studies show that global value chains—comprising unprocessed natural materials—make up the bulk of international economic activity, rather than the flow of final products or services. So natural resources are a big part of the sustainability question and have extensive implications on trade and commerce.
Our International Economic Law specialization helps you master the legal and regulatory frameworks that govern issues related to the use, import and export of natural resources. In this way, you'll develop the competencies to foster resource conservation and, thus, sustainable economic development.
4. Enter a robust global ecosystem of change-makers
A concentration on International Economic Law puts you in the right place to both understand and shape the global economy. You'll discover the rationale behind why globalization affects different economies in varying ways, from the pros and cons of international trade to how economic policies impact both domestic and foreign markets. Furthermore, our experienced faculty will help you gain new insights into how nations can tackle poverty and income inequality, allocate resources optimally and encourage economic growth. And through our Mentorship Program, you'll receive invaluable wisdom and guidance to help you reach your full potential.
Learning all this in a diverse, international setting allows you to draw on the knowledge and unique perspectives of peers from various countries around the world. And since you'll be right in the heart of Madrid's business and financial district, you'll build valuable connections that will prove beneficial long after graduation. Further afield, you'll have the chance to learn from the experts working in some of the biggest multilateral institutions in international economic law and policy. You'll also travel abroad in our Legal Immersion Experience to network with leading professionals in the field.
5. Foster international cooperation
As cross-border transactions continue to ramp up, you need to have a holistic global mindset. The International Economic Law specialization helps you do just that, showing you how countries formalize and regulate their interactions through various legal treaties, covenants and frameworks.
What's more, this field is based on the principles of natural sovereignty, reciprocity, equal rights and peaceful coexistence and dispute resolution. All these elements are vital to international cooperation and harmony.
Looking ahead
In just 10 months, you can complete your Master in International Legal Studies (LL.M.) and go on to launch your career with a focus on International Economic Law. This is a boon for globally minded legal practitioners who want to use their skills to bring about social impact and positive change to the global economic landscape.