Discover how to be active in the IE University community, from team sports and events to student clubs and beyond. Stay in the loop and make valuable, lasting connections.
4
min read
The IE University experience is so much more than academics. Your master's journey wouldn't be complete without extracurricular activities that are both personally and professionally enriching. Getting involved in clubs, sports teams, and student societies also helps you release stress and make friendships that last a lifetime.
But it's not just about kicking back and having fun—it's also about expanding your professional network. The IE University community is filled with interesting and highly diverse people, with 75% of our student body coming from outside of Spain. Our faculty is made up of international experts in their fields, from world-class academics to experienced industry leaders who continue working while they teach.
Simply put, when you join the IE University community, you grow your network and boost your future career prospects.
So what are the main ways you can get involved in the IE University community?
Student-led clubs
Whatever your interests, there's a club for you. And if there isn't, you can start it. IE University boasts over 100 student clubs, divided into five main categories: the arts, geography, professional development, sports, and social/community clubs. So whether you're passionate about design, big data, LGBTQ+ rights, food, fencing, music or something totally unrelated, you're sure to find a group of like-minded people at IE University.
Learn everything you need to know about student clubs here, or scroll through the complete clubs directory on the official website.
IEU Athletics
Staying active is key to maintaining a healthy body and a healthy mind. Playing sports at university keeps you energized and challenged outside the classroom—plus, it's just plain fun. IE University has a wide selection of sports teams you can get involved with through IEU Athletics, either at a recreational level or a more competitive, collegiate level.
Some of the team sports offered include:
– Soccer
– Basketball
– Rugby
– Volleyball
– Cheerleading
– Futsal
– Field hockey
Some of the individual sports include:
– Tennis
– Golf
– Running
– Swimming
– Equestrian
– Climbing
…and much more. Continue playing the sport you've always loved or try something new! You won't regret it.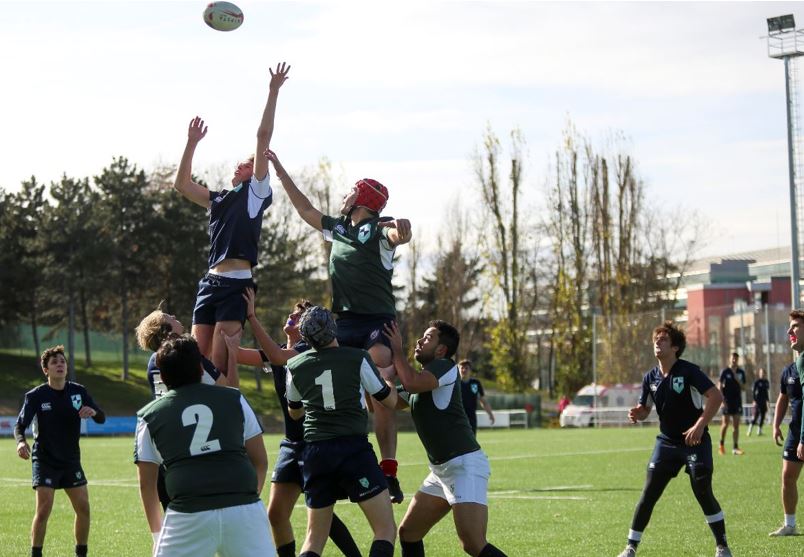 To learn more about the different teams, the competitions they've participated in, and students' experiences, you can download the full IEU Athletics brochure.
Competitions
Compete for the top spot while putting what you learn in the classroom to test. That's the idea behind various student competitions such as the IE Datathon, Hackathon, Venture Days (startup pitch competitions), and more. These exciting challenges have the added element of a time restraint so that students work against the clock with their peers to reach the best possible solution.
The clear benefit of competitions like these is that to a certain extent, they mirror the modern workplace: working under pressure with colleagues to achieve results. There are often also representatives from top companies in the industry present, so it's a great opportunity to make a good impression and make important professional connections.
IE University traditions
The IE University spirit has grown stronger and stronger over the years, in part thanks to our campus-wide annual celebrations, including but not limited to:
IE Day: The entire IE University community comes together to celebrate our school spirit. A social event filled with fun games, raffle prizes, and delicious food.
IE Social Responsibility Forum: Sustainability experts participate in informative panels to discuss the ways we can pioneer change.
IE Chinese New Year: A celebration featuring traditional Chinese art forms such as dances, martial arts, Changing Face, and Chinese instrumental and vocal performances.
IEU Leap Conference: Talks that inspire audiences with stories of creatives and entrepreneurs who took the leap.
IEU Make Art Work Conference: An event that rounds up renowned companies, art experts and students interested in non-conventional business models in order to dive deep into topics in diverse arts disciplines.
TEDxIE Madrid: An annual, independent and student-led TED event with a new, inspiring theme each year.
IEU Humanities Week: A week-long celebration of the humanities during which we invite students to reflect on their personal journeys of discovery and thought.
TechIE: Organized by IE University's tech clubs, this annual tech conference looks at current trends in AI, big data, blockchain, cybersecurity and more, alongside multinationals such as Amazon, Google and Microsoft.
IEU Women's Day: A wide range of events and activities across campus designed to celebrate the incredible women at IE University and beyond.
The list goes on and on. These annual events bring together students and staff for a common purpose, strengthening the sense of community at IE University.
Other events
The IE University community never stops. In fact, it doesn't even slow down. With around 1,500 events organized per year, you can always find something happening in the IE universe, whether on campus or online. You can keep up with our events here.
As you can see, there's no shortage of ways to get more involved at IE University. For more information about any of the above, you can download the Campus Life brochure, or simply visit the official webpage.