Connect the dots between different disciplines with a dual degree at IE University. Gain expertise and develop new perspectives while laying the groundwork for an exciting and enriching career path.
3
min read
When it comes to choosing a master's degree, it can be a little overwhelming. There are so many great options out there that it's hard to pick just one. Luckily, IE University has the perfect solution.
Studying a dual degree at IE University is an ideal way to obtain academic expertise and practical experience in multiple sectors. Think of it as specializing—without any limitations. Each program is carefully designed to combine different industries and disciplines, providing you with a one-of-a-kind point of view so that when you enter the job market, you truly stand out from your peers. Dual degrees create multidisciplinary masters. All the great leaders, entrepreneurs, explorers, and innovators of the world have one thing in common: they are passionate with a curious mind and look at the world through different lenses. IE University fosters these traits through its dual degree programs, putting you straight on the path to success.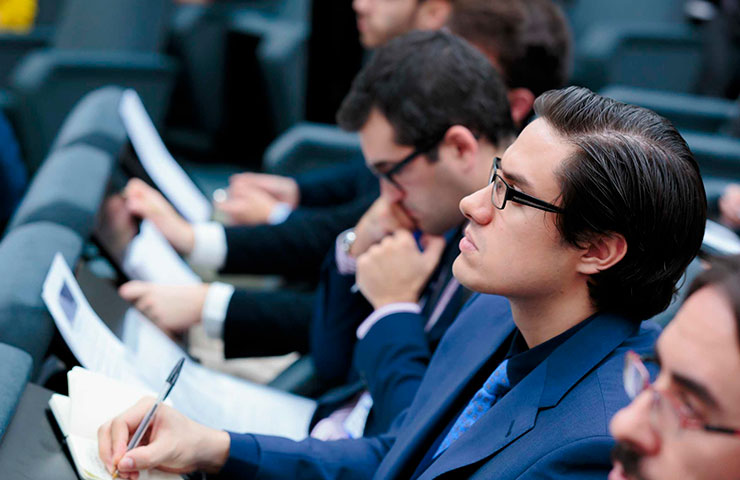 Our dual degree programs have been curated for dynamic, driven individuals who want to excel in their professional career.
With a dual degree, you will develop a versatile set of skills that you can apply to a variety of sectors. Flex your critical thinking capabilities and hone your problem-solving skills so that you can excel in a multitude of sectors.
IE University is one of the few institutions in the world to offer dual degree master's programs. They are designed to be comprehensive and engaging, with expert staff and an abundance of resources on hand. To find a list of all our dual degrees on offer, simply go to our programs page here and browse through your options. If you want to get a little more specific, use our handy feature on the top-left of the page. All you need to do is input your interests and experience, and we'll show you the most suitable programs for you.
So, what benefits can you get from studying a dual degree?
Find the perfect blend
Studying a dual degree is a great way to merge your areas of interest. Narrowing down what you would like to specialize in can be really tough, so a dual degree is a fantastic way to remain open to other sectors. Many people don't have just one field of interest, so a dual degree program can be the perfect solution to carving out a career that will keep you on your toes—and highly employable.
Both diversify and specialize
Why pick just one path to follow? Studying a dual degree positions you at the intersection of two fascinating pathways. Interdisciplinary education is the key to both diversifying and specializing your knowledge. You could follow a professional career in either field of study, as you'll be qualified in both. Or, you could follow a career that marries the two beautifully. A dual degree makes you well-equipped for this, in a way that regular master's programs don't. Pursue a career that is a perfect culmination of both of your expert fields, in a way that few other graduates can.
Get two degrees in two years
In the current economic environment, we have to work twice as hard to stay on top. Boost your productivity and make good use of your time by completing two degrees at once. In under two years, you'll have earned two master's degrees from a prestigious university. Pretty efficient, if you ask us.
Expand your network
Dual degree, dual connections. It's so important to build connections for your professional career, and IE University is a great place to start. Whether you experience it in person or online or both, IE University is a bustling hub filled with international students from all walks of life. With this program, you can double your exposure to classmates, professors and potential employers.
Be more employable
Having a master's degree under your belt is a fantastic way to show prospective employers that you are dedicated, hardworking and knowledgeable. However, an interdisciplinary approach is the way forward. Employers want well-rounded individuals who can think outside the box and offer unique perspectives. With the current job market being so competitive, a dual degree can be the launch pad you need to help boost your chances of landing your dream job.
Double your chances of success
A dual degree is seriously impressive on your CV, demonstrating your commitment and drive. With a dual degree, there's potential for double the amount of professional opportunities. That's not to mention you can increase your earning power—your diversified skills will mean even greater potential for a higher salary.
Be the change you want to see in the world by developing a wider skill set and growing a diverse network. Whichever program you choose, you'll broaden your knowledge in multiple fields, develop a wider skill set, and build a diverse network of connections.