Looking for personal and professional growth? Madrid is the perfect city for any ambitious student who also wants a high quality of life.
4
min read
As a city, Madrid understands growth. Europe's third most important metropolitan area is on the rise, with an estimated GDP of €133 billion and a per capita income of 45% above the EU average. The bustling Spanish tech hub is alive with innovative startups, as well as 40% of the country's big businesses.
But it isn't just economic growth. Madrid is buzzing with a mix of traditional culture and multicultural excitement. With a prime location, excellent transport links and one of the world's most spoken languages, people are flocking to the city. As of 2021, it has a metropolitan population of almost 7 million people—and this figure is set to increase.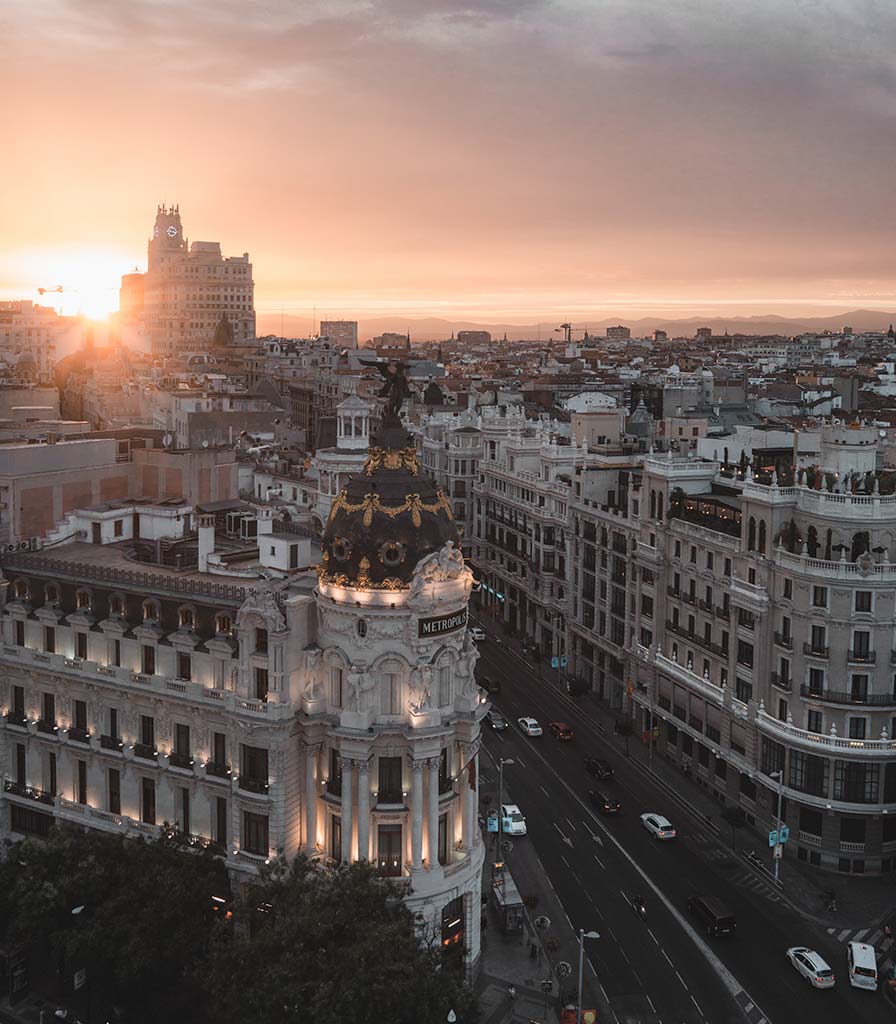 Studying a master's in this city is a unique, highly enriching experience that balances fast-paced change with an incredible quality of life. It's an opportunity for personal and professional growth in a city that truly understands what that means.
Become fluent in Spanish
You can file this under either "personal" or "professional" growth, it's entirely up to you. Let's begin with the personal aspect. Learning a language is a highly enriching experience that opens you up to new cultures in a way nothing else can. It naturally forces you to think differently and shape concepts in ways you've never done before.
This is true of any language, but with Spanish the implications are even more extensive. As the world's third most spoken language, Spanish opens up a huge swathe of the world to you. If you are taking part in any business or international relations program, speaking it can give you access to the Latin American market in a way that was previously impossible.
Job opportunities in growing industries
The Spanish capital is known as a hub of technology and innovation, and is one of the leading financial hubs in Europe. With a well-developed infrastructure, foreign investors and business developers, there are numerous opportunities for entrepreneurship and other jobs (especially if you speak Spanish!). Technology giants like Google, Microsoft, Apple and EA Sports are just a few foreign-based multinational companies that have set up offices in Madrid.
Universities often have strong connections with companies in various industries in the city, which help you find internships and jobs in your preferred field. This is particularly true with IE University, whose frontline faculty are often active in top international organizations. What's more, fluency in English is also seen as a big plus to employers and will help you stand out in a competitive job market.
Great location
Another reason to study in Madrid is the excellent location and transportation system. Of course, the lifestyle implications of this go without saying. It's a fantastic hub for the intrepid traveler, eager to explore new places in Spain and abroad. The high-speed AVE train means that you're only ever three hours away from beautiful coastal cities like Malaga, Valencia and Barcelona. Madrid also has a large international airport, providing access to many beautiful European cities for weekend trips on a small budget.
But beyond gaining the ability to see new places, the city's transport infrastructure and prime location make it a natural economic center connecting Mediterranean Europe with its more northern counterparts. Combine this with its cultural and linguistic links to Latin America and the opportunities the location offers are endless.
There's a high quality of life
Around the world, there is increased emphasis placed on creating a good work-life balance. In Madrid, this is simply a natural product of its environment. Although Madrid is a fast-paced, up-and-coming city, the locals never have any problems with stopping to smell the roses. Perhaps this is a byproduct of the sheer amount of sun, but even after your busiest days, you'll likely still have time to fit in a glass of wine and a tapa.
Between lessons, you can destress in any of the city's many attractive parks, and come nightfall, the city offers some of the best nightlife anywhere in Europe. From tapas bars to international cuisine, relaxed cafés or trendy clubs, there's something here for everyone—a real opportunity to enjoy your student years to the full.
Student-friendly city
Madrid prides itself on how welcoming it is towards students. It is an incredibly safe city and was ranked 8th in a list of the top 100 safest cities to study in Europe. With many of Spain's biggest universities, it attracts a large number of Erasmus and full-time students from all over Spain, Europe and the world. If you're nervous about traveling somewhere abroad for your learning, knowing that there are plenty of other students in the same boat as you can put your mind at ease.
Madrid also helps students financially! Spain's three biggest museums, the Reina Sofia, the Prado and the Thyssen, all offer discounted or free-entry options to view their permanent exhibitions to students. Most cinemas offer student discounts as well, with the Teatro Real (Royal Theatre) even giving a 90% discount to students who buy tickets four hours before the show on Sundays.
There are many opportunities for growth in the Spanish capital. Are you ready to discover them? Check out IE University's program catalog here and find the program that fits you best.