From academic support and guidance to networking and inspiration, IE University offers a huge range of student resources to streamline student experiences and future-proof your career path.
3
min read
At IE University, we pride ourselves on our student services, student support, and resources. These enrich our students' time and ensure that you have the best possible experience. Our student resources are there to help and guide students throughout their academic journey and beyond, with on-hand support for all aspects of student life—from careers guidance to student services. Let's take a closer look.
The Talent & Careers Service
IE University's Talent & Careers service features essential student resources for your career journey. The service grants students access to top quality tools, ongoing training, a wide career network and expert advice. Through this service, our graduates gain a unique pathway into the job market, enabling them to launch careers around the world.
Not sure what to do yet? No worries! Our department helps students assess their interests, skills and job expectations, and decide their future career path. The results speak for themselves: 95% of the Class of 2019 job seekers are currently employed, and, according to TImes Higher Education 2019, we were the highest ranked university in Spain for Global Employability, as well as coming 7th in Europe and 23rd worldwide.
Student Services
The main goal of our Student Services office is to make our students feel safe, secure and confident about their transition to Spain and their life in Madrid. The team supports students with the challenging processes of immigration and relocation, such as acquiring visas and health insurance. Now more than ever, it is essential that you understand and complete these processes. Don't worry—the office will guide and support you every step of the way!
The Language Center
With such an international community and focus, IE University knows the value of languages. Multiple language acquisition is a key element of our educational model, leading to success in both work and study. Our Language Studies Center helps students develop their multilingual communication skills, opening them up to a world of new opportunities and allowing them to flourish in the international labor market.
At IE University, our Language Center offers a wide variety of languages, like French, German, Portuguese, Chinese, Arabic and, of course, Spanish and English. These options open up the world to our students, allowing them to pick the languages that are best suited for their career plans and objectives.
Student Clubs
When not occupied with their studies, our students have the opportunity to explore and take part in different activities through our student clubs. These clubs encourage students to involve themselves in our community, as they will build bonds and friendships that transcend the classroom. What's more, you'll learn new skills that supplement the curriculum and help you stand out in the job market.
There are hundreds of clubs to choose from in a range of categories: Arts, Geography, Professional, Sports and Social & Community. Whatever your interest, there is something for everyone.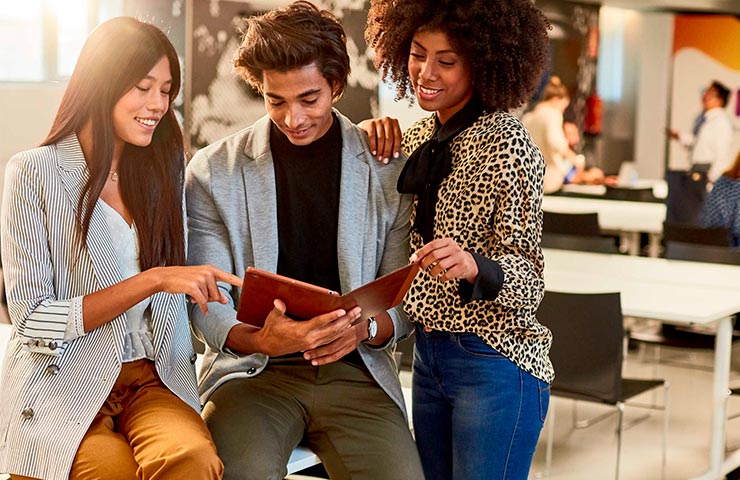 Even if the society for your particular activity or passion does not exist yet, we welcome our students to found and establish new societies, ensuring our campus continuously grows and develops.
The Library
No list of student resources would be complete without mentioning the library. A hub of learning, research and education for students around the world, our University Library is a vast, ever-expanding student resource that meets the academic needs of our community.
Although libraries can seem incompatible with virtual learning environments, we have taken many measures to transform our facilities into a Liquid Learning library. With the Virtual Study Spaces, you can connect with other students and collaborate on projects or study together—just as you would in a physical library. From our investment in student resources such as Google Scholar to our Online Press database, we are equipping our students with the knowledge and information they need to succeed, wherever in the world you may be learning.
Virtual Campus
The IE Virtual Campus is the online network of student support, resources and tools that we have developed as part of our innovative Liquid Learning model. Unlike other universities, our students benefit from the same levels of interaction, experience and teaching whether they attend class virtually or in-person. Students are fully integrated into each class and can lead their own learning journeys through the innovative technological solutions we incorporate into our teaching. This use of technology also flows into extracurricular activities, with IE University students applying Liquid Learning models to clubs, societies and other interactions.
These are just some of the many varied and diverse student resources that we are proud to offer at IE University. Our aim is to create an involved, active and safe environment for our community, where there is no limit on opportunity or advancement. We support students in achieving their dreams, and will continue to develop our resources to stay in tune with the times.