Elena Maran, IE University alum and AI expert, chats about her experience with us, changing careers during the pandemic and the newest trends in the industry.
4
min read
Elena Maran's journey to the AI sector has been far from typical. For most of her career, she worked as an executive in banking and finance. But Elena's eye is always on the future and she soon noticed that innovation would quickly outmatch the pace of these traditional industries. Her thirst for knowledge soon led her to IE University, where she graduated on the Dean's list with an Executive Master in Digital Transformation & Innovation Leadership in 2021.
Creating fond memories through learning
This master's program is designed for mid- and senior-level business professionals who want to stay on the cutting-edge of innovation and digital technologies. This appealed to Elena, who recognized the need to update her skill set in order to remain competitive in the rapidly changing world of business and finance.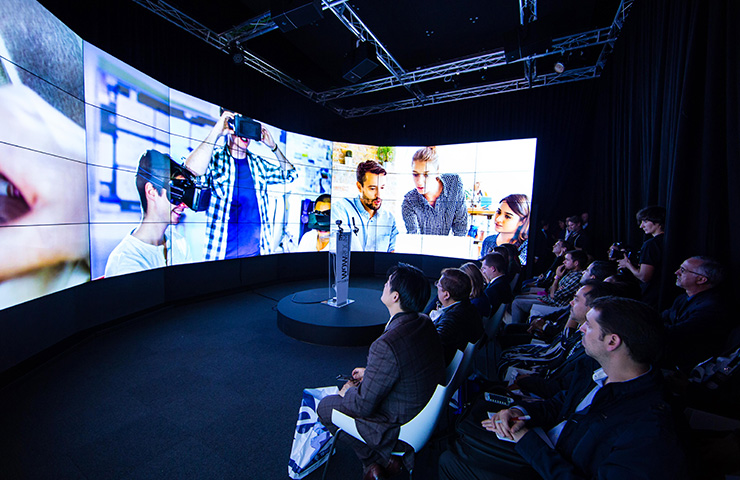 For Elena, the best part of the program was the perfect balance between teaching about technologies and equipping students with an innovation mindset.
She explains this further, stating that "learning change management and the organizational aspects of innovation" has enabled her to "analyze any business situation and apply an innovation framework to it."
While at IE University, she describes her student experience as positive and "extraordinary."
She notes that the bulk of her studies occurred during the height of the COVID-19 pandemic, which led to some unforeseen difficulties.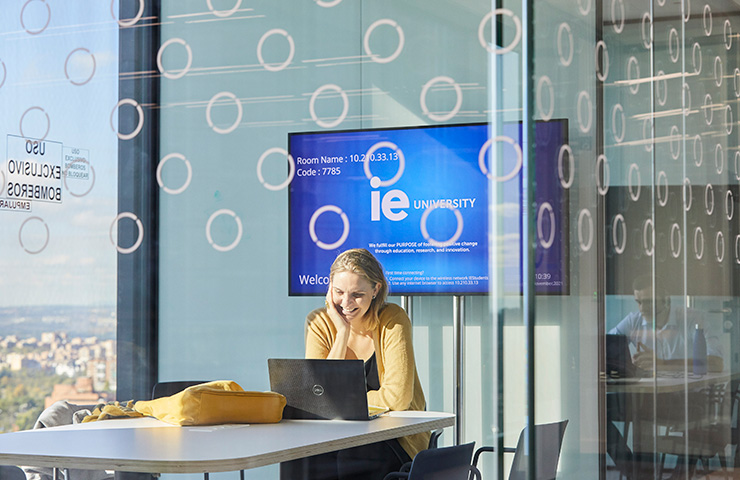 For example, her cohort was slated to participate in four face-to-face sessions but, because of restrictions, only managed to attend two.
However, the class still managed to build strong bonds and work together seamlessly. In fact, Elena says, when they could finally meet in person, they had developed "an eagerness to work together, to do something together." She appreciates the friendships she developed during this period, adding that working with an extremely diverse group of people—from different countries and professional backgrounds—further enriched her time at IE University.
Motivated for a big shift
During her stint as a banking executive, she noticed that the sector adopted technology at a very slow pace.
This worried Elena since she didn't want to be left behind as the professional world innovated around her. This motivated her to begin the master's program.
More importantly, it inspired her career switch from banking to artificial intelligence.
She states that the Executive Master in Digital Transformation & Innovation Leadership master's program opened up a whole new world of knowledge and opportunity to her. Not only did it help her recognize her strengths, but it also revealed that the skills accumulated during her time in banking were actually transferable. Elena believes that combining her expertise in business and sales with the contents of the program helped to transform her into an effective, successful sales powerhouse for the tech industry.
Linking tech and business
For Elena, it all boils down to creating a link between technology and the business mindset. Her professors were vital in this process, she says. They helped her discover that her transferable skills made her best suited for a sales role, leading to her new career today.
Today, Elena works as a sales executive at Modulos AG, a data-centric AI platform that's leading the charge towards sustainable innovation in AI and machine learning. She helps organizations overcome the most common AI-related challenges—including a lack of talent, resources and quality data—through practical AI solutions. She also helps create market awareness about a technology that is often talked about but still little understood by the general public.
Dissecting industry trends
According to Elena, the most significant development in artificial intelligence, and the current market trend in the landscape, is the shift toward data-centric AI. She notes that data scientists had long focused on creating complex algorithms and models to solve problems. However, they realized that stellar algorithms cannot be effective if the quality of the raw input data was flawed.
Data-centric AI is a crucial step, as data and algorithms interact in a way that allows you to focus your attention only on data that's useful for your business.
This represents a shift from the concept of big data to quality data for better business outcomes.
In the future, she sees the rise of the "citizen scientist"—someone who straddles the line between the technical and business sides of data science. If you're considering a future in artificial intelligence yourself, Elena's advice is to understand both sides of the spectrum. Focus on data quality, creating trustworthy AI models and continuous innovation in order to be successful in this field.