For finance students, joining a club at IE University has a great return on investment. Read on to find out how IE Clubs can kickstart your career in the finance world.
4
min read
If you're studying finance at IE University, the learning doesn't stop when you leave the classroom. If academics are the brains of IE University, think of Campus Life as the beating heart—we can't have one without the other, and what's more, they complement each other perfectly!
Finding the perfect balance with Campus Life
Campus Life is a community-based support hub that allows you to put your academic skills into practice and pursue your passions outside the classroom.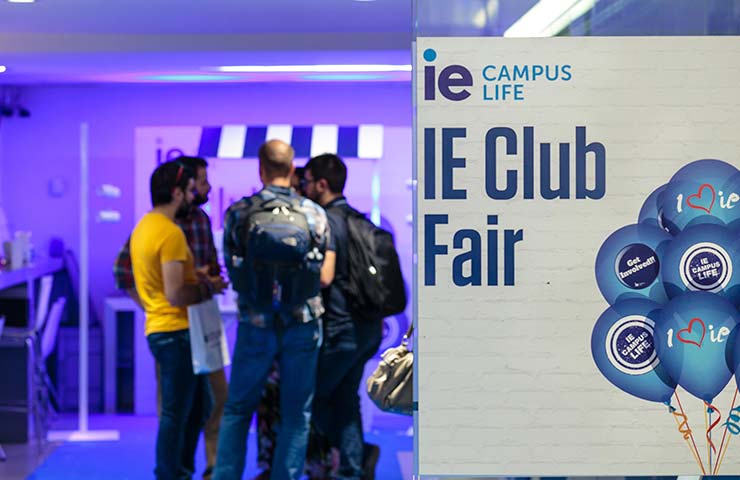 From sports teams to social or professional clubs, there's a perfect balance of skill-building, networking and, of course, fun.
As Associate Director of Student Affairs Elisa Hicks explains, "by connecting students with corporate leaders, professors and their fellow peers, they develop innovative solutions to the world's most pressing issues."
Events that are sure to pique your interest
With over 100 clubs to choose from, we're confident you'll find one that suits your interests. And if not, you also have the option to set up your own club!
No matter which club(s) you choose, you are guaranteed to expand your network—in the past year, IE Clubs have held around 1,500 events, both virtually and on campus.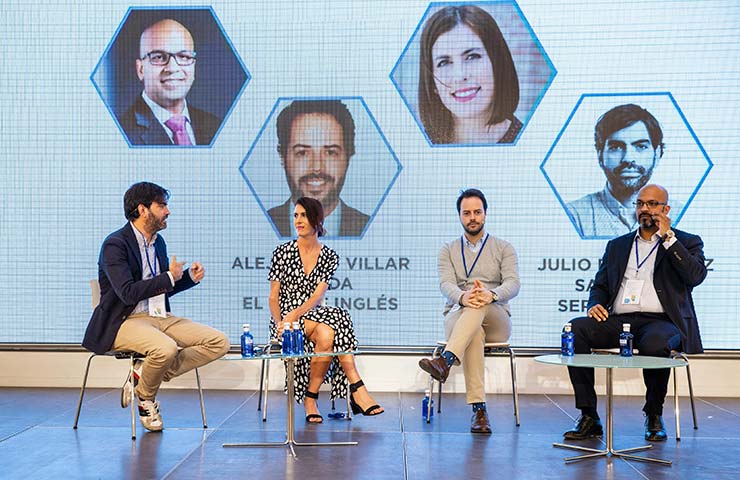 Choosing the right finance club
As a finance student, you can gain valuable industry insights at events with top companies such as Morgan Stanley, Allianz and Greenhill, and meet alumni and professionals who are working for some of the world's biggest institutions. It's also an opportunity to take a deep dive into an area you'd like to specialize in, like trading or investment.
One thing's for sure: if you're studying finance at IE University, you've got a wealth of options to consider. Read on to find out more about our career-boosting finance clubs.
Capitalizing on your community
One of our most popular finance clubs is the IE Finance & Capital Markets Club, which has organized events such as the workshop "Orchestrating an M&A Sell-Side Process" with Rothschild & Co., or "Breaking into Investment Banking Division", a panel with three IE University alumni working at Morgan Stanley, UBS and Citi.
Philippe Boucher, Master in Finance and MBA dual degree student and current club president, believes a standout feature of the club is getting to work with expert tutors: "It's ideal for those who want to ace their job and internship interviews, and hit the ground running once they receive their offers."
Marie de Jouffroy d'Abbans, Bachelor in Business Administration student and club officer, agrees: "Not only have I acquired so much knowledge, but I've also developed hard and soft skills that have been extremely useful for my internship at the Monaco Embassy to Spain."
Forming a solid foundation
Dive into the fundamentals of finance with the IE Finance Club, which has seen a whopping 4,000 members in recent years. Students can learn about finance from the ground up, and it's ideal for both career preparation. Bachelor in Business Administration student and club member Beatriz de los Heros Zuniga thinks the club complemented her studies perfectly: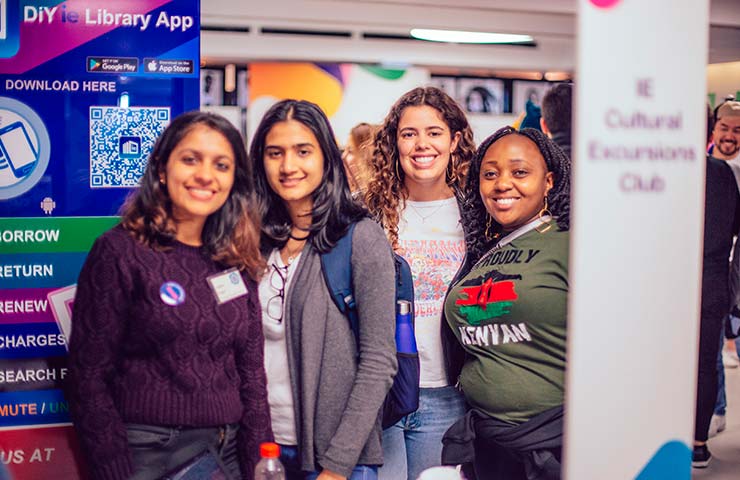 "Not only did I develop skills that have prepared me for a career in finance, but I made really good friends, too!"
Venturing into the finance world
If you're interested in something more specialized, the IE Private Equity and Venture Capital Club is an excellent option. The club serves as a networking platform for students, alumni and professionals alike. With entrepreneurship being one of IE University's core values, it's no wonder students are keen to discover more.
Trading expertise and knowledge
For those looking to explore trading and portfolio management, the IE Institutional Asset Management Club is the perfect place to connect with the brightest minds in finance. The club has organized top-notch events such as "The Future of Alternative Investments: A CAIA Charter Information Session" and a talk with Managing Director at PJT, Juan Sierra.
Alejandro Yela, Master in Finance and Master in Management alum and the club's former president, worked with major institutions such as Deloitte, NBIM and EDM in his role. "We've had the chance to meet top-tier professionals from the finance world. But funnily enough, the most enriching part of my role was working with my fellow coordinators!" Now, Alejandro has landed a role as a consultant at CPCS.
Investing in your future
The IE Investment Club is all about gaining a thorough understanding of investment management, mastering practical skills and obtaining industry exposure thanks to the club's ample networking opportunities.
This club fosters a community of investors looking to gain insight into how markets operate—and allows students to kickstart their investing opportunities!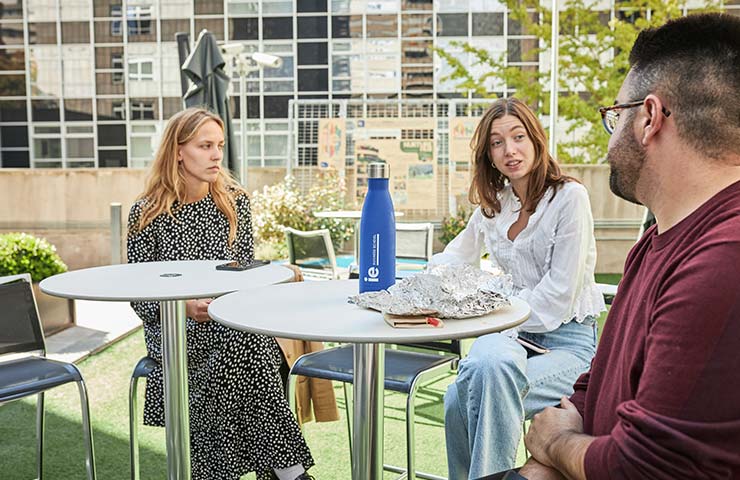 Club member and Bachelor in Business Administration student Samuel Boehm says, "I love that the club centers around practical learning experiences, and theory is put into action!"
Getting to grips with FinTech
Tech is the future, so as a finance student, you'll want to at least dip your toes in the exciting world of fintech.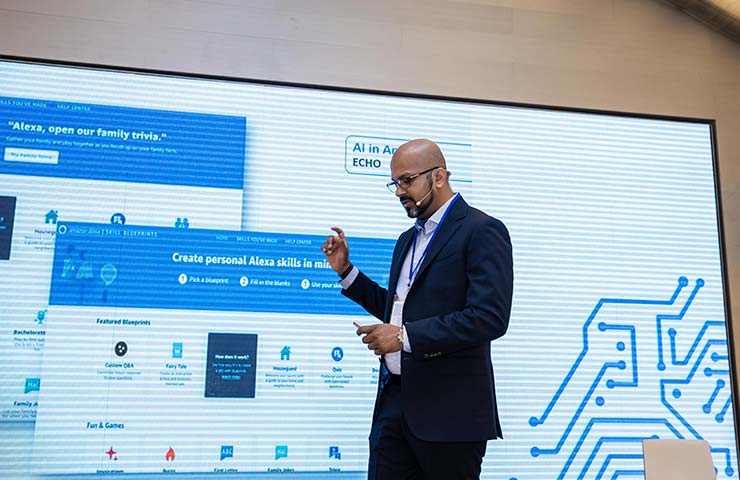 The IE FinTech Club is for people who are passionate about disrupting the financial services landscape with future-forward business technologies.
The club organizes talks and networking events such as, "Digital Transformation with Mercedes Benz' Tech Lead" or "How Will FinTech Influence Business Loans?" to raise awareness about the endless opportunities present in this emerging field.
These are just a few of the 100+ clubs that finance students can join at IE University. Click here to check out all the clubs on offer—there's something for everyone!