IE University is committed to its students' success. From career fairs and practice interviews to providing workshops and one-to-one advice, our IE Talent & Careers team works tirelessly to guide students on the path toward their future. Ambra Sanna, associate director of IE Talent & Careers, recently gave us her insights on the support offered throughout students' academic journey.
5
min read
At IE University, we understand that every student will have their own, unique path. In order to help students build their own professional careers and land the role best suited for their skills and interest, our IE Talent & Careers team offers support, resources and individualized guidance. Ambra Sanna, associate director of IE Talent & Careers, currently focuses her attention as a career advisor for IE School of Science and Technology students.
Ambra's personal professional path is one of reinvention, allowing her to better connect with students and encourage them to discover their own journey. "My academic background is not related to technology—I reinvented myself, which is something I tell my students who are looking to change their career path; everything is possible."
Starting out her professional career by studying linguistics and communication, Ambra swiftly shifted into the tech sector and has always worked in human resources and business development roles. "I wanted to apply my language skills and work with people; that's how I ended up in HR—the sector was something I fell into naturally."
After gaining five years of experience in tech, Ambra took on a role as a career advisor for undergraduate students. She recently moved to a new role on the IE Talent & Careers team as an advisor for master's students at IE School of Science and Technology.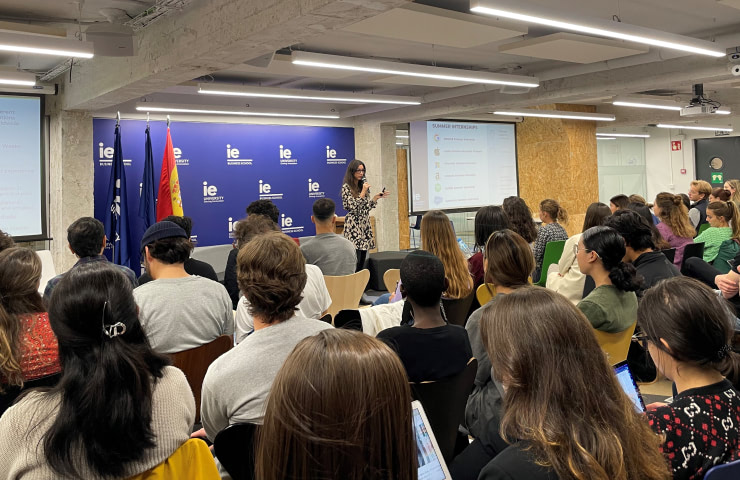 "My role is perfect for me because I wanted to get back into an educational role and I love the fields of science and technology. Plus, I can help people and use my experience in HR—it's my dream job."
The tech sector today
As an advisor, Ambra helps students explore the tech sector and prepare them for the challenges ahead. "If you want to work in the tech sector, you need to be ready to learn and embrace change." As part of her role, Ambra has to stay ahead of the trends and maintain fluent communication between the school and partnering companies. This way, she can make sure that the students' academic preparation is aligned with market needs. Ambra has learned what companies look for in a candidate, which helps her students properly prepare for their future roles.
Graduates in tech are currently in high demand, and IE University graduates possess a skill set that stands out from the rest. Ambra lists three reasons why: "The international environment in which they study; the business and entrepreneurial mindset that IE University teaches at all levels and in every program; and the career preparation that they receive from IE Talent & Careers." Students receive technical preparation but, thanks to the innovative teaching methodologies and experienced faculty, they also develop their soft skills. The guidance from IE Talent & Careers helps them "become great candidates who are able to face complex recruitment processes in pretty much any type of company."
A roadmap toward success
In order to prepare candidates, the IE Talent & Careers team has designed a career advising flow specific for Sci-tech students to help them start working on their professional development from day one.
"The first step is a meeting with their general advisor, who helps them define a career action plan and carry out their process of pathway discovery."
This is where students begin to explore and understand their preference areas and their main skills.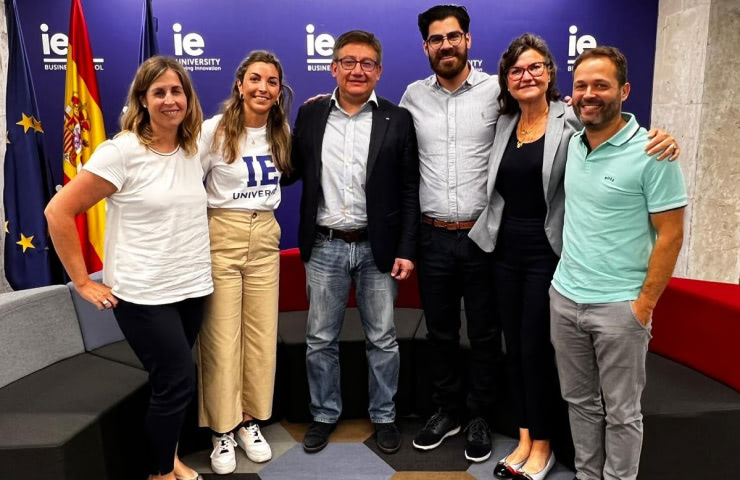 "The second step is for the student to meet the pathway specialists, a team of external collaborators, each one of them focused on a specific subfield of the technology world, who work in the tech market." These specialists help students gain perspective to what's going on in the current world of work and redefine their career action plan based on their pathway of interest. This also includes technical interview preparation.
"The final step is working with the Sci-Tech career advisor (which is me). I help the students get in touch with companies and show them the opportunities available. I also help them prepare for every step of the recruitment process." Ambra works individually with students and with companies around the globe in every sector. Students receive personalized guidance and feedback during mock interviews of all styles, as well as masterclasses and workshops, and a weekly newsletter with job opportunities the team encounters in the market.
Ambra works in continuous collaboration with IE School of Science and Technology to execute the career success course, which is composed of several sessions and workshops to help students prepare for their job search strategy. "The success course covers career discovery, application packages, networking, interview preparation, salary negotiation and more. I'm always thinking about new strategies to guide them through their program from start to finish."
Additionally, IE Talent & Careers organizes several recruiting events throughout the year, where companies from different sectors come to meet students in person and share the opportunities and vacancies they have on offer. An example is the IE Careers Forum, which is held twice a year with a high participation of companies.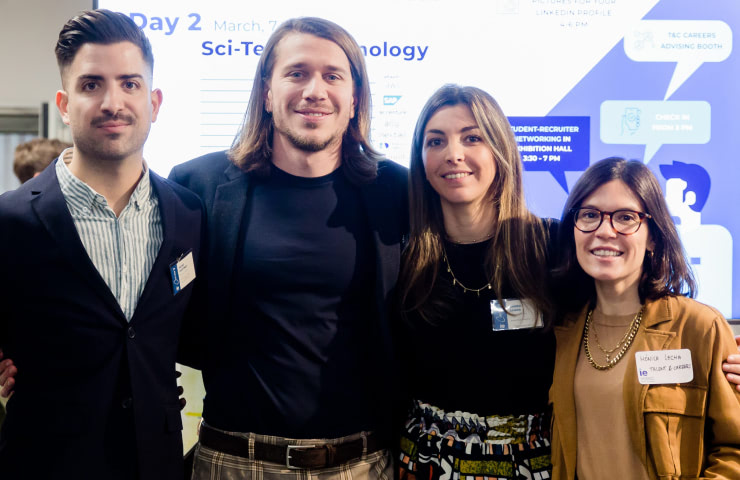 During this event, which lasts several days, for the students of the IE School of Science and Technology, Talent & Careers organizes a day specifically tailored to them.
A two-way street
Ambra works hard for her students, but she has expectations from their end, as well. "The students who find opportunities more easily are those who are more committed to their job search and professional development from the beginning of the program. They don't wait until the end to start looking for opportunities." She advises that students join career sessions and apply the tips and knowledge from the very beginning.
"It's also important that students keep us posted on their progress and the challenges they're facing." This way, Ambra can share specific resources based on the type of interviews the student will face depending on the company and role. "We are always happy to help them, but it's important that each student is the owner of their professional development—only they can know what they really like and want. We're here to support them, but productivity from their side is key."
As for advice during the time in their program, Ambra tells her students to not be afraid to ask for help. "Take special advantage of the IE Community because they're willing to give back. Our graduates continue to reach out to IE Talent & Careers to help students land a role in their respective companies. Ask for help—the IE Talent & Careers team is happy to guide you throughout your program on all things career-related."