It's hard to comprehend the impact that technology has had on society in recent years. The Information Age has brought with it a rapid increase of new innovations which have not only changed the world, but the people who live in it.
2
min read
While progress is always a good thing, it's important to ensure that technology doesn't pose a threat to the values that underpin our society. With that in mind, Joe Biden, President of the United States of America, inaugurated the first edition of the Summit for Democracy on December 9, 2021. The virtual event aimed to reinforce the world's democracies, fight against authoritarianism, address corruption and advance respect for human rights.
At IE University, we're incredibly proud to have taken part in this initiative, in not just one, but two ways. Firstly, in partnership with the US State Department, we launched the Tech4Democracy Global Entrepreneurship Challenge. This challenge is part of the White House's International Grand Challenges on Democracy-Affirming Technologies, which tie into the Summit for Democracy.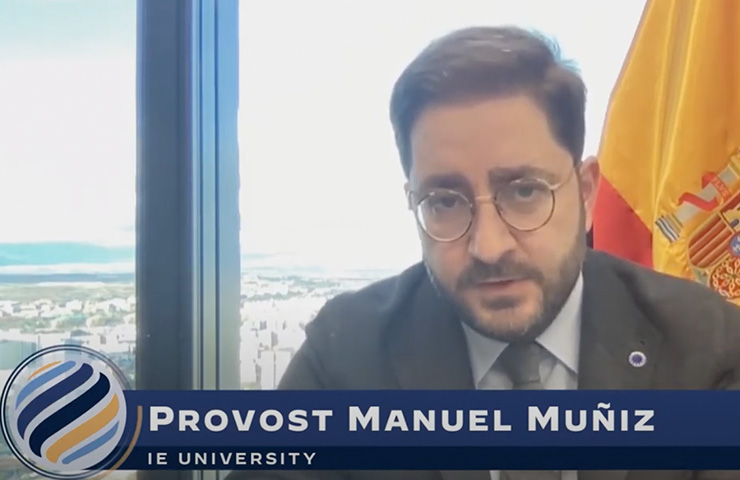 What's more, Provost Manuel Muñiz participated in an hour-long panel discussion titled "Countering Digital Authoritarianism and Affirming Democratic Values."
During the discussion, he explored the role that technology plays in democratic life, diving into the theme of democracy-affirming technologies from a European perspective.
The initiative in a nutshell
The Tech4Democracy Global Entrepreneurship Challenge will take place throughout 2022, and will identify entrepreneurs who develop democracy-affirming technologies. And we'll be carrying out a set of regional scale-up and startup competitions across many countries in order to do just that.
Of course, there will be a number of winners due to the amount of competitions. But ultimately, a subset of these competition winners will be invited to share their innovative initiatives with stakeholders during the second Summit for Democracy.
The challenge is about bringing innovative minds together. Researchers, investors and entrepreneurs will collaborate to identify key innovations across the following areas:
– Data for policy making;
– Responsible AI and machine learning;
– Fighting misinformation;
– Advancing government transparency;
– Improving accessibility to government data and services.
How will IE University execute the project?
The Tech4Democracy Global Entrepreneurship Challenge will depend on the collaboration of three integral centers at IE University. These include the Center for the Governance of Change, the PublicTech Lab and the Entrepreneurship Center. Respectively, these centers deal with emerging technologies, technology in the public sector and entrepreneurship, and global startup competitions. We're looking forward to seeing the results of their efforts as we move towards an even more democratic society.