An alum of IE University's Master in Strategic Interior Design, Julia Mingorance is currently a Senior Workplace Consultant at CBRE. We had the chance to speak to her about how flexible architecture and interior-design solutions will shape the new normal and the future of work.
4
min read
In early 2020, our world was paralyzed, and our way of life was suddenly turned on its head. We were forced to experience a fully virtual workplace—a format that many of us had never dipped our toes into. However, companies were surprised to find that team members maintained the same levels of productivity and results during these months, which led many to predict the end of the physical office as we know it.
Now, as the world starts to stabilize, many companies have returned to the office, but are experimenting with different flexible models that combine remote work with office days. As this hybrid approach gains popularity, organizations are seeing an opportunity to reduce office space and save on costs. But what are the key factors to keep in mind when finding this balance?
Julia Mingorance, alum of IE University's Master in Strategic Interior Design, helped us understand the considerations and benefits of the up-and-coming flex model.
Looking at logistics
As fewer team members occupy the office, the classic concept of estimating surface area for the workplace is being challenged. New variables have arisen alongside the new normal of hybridized working patterns, and these factors have increased uncertainty about how much office space is really needed.
According to Julia, these variables include:
– How many days of remote work will employees take? Will it be roughly the same for all employees?
– Which attendance model will be established: a voluntary attendance model or a departmental model?
– Are common office attendance days going to be established? How can it be ensured that the physical workplace has enough seats for all employees who attend?
– How do I manage to retain and attract talent with the new work and office model?
– How can I manage occupancy peaks?
– How do I ensure a meaningful experience for employees in the office?
– How do I make my office a magnet for employees and a space for collaboration and teamwork?
– What are other companies doing? What's the industry standard?
Faced with these questions, organizations must determine how much office space they really need in order to adapt the workplace to the new normal and prepare for the future. While there's no magic formula to achieve this, there is something that all companies must do to ensure survival: stay agile when responding to uncertainty.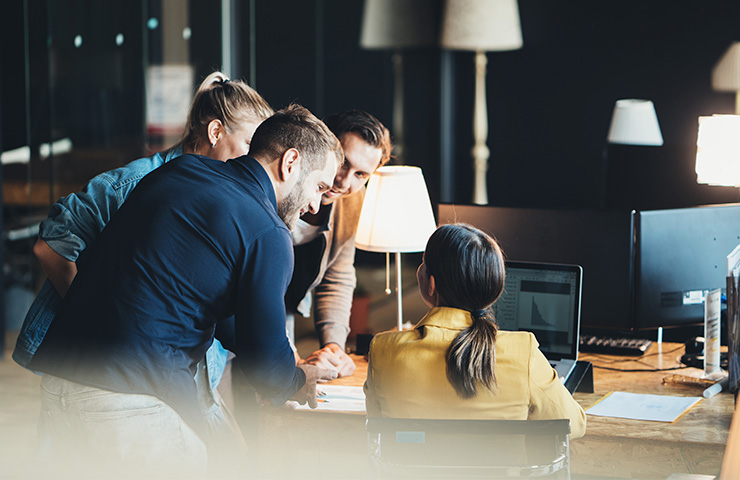 Organizations are evolving organisms and therefore require a space that is a dynamic, flexible ecosystem, and which encourages collaboration between different business areas. 
Flexible solutions for companies of all shapes and sizes
In the search for architectural and interior design solutions, flexible spaces are gaining a lot of attention. Take CBRE's Agile Desk department, for example. Julia tells us that the team is finding that the flex model is gaining in office-search requests, going from a 70/30 split between conventional and flex offices in 2019 to a 60/40 split in 2021. The trend toward demanding flexible solutions has been growing significantly—for small startups and corporations alike.
While startups have long embraced the hybrid model, we have recently seen increased interest in flex space from large corporations, indicating that this direction is where the future of work is headed for firms of all sizes.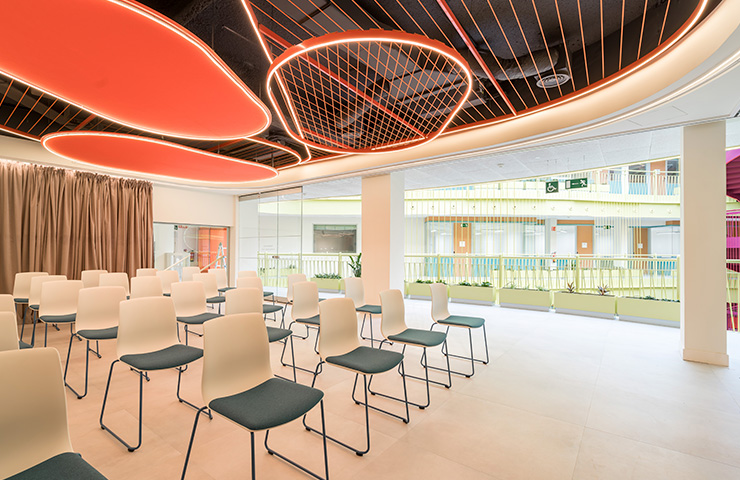 What can the flex model offer us?
Some of the main advantages that the flex model presents compared to conventional office models are the following:
– It allows for fast and flexible solutions for contracting spaces, adapting to companies' ever-evolving needs and goals. Corporations, startups and freelancers need different things out of a work space on any given day, and the flex model responds to this. For example, if a company only needs a meeting room once a week, they will only pay to use it once a week.
– In the same vein, the pay-per-use model and "all-inclusive" rates (furniture, equipment, energy usage, etc.) favor booking per seat rather than by m2, which helps to optimize costs and reduces risks for companies that hold per-employee memberships.
– It allows corporations to alleviate peaks in employee occupancy, avoiding a poor office experience.
– Flex spaces are the best alternative to teleworking, offering an ergonomic and safe environment focused on well-being. At the same time, these spaces use interior-design techniques to create a wide variety of spaces and ways of working to foster employees' productivity.
– These flexible spaces can be fully customized to develop workplace environments and facilities according to the needs of each company, in terms of privacy and confidentiality.
– The flex model promotes community environmentsthat favor entrepreneurship and networking in a "phygital" (physical + digital) environment, facilitating a hybrid way of working.
This shift in the way we work isn't just about reducing office space and costs. It's about making our spaces more efficient and flexible, responding to our evolving needs.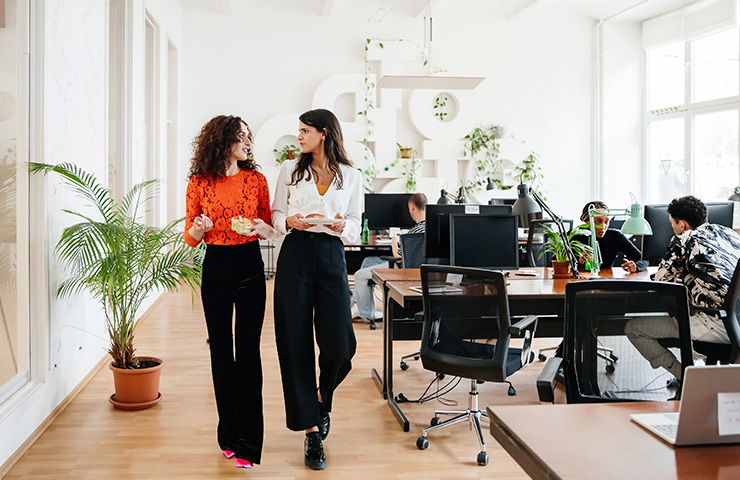 Emerging interior-design and architectural solutions will continue to explore the flex model as it comes to dominate our approach to organizing office space.