While preparing for your IE Experience in Madrid, you may be trying to sort out the cost of housing, utilities, transportation and other expenses that may arise. In this post, we provide estimates of the cost of living in your future home away from home.
4
min read
Studying abroad is a decision that comes at a cost—a literal cost of living away from home. But it's a price worth paying for everything that comes with it. When making the decision to have an international experience, putting together an accurate estimation of the total expenditure can be confusing. Countless internet searches and number crunching can be exhausting, so your search stops here.
At IE University, our focus is student success. Part of this success is your ability to plan your year abroad with every detail in mind, including outside expenses. To this end, we've put together a data-based estimation of the monthly costs that come with living in Spain's vibrant capital.
Your home abroad
The first step to your big move is finding a place that best suits your needs. This may take some time and a few visits, so we recommend you start your search in advance in order to guarantee that your accommodation meets your budget and requirements.
With plenty of housing options in the city, before you start your search you should decide if you want to live alone or with other students, and in what type of accommodation. You could rent a studio or a one-bedroom apartment on your own, live in a room in a residence, join other students in a shared apartment, or even live with a local family.
To help you with this decision, we've laid out an estimation of the monthly prices of a few different possibilities: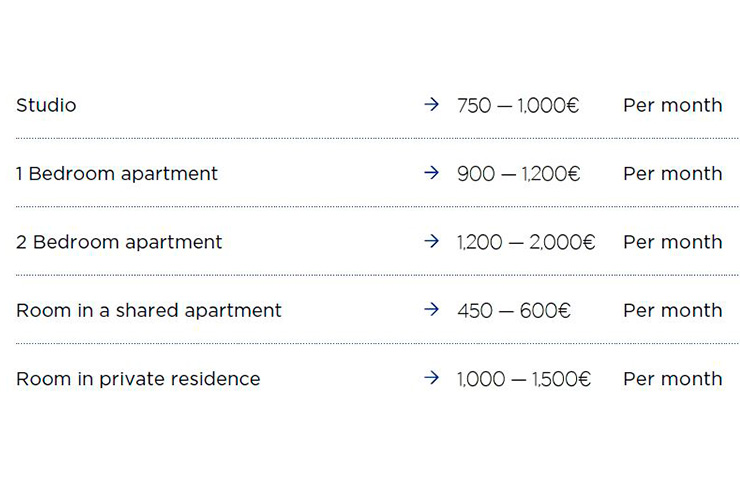 If you decide to rent an apartment, whether on your own or with other students, keep in mind that there will be a deposit fee upon signing the contract.
Depending on the landlord, this fee will be the equivalent of up to three months of the monthly rent. It will be returned to you—likely in full—when you move out, but be sure to add this fee to your initial budget.
An additional factor to budget for is the fact that rental agreements are usually signed for a one-year period. If you are interested in negotiating a shorter time period with your landlord, your rent may increase in order to compensate.
As a way to avoid potential rental agreement issues, our Student Services department recommends not to make any payments until you have signed a contract and visited the flat in person. What's more, we strongly encourage you to select your apartment through Beyond Campus, a secure platform created by IE University MBA alumni to help future students find unique accommodations near campus.
If you are looking for more details about housing opportunities in Madrid, check out the "Living in Madrid" section of our Student Services page.
Utilities for your home abroad
Once you've found your perfect home, you'll need to get electricity, water and gas set up—expenses that are generally not included in the monthly rent.
If you choose to live in a flat or studio, consider these estimated utility expenses: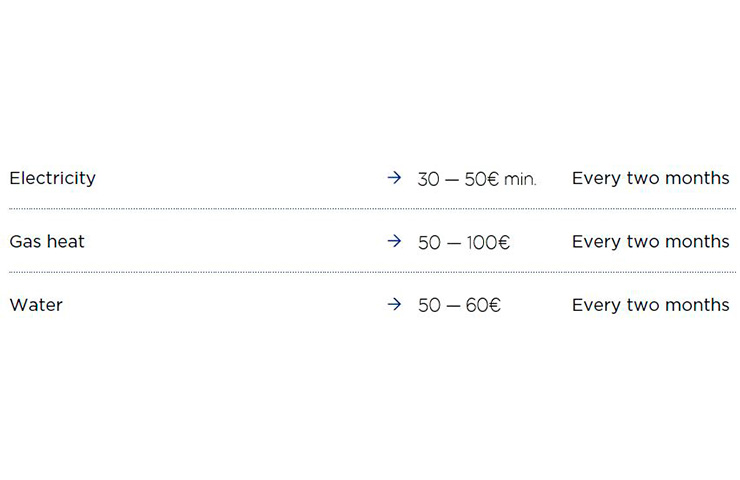 Stay connected
Although it's not directly related to your home abroad itself, paying to stay connected is an essential part of today's digital world. Spain has various mobile phone companies with cost-efficient plans that include national calls. However, if you're wanting to make international phone calls, there may be a supplemented rate. The plans do, however, include internet data, and international calls can be made over Zoom or Whatsapp at no additional cost.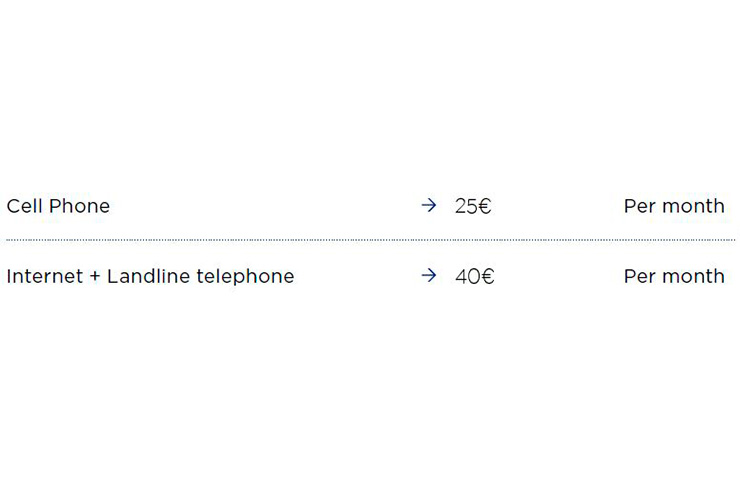 Your monthly phone and internet bill, depending on your carrier and the plan you select, can be estimated as such:
Other essentials
When you're making your monthly budget, be sure to take into account essentials such as groceries, transportation and medical insurance.
Offering a wide range of supermarkets, Madrid allows you to grocery shop at relatively low prices. It goes without saying that your monthly grocery bill will vary depending on how often you eat out or order in, but groceries are overall quite affordable.
Madrid's public transportation system is incredibly efficient, and when compared to other European cities, very low cost. A monthly transportation card includes the underground train (Madrid metro), the day and night buses, and the short-distance train (Cercanías). Another expense that you might consider is private medical insurance. Madrid's public health system is accessible, but private insurance is another option that can be managed directly through our Student Services department.
Our agreements with national insurance companies such as Adeslas, Cigna or Sanitas offer you the option of inexpensive, private coverage. Each of these extra essentials are estimated as follows: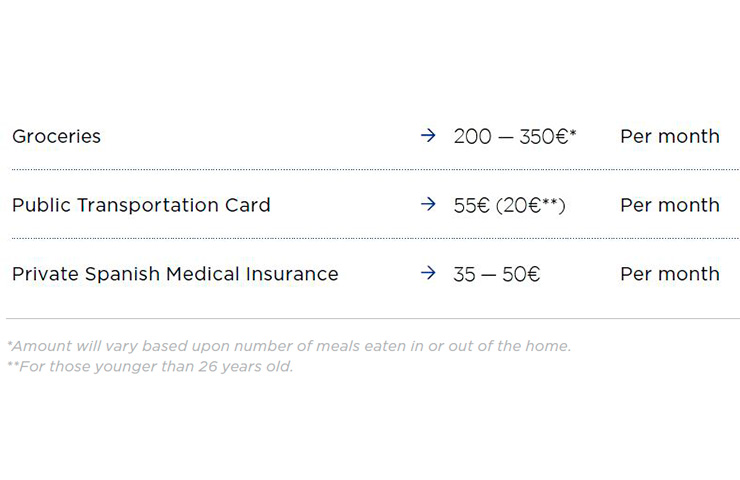 The cost of additional fun
Thus far, we've only covered the estimated costs of services necessary for living. These estimates are the expenses you can count on paying monthly, with little variation. Bear in mind, though, that you should also budget for other experiences.
Part of living abroad is the opportunity to immerse yourself in culture and social settings. Make sure you put some savings aside for the moments you want to dine out with your friends, catch an exhibit at the art museum, have a drink on a rooftop terrace or even visit another city. Don't forget to budget in your beauty treatments or haircuts, spin classes at the local gym or a night out for a musical, play or movie.
Enjoy your IE Experience to the fullest with an accurate estimate of the expenses that lie ahead.
(*) These estimates are based on the data provided by IE Business School's analysis for the 2021–2022 academic year.