Interested in ranking first on Google without having to pay a single penny? Don't break a sweat. Let SEO do the work. As it continues to evolve over the years, along with content-management systems such as Wordpress and Blogger, it's now possible for anyone to create and publish optimized digital content and webpages poised to compete for the top spot on search engines.
7
min read
by Paul-Adrien Bourgue — Football fan, web practitioner, and digital junkie, Paul-Adrien Bourgue is a professional in finding the sweet spot between minimalism and elegance to save the world from user-hostile interface design. Born in Aix-en-Provence, France, he completed his undergraduate studies in Web Design before pursuing a Master in Digital Marketing & Analytics at IE University. Chat with him here.
Google searches account for 81.5% of total searches online. But each search engine has its own algorithm, and optimizing your webpage for Google might not give you the same result such as on Yahoo or Bing.
Staying up to date with the constant changes and updates operated by each search engine can be challenging. Most of the time, they remain fairly secretive about their algorithms and don't want to reveal their magical recipe to ranking first.
Luckily, Google's not that severe, and won't leave us high and dry regarding their SEO methodology. Some of the fundamental concepts published by Google, as well as solid research conducted by experts, remain unchanged over time and continue to be functional across several search engines. If you apply these techniques, you'll attract more organic traffic to your web pages and improve your overall search ranking.
So let's get started.
1. Find and fix SEO issues and errors
SEO checkers can be of great help when you don't know where to start to improve your organic leads.
With SEO tools such as Woorank, checking and detecting SEO issues has never been more accessible. All you have to do is copy-paste the URL of your webpage and the tool will do the rest. The SEO checking tools will go through the code of the website to concoct a general report and provide you with clear, prioritized advice.
2. Check your broken links
We've all faced a dead link page, and it's quite frustrating. A broken link is a clickable link that doesn't take you to the page you meant to see, making it disappointing for both website visitors and Google.
Google wants the best experience for its users, and landing on an error page is not a great experience. If you don't fix your broken links, the algorithm will consider your webpage as non-updated content, and you won't appear at the top of the search engines. Brokenlinkcheck.com is a great tool to quickly verify any possible broken links on your domain.
3. Choose the right image size and formatting
Images are long to load, and every second counts when it comes to web browsing. In fact, one study shows that response time from 2-10 seconds increases page abandonment by 38%. It's crucial to choose the right image size and format so your website loads quickly. Here's a table shared by Google to help understand the right pixel-to-byte ratio.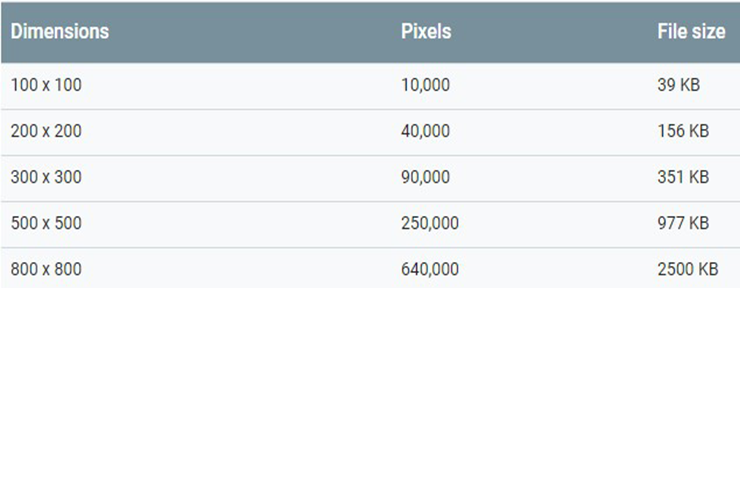 This table gives us an idea of how heavy an image can be, based on its dimensions. (Source: Google)
Don't know the difference between .jpg, .png, .gif, etc.?
Here's a short guide explaining when to use the appropriate image format: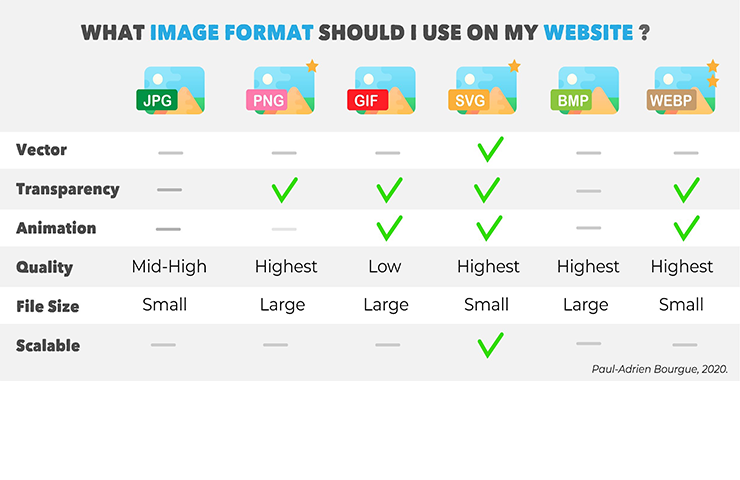 If you want to test the loading speed of your webpage, PageSpeedInsight is a useful tool by Google to get an overview of how fast your website is performing.
4. Take care of your HTML code
Unfortunately, many website owners still ignore HTML when it comes to SEO. This tip makes all the difference: don't be afraid to adjust what's happening behind the scenes. HTML is the standard coding language regarded as the skeleton of every website. In most cases, you won't require any coding skills to improve it for your SEO.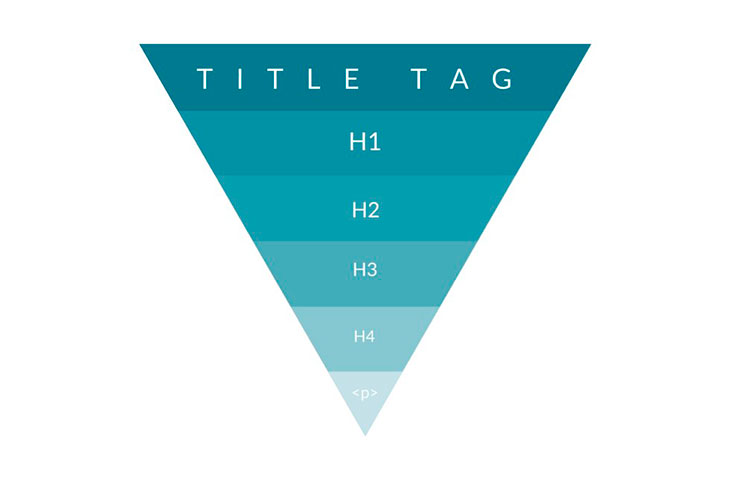 Keep in mind thatGoogle ranks webpages according to their traffic but also by analyzing their HTML content. (Source: Paul Teitelman)
Here is an essential tip to give Google structured data indication on your website:
See the title at the top of this page? HTML is used to make it appear as a header tag—in this case, an H1 tag.
<h1>Top tips to improve your SEO in 2021</h1>
See the subtitle at the top of this section? It also uses a header tag, but here it's an H2 tag, signifying the next level of importance of this secondary title.
<h2>Take care of your HTML code</h2>
Tags are a formal way to distinguish the main sections on your webpage. Search engines have long used them to know what a page is about. Therefore, you should use strategic keywords in your titles to increase your chances of appearing in searches for those words.
5. Optimize your title tag and meta description
Similarly to the previous tip, the title tag and meta description tag are key HTML tags to optimize if you want to boost your ranking. It will help the search engine and potential website visitors to know what the webpage and site are about.
Here's how the title tag and meta description appears on Google: (Source: Paul Teitelman)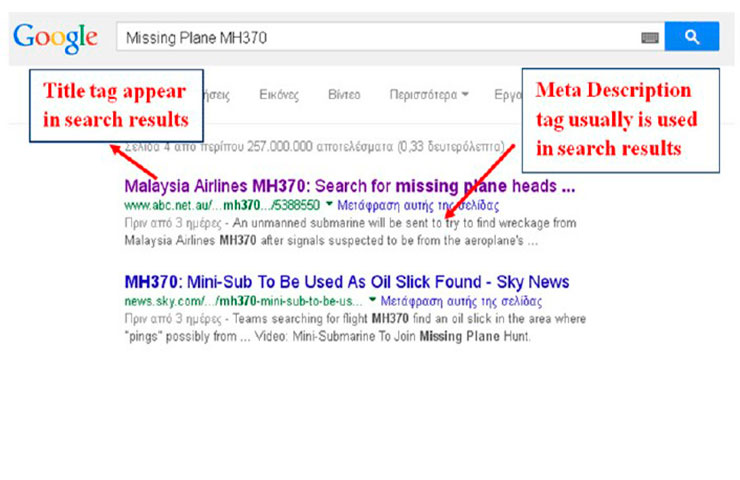 When creating your tags, think about how people will search for your content. Start the text with <title> and end with </title> to tell the engines the topic and keyword you're talking about on the webpage.
Example: <title>2021 checklist to improve your SEO</title>
6. Stay consistent in how you stylize title tags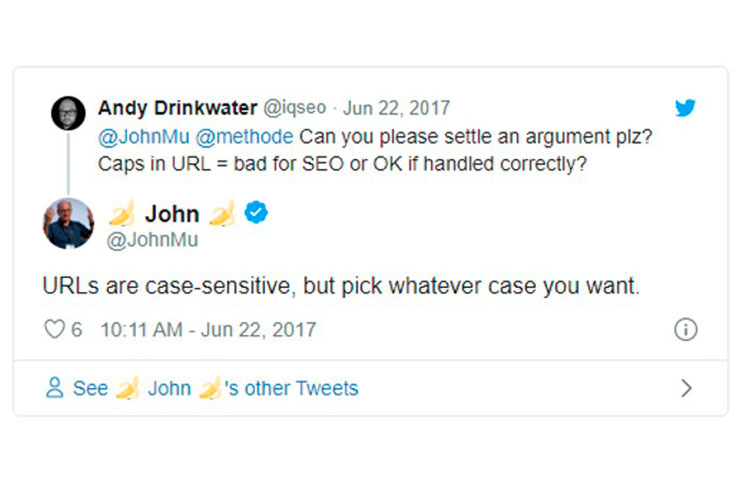 SEO has seen several long-running debates, and capitalizing the first letters of URLs and titles is one of its truest. (Source: John Mueller)
This technique is called "title case." This common practice consists of capitalizing the first letter of each word to grasp the attention of potential visitors when sifting through search results. But in the long run, there is no effect on your rankings since Google now considers keywords equal, regardless of your method of capitalization.
CApiTALiZaTION DoEs NOt maTtER; it's up to you to decide how you write your titles. Just don't go for ALL CAPS—it comes off as spammy to users.
If you decide to go for title case, use this tool to save time converting lowercase to upper.
Add numbers to your title tag:
This common practice hasn't been proven yet, but experts tend to agree on observing a slight increase in click-through rates when numbers are used in title tags. This could be due to cognitive bias—digits represent facts and tend to attract attention. Plus, the shape of numbers stands out from a group of letters. For example, 2415 might catch your eye more than four.
This is partially why we're drawn to catchy listicle titles like "15 reasons you should prepare for the end of the world in 2021." (Source: Montgomery Black)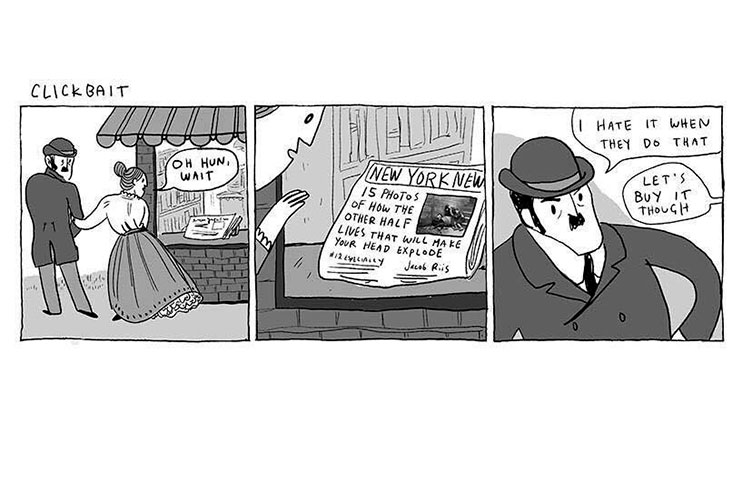 This controversial technique is usually considered "clickbait" and must be used with discretion.
7. Shoot for the ideal content length
Bloggers and SEO specialists always questioned what the ideal content length was.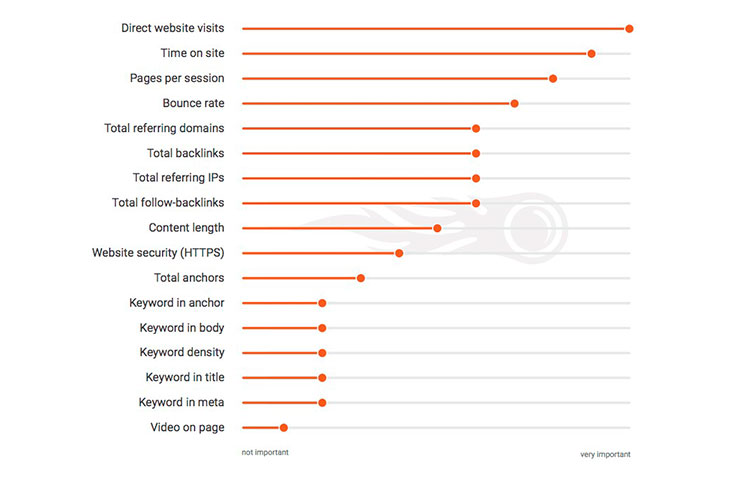 In 2017, Semrush confirmed that content length is one of the top 10 most significant factors in ranking.(Source: SEMrush)
For many years, content writers believed that short and straightforward content was best for their audience and the search engine's ranking. Until 2012… when SerpiIQ published a study carried out on around 20,000 keywords.
The organization drew the following conclusions by analyzing organic results. (Source: SerpIQ)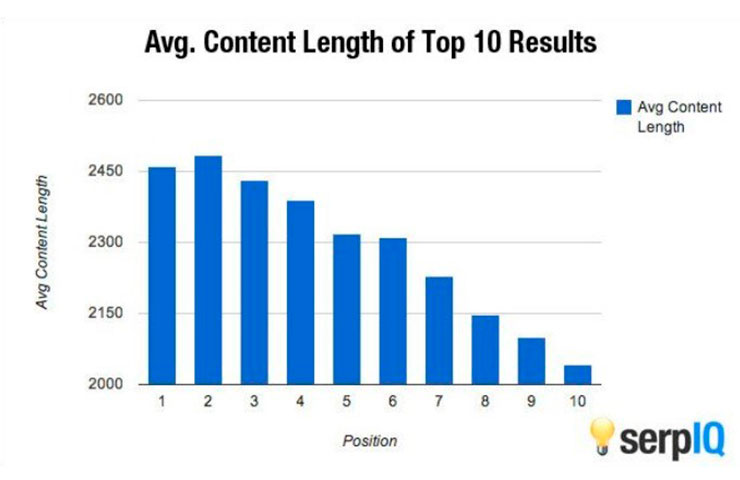 The average length of the top 10 results in Google search engine is at least 2,000 words. In 2016, Brian Dean, owner of the popular SEO blog Backlinko backed this theory up, claiming that "the average Google first-page result contains 1890 words."
However, Google never claimed that the number of words influences search engine ranking. This theory could be justified by the fact that longer content generates significantly more social shares.
So what is the best content length?
If I tell you that X words always rank in the top 3, I would be lying to you.
The best length for a text is the most complete. It's the one that gives all the information the user is looking for.
I recommend BuzzSumo to find content ideas and to see what content performs best on your website.
8. Use Google Search Console
The Google Search Console is the new and improved version of Google Webmaster Tools: aimed at a wider audience and no longer reserved to the webmaster experts. It's one of the only official Google SEO tools,giving great insight into how to boost your SEO.
Among other things, it allows you to see the evolution of the number of pages indexed by Google. The "indexing status" feature shows you the number of URLs on your website that Google has indexed. It can also identify errors and tell you the exact keywords visitors used to land on your website.
9. Use Reddit & Quora for keyword research
Spying on online communities isn't as creepy as it sounds.
Millions of people ask questions on Q&A forums every day. These types of websites are high-traffic and niche—and their ability to send referral traffic to another website or blog is equally high. If you want to boost your traffic, engage in these conversations, including hyperlinks to useful and relevant articles on your site.
Another significant benefit of using Q&A forums is that reading popular threads on Reddit and Quora can give you great keyword insights. Searching for questions that arise frequently and analyzing their catchword structures can help you find an unexploited subject for your webpage or title.
10. Give Google it wants
SEO is a bit like a beautiful book cover: you can be allured by clickbait while scrolling, but in the end, the content of the book is what really matters. So focus on providing great content for your website visitors that will drive traffic on your website. Webpage traffic remains the #1 essential factor to rank on search engines. Choose quality over quantity and don't forget to update your old webpages.
Overwhelmed by all the factors to consider? Tools like Search Engine Journal provide us with a great audit checklist to evaluate the quality of your content:
Quality content is:
– Accurate
– Mobile-Friendly
– Informative
– Original
– Shareable
– Inspiring
– Readable
– Visual
– Entertaining
Low-quality content:
– Has no target audience
– Has no goal/purpose
– Is not optimized
– Is ultimately unsuccessful
And of course, remember to have fun creating interesting content.
Happy SEO-ing!