From her company, Headhunter & Talentist conducts talent management consulting, selection and personal branding. She collaborates with large companies such as Red Arbor, AdGlow, Telefonica, Atento, HP, Affinity, Actelion and Banc Sabadell and has made more than 500 cases of personal branding to managers, entrepreneurs and professionals.
With great educational and teaching vocation, she is an adjunct professor at IE, a lecturer in national and international conferences and forums and author of the books 'Qué busca el headhunter', 'El mapa de tu talento', with a prologue by Eduard Punset, and 'Ahora o nunca'.
Hers curiosity and desire for constant learning is evident in his academic background: Executive MBA by IE, Master in Politics and Environment by Universidad Carlos III Madrid, Master in Legal Advice of Companies (LLM) by IE and Law Degree by the University of Granada. Very up to date on the trends that affect employment, talent and personal branding you can follow their updates on their blog www.HistoriasdeCracks.com.
Professor of
The modern market landscape is defined by a rapid and uncertain state of constant movement. With changes brought about by technological innovation, past success is no longer a guarantee as we move into the future. The Global MBA is an 18-month journey that prepares leaders to disrupt and transform. Our unique Blended Methodology delivers a practically personalized MBA educational experience for each of its candidates on a global scale.
Business School | MBA | English | Face-To-Face + Online | September & April | Part Time
The International MBA is our flagship full-time MBA program in Madrid. This transformational journey shapes professionals and entrepreneurs, turning them into leaders that generate impact and drive change around the world. The program takes an integrative and innovative approach to business education by combining core business knowledge with customizable lab and elective periods in a full-time, one-year format.
Business School | MBA | Bilingual (ES-EN) | Face-To-Face | September & January | Full Time
The Executive MBA at IE Business School is a 15-month journey that brings together business leaders from diverse cultural and professional backgrounds and gives them exclusive access to invaluable insights across the business world. The program will enhance your business acumen and develop the soft skills you need to evolve your career and become a successful manager.
Business School | MBA | English | Face-To-Face + Online | April & September | Part Time
Books written
Strategy
Explains how the headhunter business works and how the candidate can take advantage of all this knowledge for professional progress.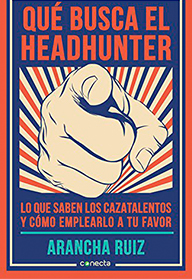 Personal strategy
Reference book to ensure the success of professional adaptation to the 21st century. Innovation and visibility tips for professionals.