The Master in International Legal Studies (LL.M.) takes a comparative approach to international law and offers the option to follow a unique avenue to a global career in human rights.
4
min read
Human rights are arguably one of the most important issues in society today. For legal practitioners, the fight for the fundamental freedoms and rights that each individual is entitled to is a core facet of their duty to foster justice and the rule of law. In recognition of this fact, IE Law School's Master in International Legal Studies (LL.M.), places the question of human rights as one of the central tenets of this unique program.
Human rights education for the 21st century
The Master in International Legal Studies (LL.M.) is a groundbreaking program that takes you on a comparative exploration of international law. By adopting a hands-on, multidisciplinary approach, the program offers an in-depth overview of emerging technologies and the application of law within various jurisdictional and socioeconomic contexts.
More importantly, the Master in International Legal Studies (LL.M.) gives you the opportunity to personalize your academic experience, allowing you to select between one of two distinct specializations: International Economic Law or Human Rights in the Digital Society.
Why human rights?
The study of international human rights law has always been vital—but is especially so today. It's true that society now places prime value on treating everyone fairly and equally, regardless of age, race, gender or religion. However, many minority groups and marginalized people the world over still contend with damaging stereotypes and long-term discrimination, among other violations. Responsive human rights laws have never been more necessary to protect against oppressors and give individuals a way to advocate for themselves and others through the legal system.
Other than moral considerations, there are many other benefits to earning a specialization in this important field. Here are our top five:
1. Make a meaningful difference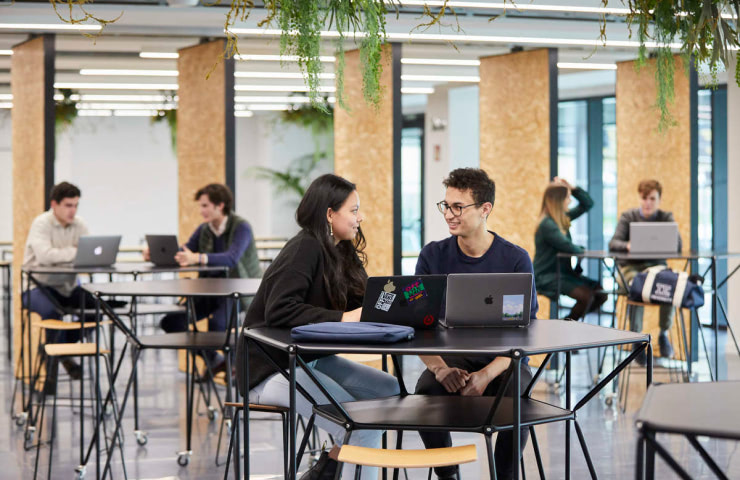 "Our Human Rights in the Digital Society specialization allows you to transform your innate passion for advocacy into an impactful global career."
The primary role of a human rights lawyer or activist is twofold: defending vulnerable groups who have faced human rights violations and shaping laws that ensure equality and civil rights. So, if you're looking for a career that equips you to lead positive change in various jurisdictions, human rights might be a good fit.
Working in this field allows you to impact the lives of individual people in real, beneficial ways. Is your goal to invest in local communities and grassroots development? Studying human rights is a good way to start accumulating the tools you'll need to foster community engagement and collective action to promote sustainable solutions to common problems.
2. Gain competitive transferable knowledge
Human rights is an incredibly broad field that delves into a wide range of topics. From discrimination, freedom of expression, immigration and workers' rights and more—these are all topics that can fall under the purview of a human rights lawyer or activist.
With so many issues coming into play in international human rights law, practitioners in the field need to have a vast well of comparative knowledge to pull from. This is necessary to help them understand technical details like criminal justice procedures, freedom of speech regulations, family law and more in the jurisdictions they will work in.
As a result, students of the Human Rights in the Digital Society specialization develop a wide-ranging skill set—including communication, writing, research, debating, persuasion and negotiation—that can be applicable in various industries and sectors. Its holistic approach prepares you not only for the realities of a human rights law career but also to solve important societal issues from an empathetic, human-centric lens.
3. Learn from established human rights experts
The specialization in Human Rights in the Digital Society has been designed by our expert faculty, which comprises leading legal scholars and practitioners with years of experience in the field. Its practical curriculum will help you learn all the essential knowledge and skills to establish an international career in human rights law.
However, it goes beyond the classroom, providing you with many enriching opportunities. The Legal Immersion Experience, for instance, provides an opportunity for you to connect with notable professionals already working in human rights around the world. This hands-on experience allows you to network with leaders and visit top organizations in the field. Each opportunity at hand can be an invaluable stepping stone as you prepare to launch your own future practice. Similarly, through our Mentoring Program, you can gain unique insights and access personalized guidance and support from seasoned legal practitioners.
4. Leverage technology to promote human rights/solve complex challenges
Today, human rights violations play out in real-time, shared through social media posts that spread across the world in a matter of seconds. Technology has now become the number-one tool for advocacy and activism globally, so you need to understand how to harness its power in the pursuit and promotion of human rights.
In this specialization, courses such as Human Rights and the Information Society, or the Legal Aspects of Cyberspace, will give you a solid foundation in the legislative frameworks governing new technologies and their implications on human rights law. You will gain the future-forward vision and skills to drive effective advocacy in the digital age.
5. Work for a more just world
Launching a career in human rights is a surefire path to meaningful social impact. In just 10 months, you can position yourself to add value in law firms, government agencies, international bodies, social service organizations, the business world and much more—all while learning and building valuable industry connections. And once you graduate, you'll enter international practice in a vital, dynamic field.
The right choice
Deciding on a specialization can be difficult.
"If your goal is to advocate for civil rights and spark positive change, then the Human Rights in the Digital Society specialization is the right choice for you."