According to the UN World Commission on Environment and Development, "sustainable development is development that meets the needs of the present without compromising the ability of future generations to meet their own needs." In other words, it's about living for today, while thinking of tomorrow.
3
min read
At IE University, we try to integrate sustainability into everything we do. Not only do we promote and support global initiatives like the COP26 summit, but we create our own on a regular basis. In fact, we just celebrated the second edition of IE Sustainability Week from November 2–5, reinforcing the Sustainable Development Goals of the United Nations for the 2030 Agenda.
This year's claim was "The Chain of Change," and the whole community came together to reflect on the world we live in and participate in workshops, conferences and events focused on the three pillars of sustainability: economic, environmental and social.
Read on to find out more!
Art & sustainability
At IE University, we like to collaborate with organizations that reflect our values. For Sustainability Week, we transformed the IE Tower and our Segovia campus into art galleries, exhibiting five large-scale painting reproductions from the Thyssen-Bornemisza Museum.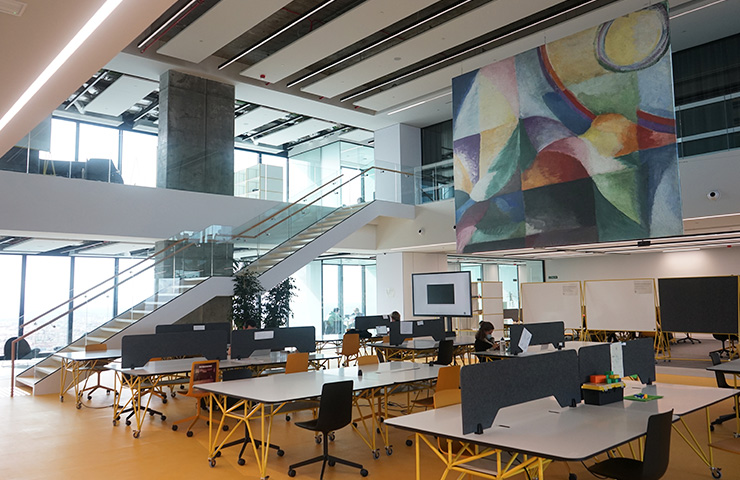 Each piece was painted by world-renowned artists including Van Gogh, Sonia Delaunay and Canaletto, and they were printed onto long-lasting, recyclable materials.
Not only do the paintings add color and vibrancy to our campuses, but they invite our community to reflect on our relationship with the environment and our commitment to sustainable development models.
A sustainable future is an equal one
When most people think of sustainability, the environment immediately comes to mind. While the planet is certainly an important factor, let's not forget that people are one of the key pillars as well.
With that in mind, we hosted a Diversity, Equity and Inclusion workshop on November 3rd in the IE Tower. The focus of the workshop was to explore why it's important to engage with each other through culture and identity to generate creativity and innovation.
Other concepts that came up included representation, inclusion and racial diversity.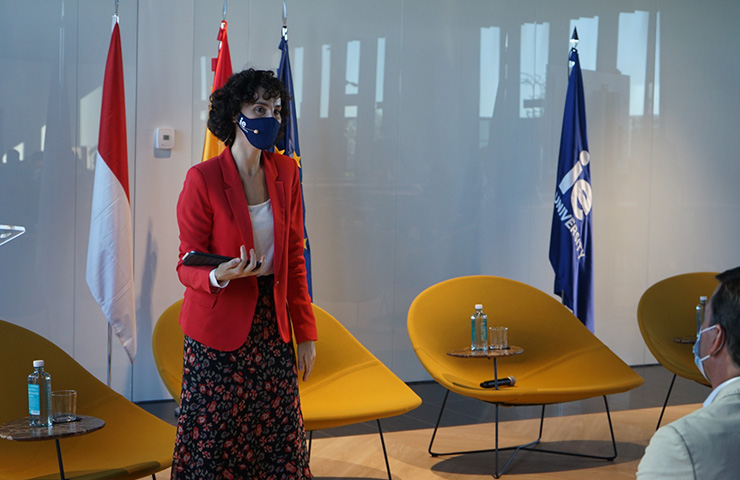 The Gender Equality and Data Visualization Bootcamp, held on November 2nd, was an additional initiative related to creating a more equal and people-first society. The bootcamp reflected on the distribution of power between men and women in the parliament of any given country. Organized by Professor Antonio Moneo in collaboration with the IE Girl Up Club, the initiative helped attendees better understand how to use data while inspiring them to change the world for the better.
The future of our planet—a hot topic
We rely on our oceans to survive, and yet they're some of the places most affected by human activity. In light of this, we hosted an international conference on the Mediterranean in collaboration with the Embassy of Monaco in Spain. The panel included speakers such as Catherine Fautrier-Rousseau, Ambassador of Monaco in Spain; Bernard Fautrier; Isabela del Alcázar, Global Director of Sustainability at IE University, and more.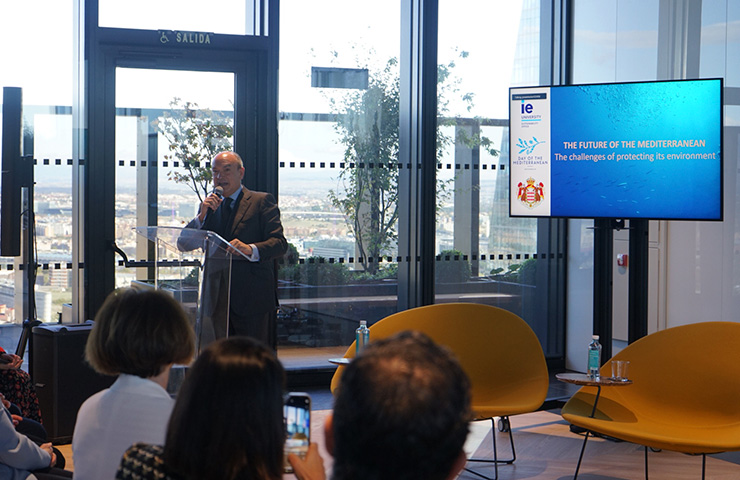 In addition to discussing the future of the Mediterranean, the panel reflected on current tactics, while proposing strategies and ideas for further action.
Sometimes it's difficult to fully grasp the reality of climate change and global warming. And that's precisely what the En-ROADS Climate Workshop helped attendees do. By using the En-ROADS Climate Solutions Simulator, developed by the Climate Interactive and the MIT Sloan Sustainability Initiative, participants were able to visualize the impact of climate solutions in real time.
Want to carve out a sustainable career?
At IE University, we hold bi-annual Talent Forums that connect students with leading global recruiters. Each talent forum covers a different sector, and on November 4th, we held the Sustainability & Social Impact Forum. This event was the perfect opportunity for students to mix with representatives from sustainability-oriented organizations, while learning about related career paths. During the event, companies like ACCIONA, Accenture and PWC gave presentations both online and in-person.
Get involved—all year round
We wrapped up Sustainability Week on November 6th with the IE Global Cleanup, organized by the IE Sustainability Office, the IE Eco Club and IE Campus Life. Our community joined in from all around the world to pick up trash and make an impact in their local communities. Remember, don't wait to be prompted to save the planet. For us, every week is sustainability week!
Make sure you attend our third edition of Sustainability Week next autumn. And in the meantime, keep an eye on our website and stay tuned to find out more about our social innovation & sustainability initiatives!