The IE Africa Center recently celebrated the first graduating cohort of the Gurus and Griots fellowship. Read on to find out what makes this program unique!
3
min read
Africa is often described as the next frontier for global growth in business and entrepreneurship. Over the last decade, the continent has experienced a boom in economic growth, and some of the world's fastest-growing economies today are located there. Therefore, emerging business leaders need to understand Africa's history, cultures and innovations in order to remain globally competitive.
The IE Africa Center has been vital in bringing these unique African perspectives to IE University. The center's purpose is to change the way executives understand African innovation, and how its physical and intellectual contributions have shaped the modern world. Its mission is to highlight African solutions to global challenges.
The IE Africa Center presents Gurus and Griots
As part of its purpose, the IE Africa Center launched the Gurus and Griots program in 2021. Gurus and Griots is a trailblazing academic accelerator that gives African and Afro-descendant leaders a platform to showcase unique solutions to global problems.
The cohort-based fellowship selects the best talent to participate in the year-long program. It is designed for African and Afro-descendant leaders in business, policy, and academia.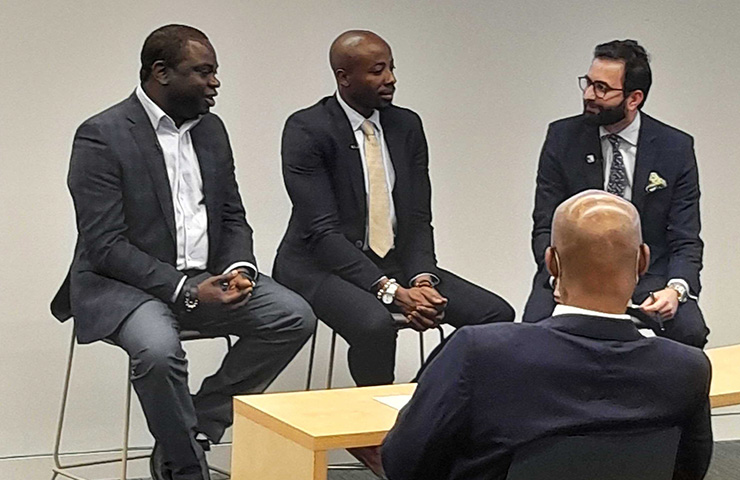 Fellows are divided into two groups: gurus—practitioners with influential business theories and ideas, and griots—intellectual innovators who focus on academic research.
The fellows also get a chance to incorporate their work into various IE University programs. They collaborate with IE faculty to develop multimedia educational material for IE University students and alumni, as well as corporate partners and academic peers. Furthermore, the fellows can represent the university on the public stage in forums such as summits and conferences.
Celebrating the first cohort
The inaugural cohort of Gurus and Griots fellows recently graduated from the program. Felicia Appenteng, Chair of IE Africa Center, flagged off the celebrations. She explains that the goal was to "identify, nurture, and launch African and Afro-descendant expertise into the IE ecosystem." The ceremony was held at the IE Tower in Madrid on March 31st.
According to Felicia, "programs like this give us a chance to find cutting-edge experts in negotiation, leadership and innovation… and to invite them to be a part of our community." She was excited to note that "all this great content is now going to live inside the IE University classrooms."
Meet the graduating class
The inaugural cohort of the Gurus and Griots fellowship are movers and shakers in their own right. They shape the business landscape, both in Africa and the diaspora.
The impressive list of fellows represents expertise in various industries, ranging from finance, venture capital, entrepreneurship and development.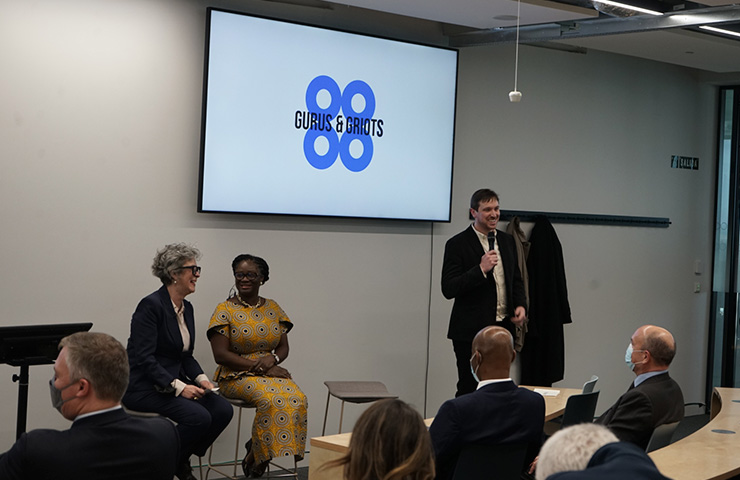 Ghana-born native, David Harlley, is the CEO and managing partner of the venture firm, Third Way Capital. The company focuses on making long-term investments in African SMEs. He recently started teaching a class called "Distributive Capitalism" at IE University.
Akinkunmi Akinnola is Associate Vice President – Inclusion, Diversity & Equity at Foresters Financial. His 15-year career has given him immeasurable experience in the energy, advertising and non-profit sectors.
Ayuli Jemide is a solicitor, founder and author based in Nigeria. He is the lead partner of Detail Commercial Solicitors. Ayuli is also the author of ListenEveryHow: How Negotiations Work.
CEO at Ghana Enterprises Agency, Kosi Yankey, is a powerhouse. She has been instrumental in shaping the startup and micro, small and medium enterprise sectors in the country. Kosi uses her skills in capital markets, venture capital and equities to develop entrepreneurial programs for MSMEs in Ghana.
Raphael Chibueze Ani works as the global business development lead for construction at the Project Management Institute. This senior executive has a wealth of experience in developing new market opportunities through innovative solutions.
Be a part of the next Gurus and Griots
IE University has always been committed to equality and diversity. The Gurus and Griots fellowship is proof of our determination to promote sustainable development and bring different perspectives and approaches to the table.