We are committed to finding new, exciting ways to welcome students from all over the world into our diverse community. This time, we partnered with the General Sir John Monash Foundation to provide opportunities for students from Australia. Here's what the first John Monash scholar at IE University, Tom Jenkins, had to say about the experience.
3
min read
Thomas (Tom) Jenkins has made enhancing battery longevity his life's work. His vision is to produce smart Australian batteries using Australian minerals and components to help supply the world. Tom realized early on in his career as a graduate electrical engineer at BHP that improving battery technology was essential for storing energy from renewable sources, ensuring that renewables can fully contribute to reducing our carbon footprint.
Enhancing battery technology is close to Tom's heart—literally. His interest was kickstarted in 2018 when he woke up after a medically induced coma resulting from a cardiac arrest. He was informed he had a Subcutaneous-Implanted Cardioverter Defibrillator (S-ICD). However, this medical battery supporting his heart would only last between eight to ten years.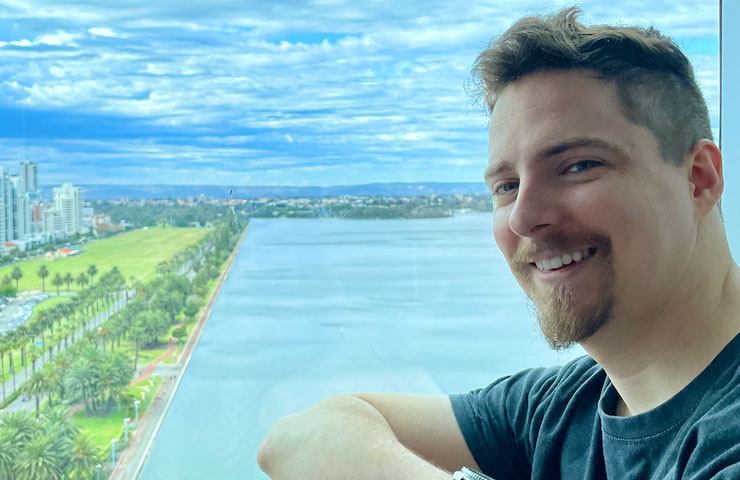 Tom's journey to IE University began here and ended with him as the first John Monash Foundation scholar in our Global Online MBA program.
Here is his story.
The John Monash Scholarship
While coming to terms with this health challenge, Tom soon learned that long-life batteries are just not necessary for medical advancements, limiting research into this area. This gave Tom an increased sense of purpose and, in 2020, he successfully applied for a John Monash Scholarship. And, just like that, Tom started a new chapter of his life at IE University.
The prestigious John Monash Foundation awards outstanding Australian citizens an annual stipend to study at any university of their choice in any country around the world. This—coupled with the fact that it isn't limited by either age or academic field of study—makes the scholarship unique. Furthermore, any foundation scholar that opts to join IE University could receive up to a 30% reduction on tuition fees at the institution.
Building connections
With a reputation as one of the leading business schools in the world, IE University proved to be a fantastic opportunity for Tom. While here, he gained the vital knowledge and skills he needed to bring his battery-related goals to life. Furthermore, his program's study plan included a tour of Silicon Valley to get a first-hand view of how tech titans approach their businesses.
I am studying with co-founders of businesses, executives, top-flight engineers, and everything in between…I have learned about many different industries in the process.
The unique program also allowed Tom to connect with professionals from all around the world. He describes his classes as filled with "co-founders of businesses, executives, top-flight engineers and everything in between." Further, the practical approach to learning ensured that Tom and his peers gained perspective from each other's professional experiences.
I have acquired a more global view of the world, which is proving priceless.
Tom was able to learn about many different industries in the process. It also gave him a much more comprehensive, global view of the world—an invaluable trait in his present role. The university's state-of-the-art facilities, its vibrant, picturesque surroundings within Madrid, and the endless opportunities to network and make lifelong friends further enhanced his IE University experience.
Beneficial partnerships
As a 2020 Wesfarmers John Monash Scholar, Tom has undoubtedly benefited from the Foundation's partnership with IE University, which includes a generous fee-waiver. In the future, he intends to specialize in operations and entrepreneurship and complete a Doctor of Business Administration.
Tom also plans to continue his work towards improving batteries for defibrillators, as well as large-scale grid storage batteries. And now, with the skill set gained from his post-graduate studies at IE University, he also possesses the leadership skills to effectively coordinate others toward this ambition. Tom's work will bring huge benefits to Australia, positioning it as a global leader in next-generation battery technology, and producing advances in medical and sustainable technologies for the benefit of all.