With so much on offer in Spain's capital city, where should you look for a more authentic shopping experience? Where to get local produce and chat with friendly madrileños? Here we've compiled a short list of the best markets Madrid has to offer and what you can expect once you're there!
5
min read
Wander down the beautiful alleys and secret corners of bustling Madrid and you're sure to come across one of its many wonders. The sunny capital is in constant activity from its rich and diverse community as well as its arts, music, gastronomy—and great weather.
One of the main reasons we fall in love with Madrid is the city's mercado culture and the energy, authenticity and familiarity it brings to those who visit these lively markets. Mercado culture has become a crucial part of people's lives and routines in Madrid. These markets are unique and welcoming places where people can meet up and bond over shared interests, experiences and food. Madrileños who have long enjoyed the lifestyle now share its perks with visiting non-natives.
From the overwhelming variety of Madrid's unique markets, we managed to pick our ultimate favorites to share with you: Mercado de San Miguel, Mercado de Motores and El Día de Mercado (Cheese and Wine Market).
Mercado de San Miguel: the iconic 20th-century mercado
This charming and historic food market is renowned for its busy stalls, gourmet tapas and the authentic mercado atmosphere we all crave. Located in the heart of the city next to Plaza Mayor, Mercado de San Miguel is one of a kind with its captivating unique steel structure and the highest quality of fresh tapas from every corner of Spain.
When looking for gastronomy and gourmet tapas, Mercado de San Miguel is the place to be. You'll find stalls with authentic appetisers and drinks from Galicia, Castile, Asturias and the Basque Country, with the opportunity to taste all kinds of fish, meats and sausages, fresh seafood, cheese, traditional skewers, organic products and an endless variety of desserts. And for those thirsty visitors, there is an exceptional choice of wines, vermouth, sherry, coffee, beers and more. There's truly something for everyone.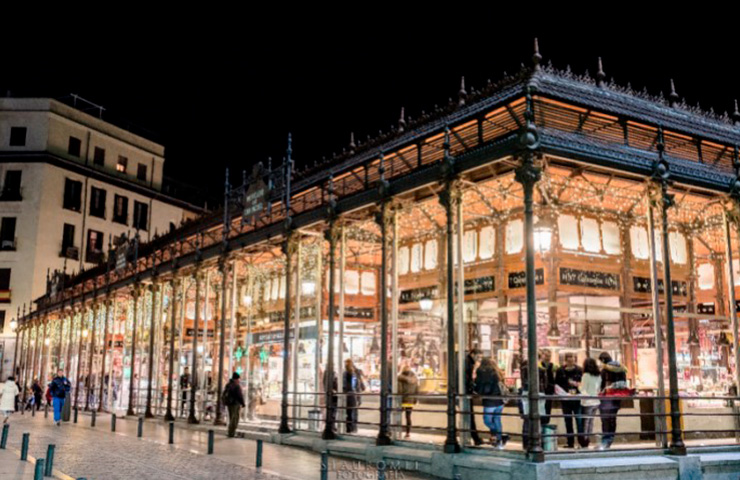 With 100 years since its doors have opened, Mercado de San Miguel reinforces its culinary appeal with Michelin Star chefs, authentic cuisine and top-quality service, all without abandoning the essence of a traditional market.
Visit https://mercadodesanmiguel.es/ to find out about opening hours, stalls and more information!
El Día de Mercado: the must-see wine and cheese market
For those of you who look out for exceptional local produce, El Día de Mercado ("Market Day") takes place every first Saturday of the month. Located next to the astonishing Casa de Campo Lake, this market is the meeting point for producers and consumers of local cuisine.
El Día de Mercado, better known as the 'wine and cheese' market, boasts many different food and drink products offered by local farmers, cattle farmers, bakers and gardeners.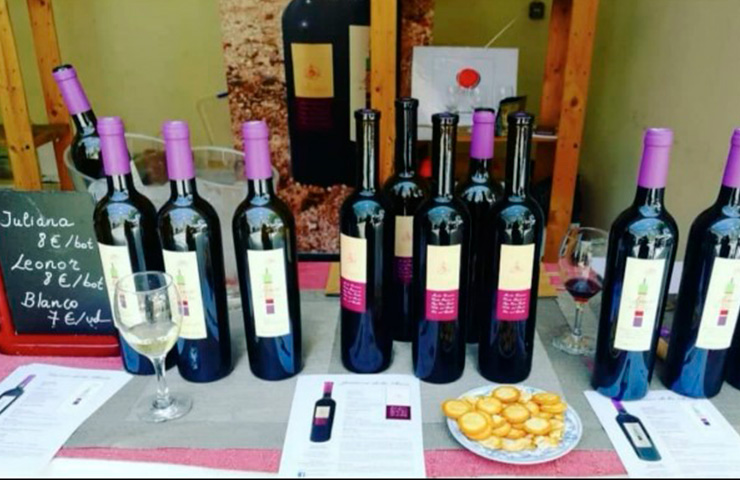 Organized by the Cámara Agraria de Madrid (Madrid Farmers' Union), the entry to the market is free, but for just 5 euros, you get your own crystal glass to enjoy wine tasting accompanied with varied tapas and stall samples. Here you're free to walk from vendor to vendor to try foods such as local olive oils, wines, cheese, traditional empanadas, freshly grown fruits and vegetables, as well as organic teas and coffees.
With a cosy backyard area with barrels set up as bar stools and tables, you're free to relax and enjoy some chit-chat with your friends while indulging in tasty local products. It's conveniently located next to Casa de Campo, which acts as the perfect backdrop to an enjoyable picnic, encouraging you to seize the day in the warm sun!
Stay tuned for their events, and head over to their website for more information http://www.camaraagraria.org/.
Mercado de Motores: welcome to the fantastic world of the old train station
And lastly, from food markets to a truly unique flea market experience.
Of course, you can't call yourself a true mercado culture connoisseur without having visited one of the most charming markets in Madrid. Located at Museo Ferrocarril (Railway Museum) close to Paseo de las Delicias, Mercado de Motores is set in an old railway station with vibrant stalls spilling from train carriages. Wander across the railway lines and you'll find stalls offering original designer and vintage clothes, jewelry and other accessories.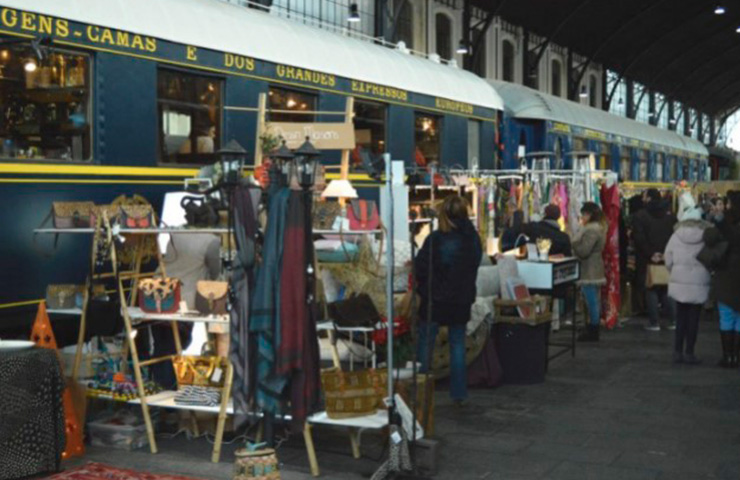 Hopping from wagon to wagon is a truly authentic experience and a haven for bargain hunters and lovers of locally handcrafted products.
Visitors of the market are provided with a variety of great offers indoors and outdoors. Inside, you can search through stalls with handcrafted products from local businesses, whether you're after clothes, food or drinks. Step outside, and you enter a fashion time machine where curious hipsters can bag a bargain at any one of the numerous vintage stalls. And no market would be complete without a full choice of food trucks offering delicious street food, local cuisine and thirst-quenching beverages!
Hop over to https://mercadodemotores.es/ to get all the latest updates—all aboard!
Mercado appeal: a marvellous mix of authenticity and tradition
These great features and products on offer in such historical settings make mercado culture what it is, but it's not the main reason it has become so popular. The authenticity that comes with tradition is what attracts locals and tourists alike to come back each month to Madrid's many markets.
Getting to know each market's many vendors, sellers and visitors offers more than just a short-lived event. It offers a great experience of revisiting familiar faces, whether it's your friendly samosa guy with the finest Indian snacks, the hilarious bartender offering the best vino de casa or the kind lady with freshly grown fruit and vegetables, all of whom you are already on a first-name basis with.
And it's about the same group of friends meeting at the same time and place to soak up that cherished family atmosphere (and possibly a cold drink). Mercado culture offers a sense of belonging that can sometimes go missing throughout our busy study and working lives. And, we can't forget, markets offer local vendors, sellers, farmers and other businesses valuable opportunities for entrepreneurship and originality.
Make sure to support your local vendors and markets by visiting one on your next stroll around the city!
Where will your next mercado adventure take you?