IE Business School is an obvious choice if you're a future-forward professional seeking to transform your career. And there's no better place to delve into this exciting new chapter than Madrid.
5
min read
Choosing where to study is not easy. There are endless factors to consider: academic rigor, language, cost of living, and professional prospects.
Luckily, IE Business School ticks all of the above boxes to offer one of the most exceptional further education experiences available. Take it from the students, the faculty or just the hard facts—studying at IE Business School is a dynamic journey of personal development that will define your career. Here's a closer look at the Spanish capital and its leading business school.
Why Madrid?
That vida madrileña
The capital of Spain: a city with centuries of history, bursting with an incredible wealth of experiences for you to discover. This European business capital with a population of over 3 million is also a hub for international travel, giving it a blend of language and culture that is both uniquely Spanish and lush with international diversity.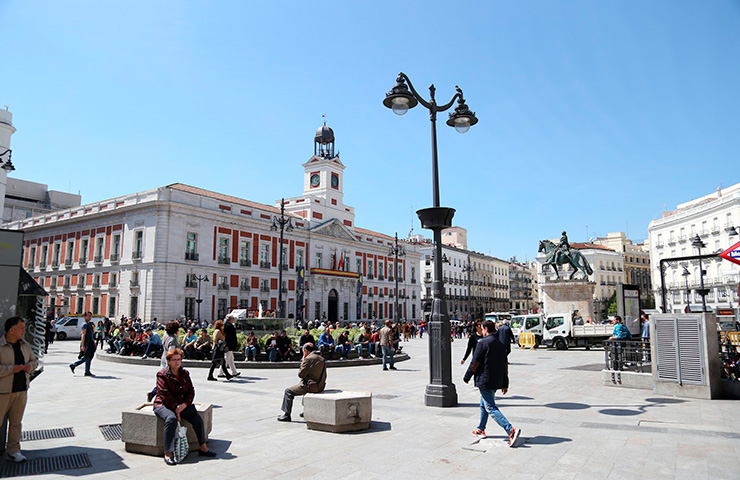 Spain is a country known for its vibrant food culture which Madrid showcases beautifully, but there's also lots to discover in the way of timeless galleries, history, music, literature—and of course, a lively nightlife.
Affordable and practical
Despite Madrid being one of the largest cities in Europe, the cost of living here won't break the bank. Madrid is far more affordable than the majority of European capitals (cheaper than Brussels, Paris, Berlin, Amsterdam, Dublin, and Rome). We've broken down what the cost of living in Madrid may look like for you.
Why IE Business School?
Ambitious programs
IE Business School offers programs that respond to real-world trends and challenges. Here, a community of innovators and cutting-edge technology help you hone your talent and unlock the next best you.
It doesn't matter if you're a self-starter looking to kick-start your career, or you're a senior professional looking to update your skills in a changing business environment, we have a program curated for you. And if you're looking to experience in-person learning in Spain, or prefer distance learning from wherever you are in the world, we've got you covered there, too.
Our Master in Management, for example, develops your practical and task-driven mindset to make you a changemaker of tomorrow. Meanwhile our International MBA is about seeing how far more experienced professionals' ambition can take them.
Led by the best
IE Business School has recently transitioned to the leadership of a new Dean: Lee Newman. As an educational entrepreneur and founder of multiple startups, Lee is a thought leader known for the workplace psychology concept "behavioral fitness." With degrees from Brown, MIT and the University of Michigan, Lee has been a part of IE University faculty for more than a decade.
In fact, our faculty of experts is another feature that sets IE Business School apart.
Spanning leading academics and industry practitioners from all over the world, they bring a wealth of insights, networks, and knowledge to our virtual and on-campus classrooms.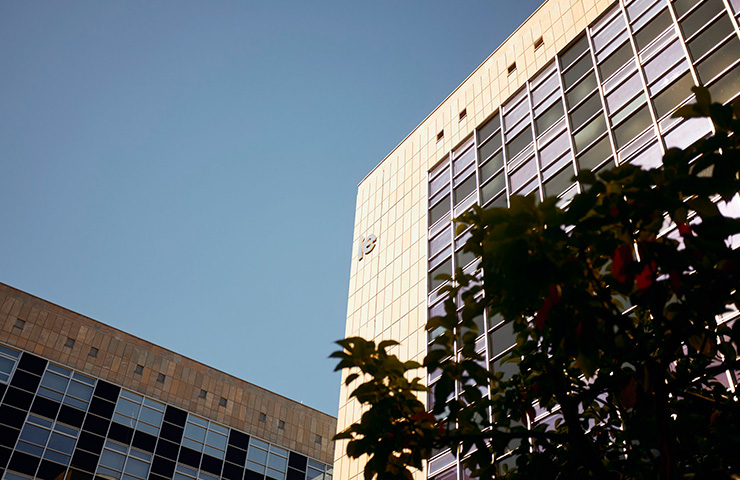 Professor Marco Trombetta, for example, holds a PhD in Economics from Oxford University. He asked to be a faculty member at IE Business School as soon as he heard about our collaboration with Brown University on the IE Brown Executive MBA. "It is one of the most rewarding experiences of my professional experience as an educator," he confirms. "I get challenged every year by an extremely interesting group of students, and it forces me to put my subject into the broader context of society."
A European business hub
Madrid is a known business, finance and tech hub in Europe, brimming with multinational companies and startups alike. Here, you'll be in the heart of it all.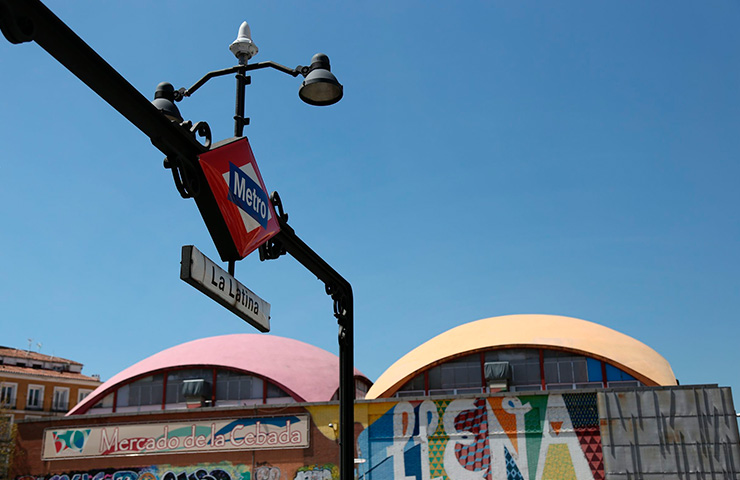 As a postgraduate student, you'll attend classes on the IE Business School campus in the heart of the city, in a neighborhood popular with locals and visitors alike.
Or, if you're unable to study on-location and opt for an online format, IE Business School offers some of the best distance MBA programs in the world, earning global rankings year on year.
An unparalleled learning experience
Not to compare, but…
The academic quality at IE Business school is pretty hard to beat. Consistently placing in the top rankings worldwide for our academic rigor and graduate employment rates, IE Business School is recognized for having some of the best online MBAs in Europe and the world. In 2021, QS ranked our Global Online MBA at no.1 in the world.
Plus, the sheer variety of specializations available makes IE Business school stand out from other European universities. You can choose from a range of different master's and MBA programs: the Master in Management, the International MBA, the Executive MBA and the Tech MBA. And on top of that, there's also the possibility to combine different programs to create a dual degree.
Program duration is approximately one year, varying slightly from program to program.
Classes are taught in English, Spanish or bilingual formats, and there are both in-person and distance options through our blended learning methodology.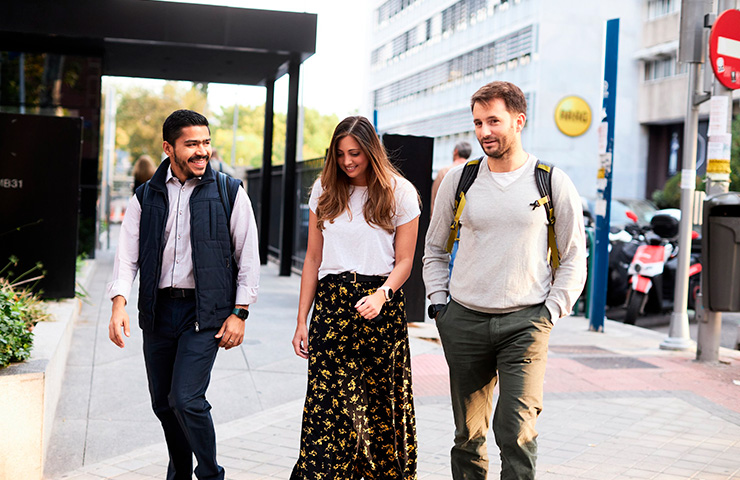 Powerful career outlets
Madrid is also one of the best places you could be to get connected with recruiters. IE Business School is known for its frequent events, providing countless networking opportunities for young professionals. What's more, IE Talent & Careers are dedicated to helping students design their career paths. Working with over 1,800 collaborating partners, they offer unique industry insights, resources and skills workshops, providing recruitment solutions to companies, institutions and alumni alike.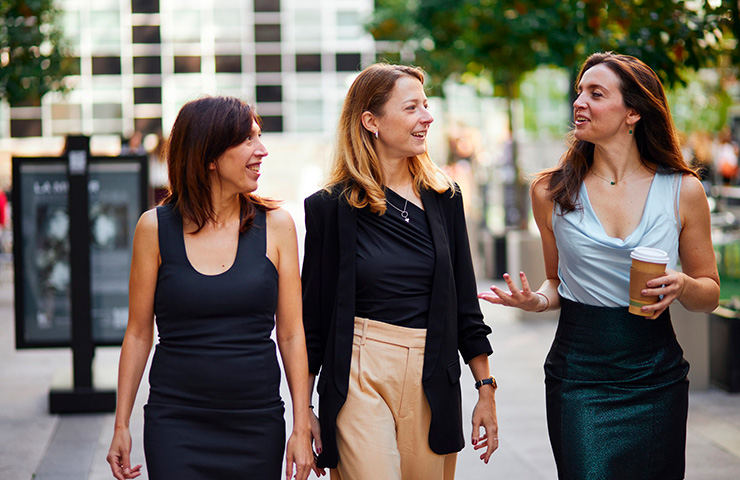 And they'll help connect you with our community of 66,000 alumni from 165 countries.
What our alumni have to say
We think the experience of studying at IE Business School in Madrid is second to none—but you don't have to take our word for it. Hear it from those who have passed through the doors of our university.
"I've traveled to Madrid multiple times for the face-to-face portions of the program. The city is strikingly international while also maintaining its Spanish vibe and charm. There is also an evident sense of growth, making it an exciting place to live, study and work." – Taylee Lewis, Global Online MBA, from Australia.
"First of all, coffee. My breaks cycle between food, study and coffee on any given day. Madrid is a really great campus to have for that—you really can't miss the vibrant culture. Those 12-months can fly past you, so enjoy as best you can." –  Carlos Schütze, Tech MBA, from Nicaragua.