The path to your future career is different for everyone—it's not a one-size-fits-all model. Deciding which program to follow can be a difficult choice, but we're here to help.
3
min read
To help you make an informed decision about your future career path, we've put together some information about the main differences between an MBA and a finance master's program. They both cover finance, but what's different is the depth they go into and the context that surrounds it.
What is an MBA?
An MBA gives you a holistic understanding of the business world, which can include operations, strategy, marketing and finance. IE University has multiple MBA programs so that you can tailor your experience to your goals.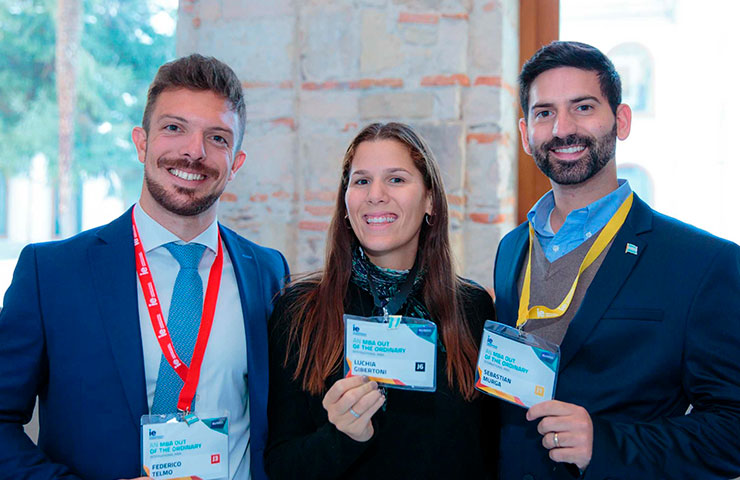 Our MBAs and Executive MBAs each have a different focus and are specifically designed for professionals with work experience.
Take our International MBA, for example. This full-time, 11-month program in Madrid gives students a comprehensive overview of how to manage and grow a business in our ever-changing, globalized world. With an International MBA, you could land a role in a wide variety of companies, with our alumni finding positions at Google, Eli Lilly, Amazon, Uber, Unilever, Porsche, Samsung, and more.
What is a Master in Finance?
A Master in Finance deepens your understanding of the dynamic finance sector and is for those pursuing finance-focused roles specifically. There are lots of finance master's programs out there, but what makes the IE University Master in Finance different is the four specialization tracks that allow you to tailor your education to your own unique goals.
These specialization tracks include:
– Investment Banking and Private Equity
– Global Markets and Asset Management
– Real Estate Finance & Alternative Investments
– Financial Analytics & Digital Finance
The Master in Finance is delivered over 11 months full-time in Madrid, or as an online master's of finance program over 22 months part-time (with three face-to-face periods in Madrid and Frankfurt).
Our online finance master's program is a dynamic blend of virtual and in-person learning, ensuring you have 24-hour access to cutting-edge knowledge.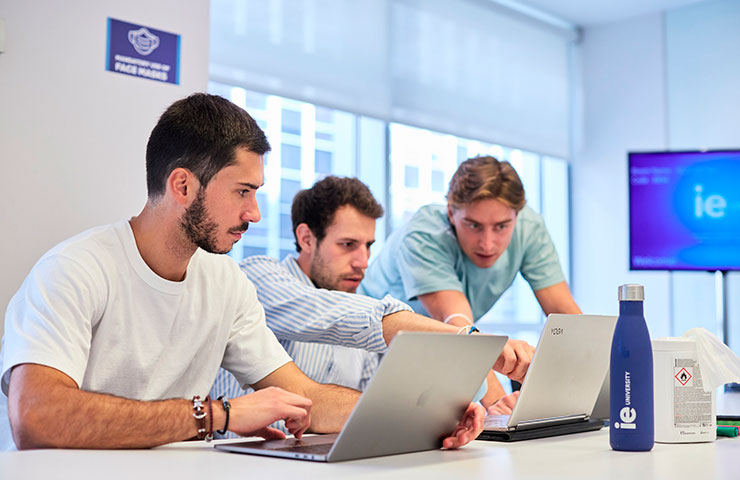 Online master's in finance programs can give you the flexibility that the modern world requires.
The IE University Master in Finance is unlike any other finance master's program, putting you in the best possible position to land your dream role upon graduation. Our graduates have gone on to work at Goldman Sachs, JP Morgan, Morgan Stanley, N26, McKinsey, EY, Bank of America, PayPal, and more.
Which program is best for me?
Neither a Master in Finance nor an MBA is better than the other. In both programs, theory and practice go hand in hand.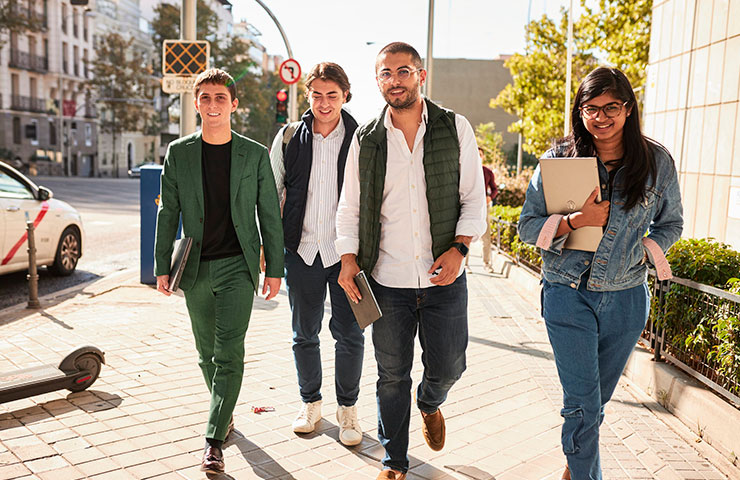 The IE University MBAs and the Master in Finance differ because they help you achieve different goals.
If you want a broad knowledge of business, which includes finance, then the MBA programs, such as the International MBA, are for you. But if you want a deep, intricate knowledge of the financial world, then the Master in Finance is for you.
If both of those options sound like what you're after, we've got your back—IE University offers several dual degree programs that may better fit your needs, such as the Dual Degree International MBA + Master in Finance.
The program you choose should depend on your career goals and expected outcomes.
Does IE University offer financial aid for the MBA or the Master in Finance?
The tuition for the MBA and the Master in Finance is reflective of the programs' quality. For the MBA, tuition varies between specific programs. For more information regarding tuition, check out their individual program pages.
The IE Financial Aid Office provides information on the different options for financing your program so that you can find the solution that best matches your profile and needs.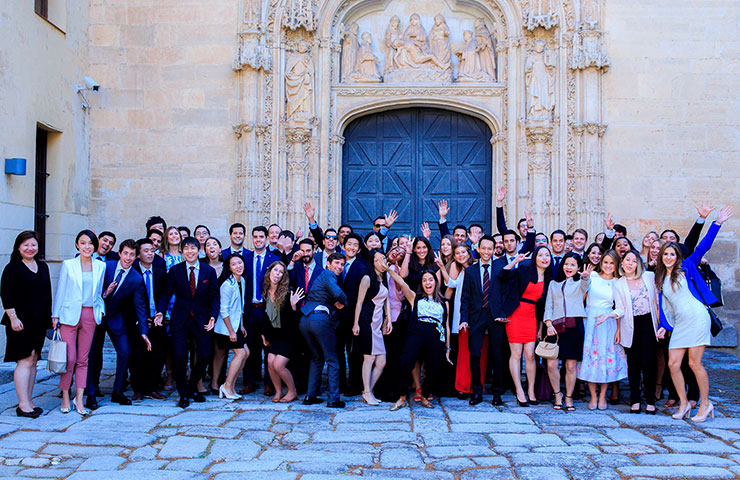 Where can I learn more about the programs?
For more in-depth information about the Master in Finance or any of our MBA programs, check out their specific program pages.