When looking for a master's degree, what role does campus life play in making your decision? At IE University, we believe it should be a deciding factor.
4
min read
There are undoubtedly many differences between choosing a university at a bachelor's level and at a master's one. Even if you're passing straight from undergraduate to postgraduate, those three or four years you've spent studying will have changed you dramatically. For more mature students, this is even more pronounced. As your priorities shift, so do the deciding factors regarding which institution you choose.
Postgraduate concerns
Of course postgraduate students take many of the same factors into consideration as students of all levels do when deciding on a university. But there's often more of a reality check involved. In fact, according to a Prospectus Luminate study, almost 50% of potential postgraduate students cited "juggling other commitments around study" as a key concern when deciding to engage in further education.
Because of these more grounded, real-world worries that often accompany postgraduate education, other important deciding factors can fall to the wayside. Yes, concerns about finances and balancing the various aspects of your lifestyle should be top of mind, but they shouldn't overshadow the long-term benefits of continuing education—or your experience during the degree.
What is campus life?
When we talk about "campus life," it's easy for a potential postgraduate student to downplay its significance as a key aspect in making a decision. The more social aspects immediately come to mind: the atmosphere, the dinners with friends, the coffees between classes. Now, we're not here to dispel any of this. In fact, we believe that these social interactions are a crucial part of the experience and your education.
But campus life goes far beyond this. The location, facilities, environment and mindsets that make up the character of your institution will hugely influence the success you enjoy long after graduation.
A snapshot of IE University
At IE University, our facilities are spread out in a number of hubs across Madrid and in the historic city of Segovia. The campus in Segovia is primarily for bachelor's students, so as a master's student you'd be unlikely to have any classes there. That said, you would be very welcome to visit and see the beautiful converted monastery for yourself!
But for postgraduate students, the bulk of the action takes place in fast-paced Madrid. Overall, our facilities have enough space to host over 6,000 students from 130 different countries.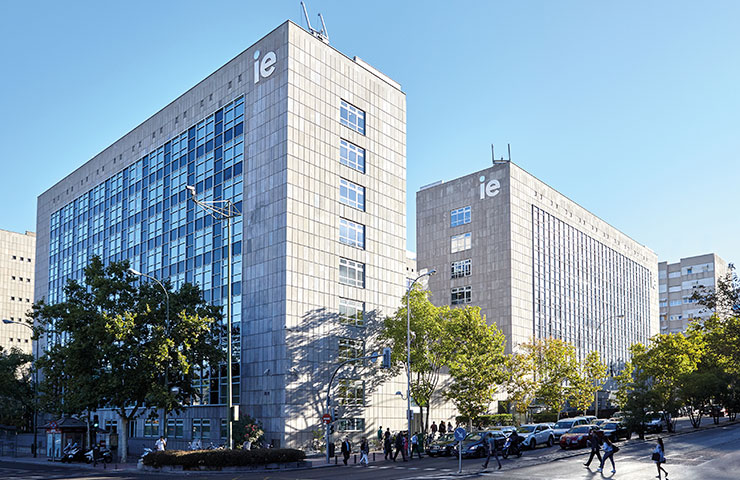 And you can feel it as soon as you set foot on IE University soil. Many of our Madrid hubs are located on or near a street called María de Molina—and you can take the virtual tour to get a sense of the diverse, highly innovative activity that is characteristic of our institution.
These facilities will soon be complemented by a spectacular addition to the Madrid skyline. The IE Tower is set in the financial district and is set to open its doors in September 2021. This bastion of sustainable architecture seamlessly integrates AI, VR, and AR elements into technology hubs and classrooms of the future. It promises to truly transform the shape of education for years to come.
The learning impact of campus life
We are immensely proud of our facilities. We have specialized faculty libraries that offer both in-person and online access to a worldwide catalogue through mobile devices and QR codes. We have dynamic areas to unleash entrepreneurial potential. We have countless spaces, resources and innovative, multimedia technologies to ensure transformational learning.
But the impact these facilities have greatly depends on the overall environment. At IE University, we always seek to combine the power of technology with diverse, human-focused values. In the last year alone, we held 1541 events and hosted over 600 dynamic speakers on campus. Much of this is due to the institution's inner-city location and close connections to top international companies.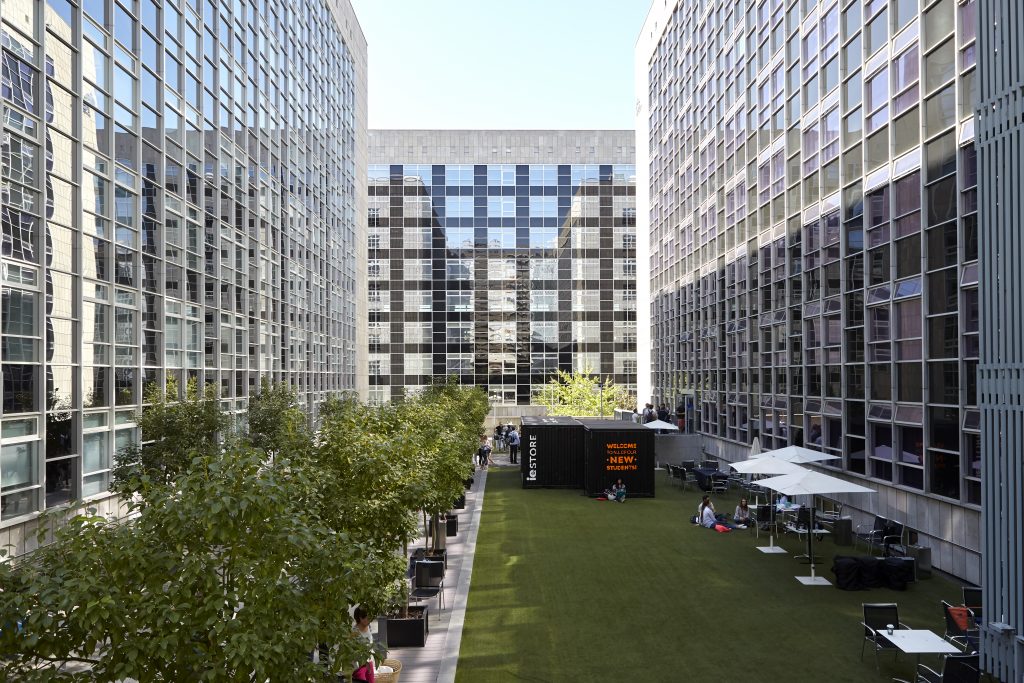 These experiences are further complemented by the 128 clubs we have, many of which have a highly professional focus.
As a master's student, you will have access to all these facilities, events and professional-development opportunities outside of your main degree. When you factor in the actual program experience, the possibilities for life-changing learning are even greater. For example, the Master in Management centers around a case-study based methodology, much of which takes place in small groups. As you and your group engages with simulators, interactive graphics, videos and podcasts, the entire ecosystem that is campus life comes into play. And this is true in one way or another across our full spectrum of master's programs and dual degrees.
The virtual campus
We mentioned how juggling life and studies is a key concern for many postgraduate students, particularly at a more executive level. Thanks to years of research, feedback and technological innovation, we developed a framework to deal with this all-important issue: Liquid Learning.
Liquid Learning exists across our in-person campuses as technology and real-world interaction are naturally integrated into our everyday lives. But where it really comes into its own is with our blended learning options. Through this dynamic framework, we've managed to ensure an authentic campus life experience, even when you can't be physically present. Whether led from the WOW room or through our hybrid classrooms kitted out with cameras and microphones, the virtual education you receive mirrors our real lives. The result is as satisfying and engaging as if you were in the room with your peers.
A life of connection
At the end of the day, campus life is about creating connections and the social aspect of this should not be overlooked. Aside from making lasting friendships, the interactions you have on campus can open doors to exciting new careers. Whether through organized events like IE Day, networking events with sector leaders or just through dinners and dancing with classmates, the relationships you build during your master's degree will influence your life long after graduation.
If you'd like to find out more about our campus life firsthand, feel free to sign up for a guided walking tour with one of our student ambassadors.