IE FOOTPRINT IN AFRICA
Leveraging a fast growing alumni network on the continent as well as partnerships with private, public and non-profit organizations, IE's vision is to promote business innovation and social entrepreneurship in Africa through knowledge generation, research and technology.
Pan-African
With over 100 students from all over Africa that enroll at IE each year
Innovative Academic Content
That incorporates the most recent trends in management and is relevant to the realities of doing business in Africa
Alumni Network
Our alumni network across Africa continues to grow, spanning the entire continent
Local Presence
We are active in over 20 cities across Africa and have regional offices in Lagos and Johannesburg to ensure that we are close to our alumni and prospective students
Innovative Events
Each year IE hosts over 60 events aimed at different educational interests in over 20 cities and 10 countries across Africa
Partnerships and collaborations
IE partners with private, public & non profit African organizations to educate & equip the next generation of global leaders
VII IE AFRICA DAY CONFERENCE
The 7th Africa Day Business Conference at IE Business School took place on Africa Day, May 25 2018.  The conference presented a unique opportunity for future business leaders to build relationships with their counterparts across the continent and afforded participants the opportunity to gain a unique perspective of trending issues on the continent. It also created an opportunity to meet and share insights with policymakers and industry leaders on the future prospect of the continent and its relations with the rest of the world.
Speakers included:
Dr. Hippolyte Fofack, Chief Economist, African Export Import Bank
Lynda Madu, Head of Corporate Services and Development, Main One Cable Company
Dr. Lance Mambondiani, Chief Executive Officer, Steward Bank
Ammin Youssouf, CEO & Founder Afrobytes
OUR FOCUS
IE through its education programs and initiatives advocates a vision of sustainable economic development and growth in Africa that is focused on promoting inclusion, fostering entrepreneurship and supporting women in business.
Women in Business
African women in business have a large role to play in the development of the continent. Providing them the necessary skills to effectively manage and scale up their business will be a critical component to tackling poverty and wealth creation across the continent.
Entrepreneurship
IE through Area 31 partners with leading African foundations to identify and offer entrepreneurship and management training to start ups and small businesses.
Financial Inclusion
IE partners with select organizations & African Multinational Corporations to support and promote innovative financial ideas aimed at revolutionizing the financial industry in Africa, thereby encouraging inclusion.
Our Initiatives
IE partners with institutions, African private, public and non profit organizations to run various initiatives and programs across Africa that promote leadership and facilitate knowledge exchange.
Regional Offices
IE West Africa Office
Located in Lagos, Nigeria the heart of the West Africa, IE's office in West Africa acts as regional hub for all activities, partnerships and programs in the region.
IE Southern Africa Office
IE launched its Southern African office in Johannesburg Africa in May 2018. The office covers 8 countries in southern Africa and is IE's hub in the region.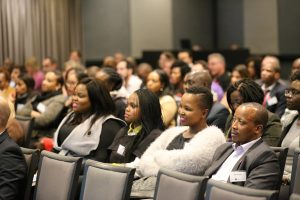 WHAT ARE THEY SAYING ABOUT US
I took the IE Executive Master in Positive Leadership Leadership, overall it was a great programme and even more relevant to the African environment with ever growing challenges of achieving development across all facets. Applying positive psychology may just facilitate a sustainable and more inclusive progress!

I had recently been appointed to the Board of Industrial & General Insurance Company and heard about this leadership development course specifically tailored for women like myself. The course balanced all aspects of being a board member including skills like personal-branding and communication skills. It fit very well into my schedule because it was a mixture of online and face-to-face classes both in Lagos and Madrid.

My experience at IE was unique, as I had the opportunity to study a "hot topic" in technology (Business Analytics and Big Data), in one of the best graduate schools in the world and at the center of one of the most vibrant cities in Europe. Joining IE is not only about attending classes and seminars, it is also about networking with classmates and professionals from all around the world, joining clubs and organizations that are connected to enterprises in your preferred industry, and creating new opportunities for yourself by developing or joining new projects that are being incubated at the Venture Lab or Area 31.
Special Events
IE organizes, supports and participates in various Africa focused activities in various countries across the continent and on campus in Madrid.