When Gustavo Petro, the newly elected President of Colombia, took office in August and outlined his new political project for Colombia, his speech included a telling and specific reference to "seek an alliance with the Arab world." It is no secret that Colombia, and the rest of Latin America, is facing a myriad of challenges and uncertainties. The crisis of the pandemic has compounded other issues affecting the region, such as inflation, inequality, and food and energy sovereignty. It was with all this in mind that President Petro referenced the Arab world, because international trade offers a lifeline for leaders looking for ways to improve the lives of their citizens.
The Arab world is a diverse, highly complex ecosystem of 22 countries that play host to roughly 5% of the world's population. It is also home to a number of international stakeholders who are key players in global geopolitics and international trade, particularly those Arab nations that are members of the regional organization known as the Gulf Cooperation Council (GCC).
The Gulf Cooperation Council is an economic success story and a case of trade integration from which Latin America could learn a great deal. The economic integration process initiated forty years ago by the young Arab member nations of the GCC (Saudi Arabia, Bahrain, United Arab Emirates, Kuwait, Oman, and Qatar) remains the only successful experiment to date in the Arab world. Its initial focus was military and security cooperation, but over the years, the GCC has expanded its remit to include economic affairs too, building an economic bloc whose Gross Domestic Product (GDP) currently powers in at around US$ 1.6 trillion.
Since the Council's inception in May 1981, the GCC countries have taken steps to strengthen their economic, cultural, and political cooperation with each other. This has led the Kingdom of Bahrain, Kuwait, the Sultanate of Oman, Qatar, the Kingdom of Saudi Arabia, and the United Arab Emirates to build a project that is committed to economic growth and stability in the region, and has given them a leading role beyond their regional borders, giving the bloc its own powerful voice.
But, why is this region strategic for Latin America? There are two main reasons. First, it is an example of an economic union of countries that share the same language, culture, and socioeconomic realities – though we must not ignore its local conflict, political differences, and regional rivalry. This environment should sound very familiar to Latin America. Secondly, it is one of the regions which is expected to grow the most in the coming years and there is tremendous room for improvement in economic relations between the two blocs.
The sustained growth of the GCC economies is largely due, of course, to their role as global oil and gas producers. However, direct dependence on fossil fuels has declined since the 1990s. This downward trend, which continues to this day, has been consolidated due to the economic transformations of recent years, growing concerns about the environment, fluctuating oil and gas prices and shifting international dynamics. This has led GCC countries to implement reforms geared towards diversifying their economies and reducing their dependence on hydrocarbons.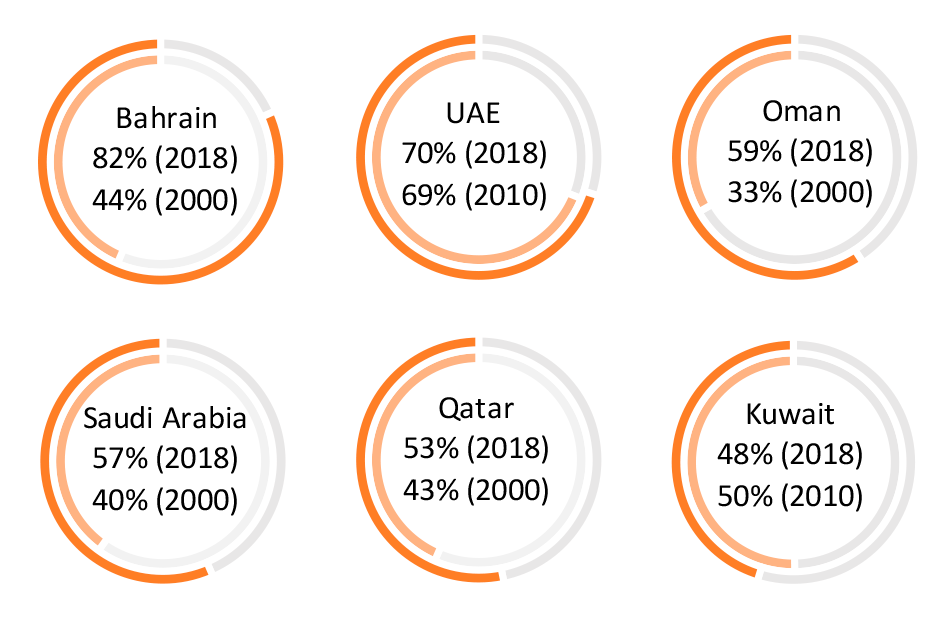 Graph 1: GDP percentage of non-oil-related sectors in Gulf Cooperation Council countries | Source: World Bank (2019).
Likewise, the GCC is a region that is open to the world, with a huge capacity for investment and a host of sectors that are investor friendly. The GCC ranks as one of the world's major economic blocs in the exchange of goods and services. The strength of its economies has fostered the development of an extensive trade and investment agreement network with the world's main markets, where Latin America should play a greater role.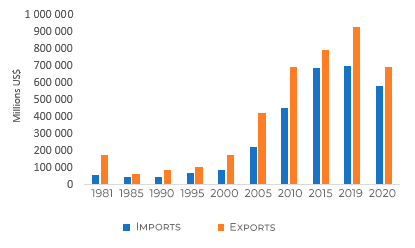 Graph 2: Gulf Cooperation Council trade with the rest of the world (1981-2020) | Source: World Trade Organization (2021).
If there are two specific countries or markets where Latin American governments and companies should focus their attention, it is Saudi Arabia and then the United Arab Emirates, the latter of which has been a model for dynamic, diversified trade for decades. These are currently the most attractive markets in the Arab region.
Saudi Arabia and the UAE are the two largest economies in terms of GDP and population, together accounting for 73% of the GCC's gross domestic product and 76% of its population. This economic leadership stems largely from superior oil and gas production and greater economic diversification compared to its other partners. Moreover, Saudi Arabia is forecast to grow by around 7.5% this year, according to the available macroeconomic data and based on the current geopolitical situation that is favorable to its interests.
Finally, the sector that offers the greatest potential for Latin America is agri-food. The foreign dependence of GCC countries on food imports is extremely high, as they buy in around 80% of the food they need from abroad. Other rapidly developing sectors in the region include tourism, textiles, sports, education, health, infrastructure, and defense, which should also be taken into account. Additionally, financial services, including fintech, seem to be undergoing the greatest development in Latin America. This is of enormous interest to the GCC.
The overall engagement between the two regions is relatively low, that is a fact. But the opportunities are huge. Increasing trade as well as investment flows with the formalization of trade agreements – if not between regional blocs then between countries in the two regions – may provide a framework for collaboration that enhances an already complementary relationship between the GCC and Latin America.
Access to international markets is particularly important in the Latin American context. The region is a leading global exporter of pulp, metals, meat, and a host of agricultural commodities. As companies around the world aim to diversify their supplier base, Latin American companies are positioning themselves as the ideal alternative, particularly in sectors that are poised for growth and in which the region has a competitive advantage.
There is an untapped opportunity for knowledge exchange between the two regions. The GCC countries are known for their infrastructure development and thus, ultimately, for the creation of advanced and modern societies in a very short period.
Perhaps Latin American countries might benefit from a larger presence in the GCC region, driven by more active communication efforts – this could help in terms of foreign direct investment (FDI). At present, the disparity is evident. The total GCC investment into Latin America between 2016 and 2021 at US$4bn, of which 77% was sourced from the UAE, 22% from Saudi Arabia, and 1% from Qatar. FDI from Latin America into the GCC was much smaller, estimated at less than US$500m between 2017 and 2021, with 85% sourced from Brazil and 13% from Argentina.
The impact of the pandemic has been profound in the Latin American region, this is undeniable. However, these countries must find ways to further diversify their exports and increase inward foreign investment. This is where success lies. Perhaps the words of President Petro are a harbinger of improvement in relations between the two regions. Let's hope so. InshAllah.
© IE Insights.