Have you ever wanted to learn more about Chinese New Year and the history behind the celebrations and traditions? Now's your chance!
4
min read
The concept of celebrating a new year has been around for over four million years. But did you know that there are more than 26 ways and dates for ringing in the annual occasion across the world?
One of them is the Chinese New Year, or Spring Festival, and it's observed by over 20% of the world's population. Rather than celebrating on a set date like with the Gregorian calendar, the Spring Festival follows the Lunar Calendar and generally falls on the first day of the first lunar month, between January 21st and February 21st.
What's your zodiac sign?
Every year on the Lunar Calendar is named after one of 12 animals. This tradition comes from the legend of the Heavenly Gate Race, where the heavenly Jade Emperor divided time into cycles of 12 years, with each cycle being guarded by a different animal.
2022 is the Year of the Tiger, an animal that represents strength and bravery. And this year, the Lunar New Year celebrations will start on February 1st.
You can calculate your Chinese zodiac sign by using your birth year. But, if you were born in January or February, make sure to pay close attention to when Chinese New Year fell that year!
The IE China Club
At IE University, we're immensely proud of the diverse community that we've built over the years since our founding in 1973. In fact, Campus Life and our different student-led clubs host a number of events in celebration of the many cultures that make up our community.
One of these clubs is the IE China Club, comprising almost 500 students and alumni. The club is open to members from the Greater China Region, and also anyone else who's interested in pursuing a career in the Chinese market, or learning more about the region's culture!
In order to celebrate the Year of the Tiger, the IE China Club Madrid Chapter has organized a Chinese New Year event on February 3rd, between 4 and 6 p.m. This initiative is powered by IE Foundation and Campus Life, and will take place for the first time ever at the IE Tower!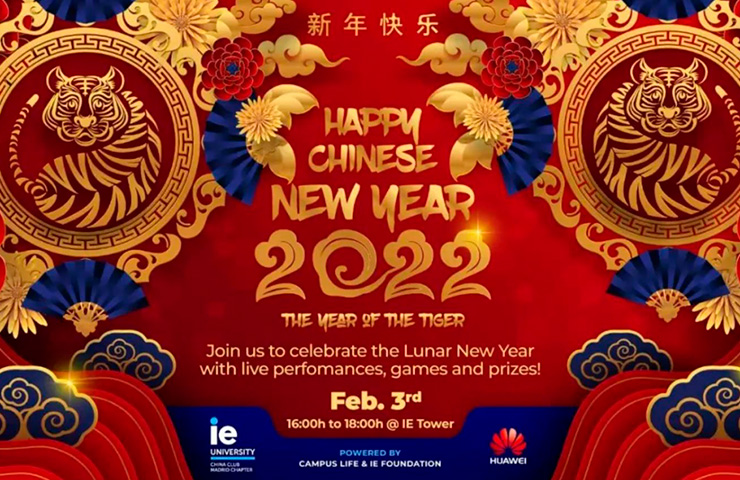 In order to celebrate the Year of the Tiger, the IE China Club Madrid Chapter has organized a Chinese New Year event on February 3rd.
This initiative will take place for the first time ever at the IE Tower, and it will be held between 4 and 6 p.m.
What events are in store?
The event will be opened by Mr. Wu Haitao, Chinese Ambassador for Spain; Santiago Íñiguez, President of IE University; and Tingrui Zhang, President of IE China Club. Tingrui has led the IE China Club since June 2021, so this will be his first time hosting the celebrations!
Once the opening remarks are completed, we'll dive into the following traditional activities. Heads up, some of them have prizes to win!
A dance of agility and strength
The Chinese Lion dance is a traditional dance that is usually performed by two dancers on momentous occasions. Its purpose is to bring good luck and fortune, banish evil spirits and convey wisdom and power.
Martial arts
Another popular tradition is a Wushu (otherwise known as Kung Fu) performance, which is high energy and acrobatic in style.
Calligraphy
During the Spring Festival period, it's customary to write a wish, or specifically the letter 福, in calligraphy and hang it on your front door.
Another tradition is to present friends and family with a red envelope filled with money, good wishes and luck for the coming year. Otherwise known as 紅包, hóngbāo, this is one of the most ancient customs that's still celebrated during the festivities today. Hóngbāo comes from the legend of Sui, a demon who terrorizes children at night each Chinese New Year's Eve. The money inside the envelope is supposed to chase Sui away, and the tradition still lives on.
Fortune telling
This ancient tradition is still very popular in China, and it's known as suanming (算命) in Mandarin. Fortune tellers tend to use a variety of techniques, which include analyzing the date and time when you were born, shaking qian sticks, looking at astrology, and reading facial features and palms. What's more, people ask their fortune tellers a wide range of questions—advice about name changes, career- and finance-related doubts, well-being queries and help with matchmaking are all common.
Jianzi game
Otherwise known as "shuttlecock," this game is centuries old and can be enjoyed just about anywhere. You can play alone or in a group, all you need to do is keep the shuttlecock in the air with your feet. It's not as simple as it sounds—there are more techniques than you'd think!
Sugar painting
This crafty tradition dates back to the Ming dynasty and involves carefully pouring hot, liquid sugar onto a surface. The design is then peeled off the marble or metal surface and can be used as decoration. In fact, sugar painting is such an integral part of Chinese culture that the government listed it as Provincial Intangible Cultural Heritage.
If you're interested in joining us for this year's Chinese New Year celebration, feel free to register online. And keep an eye out for future events organized by the IE China Club Madrid Chapter!
Happy Chinese New Year, or in other words, Xīn Nián Kuài Lè!