Thanks to our partnerships with world-leading organizations, master's students are able to apply their academic knowledge to real-life scenarios in exciting, hands-on experiences abroad.
4
min read
At IE University, we provide students with exclusive, international experiences, empowering them to apply their academic learning to real-world situations. Many of our master's programs offer dynamic exchanges and visits to eye-opening global innovation hubs. Featuring talks and workshops with world-leading sector experts, these international experiences allow students to realize their potential—both academically and professionally. What's more, students are able to expand their professional networks and make lifelong connections with the most important companies and multinational organizations in their industries.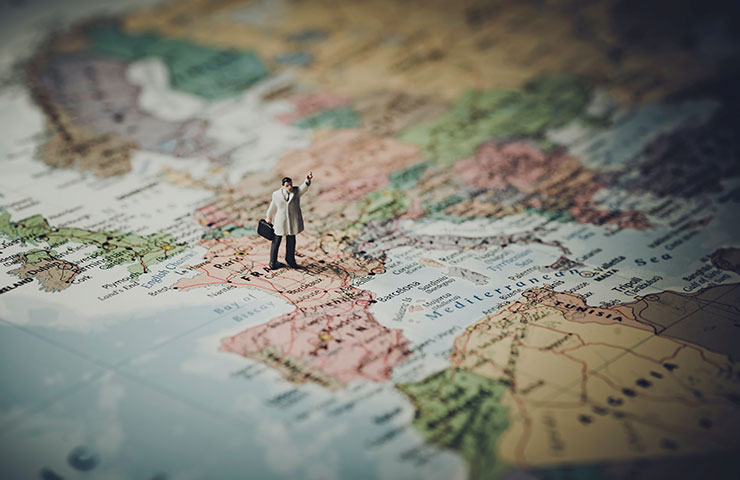 There are countless international experiences that master's students can take part in. Below, we outline some of the most exciting on offer.
Master in Management – Global Immersion Week
Master in Management students are trained to respond to an evolving global landscape—and the Global Immersion Week is a high-impact example of this. Students can elect to visit international innovation hubs such as Shanghai, Berlin, San Francisco and Johannesburg. While there, they discover what it means to run a global business while better understanding local practices.
With expert-led sessions and lectures, students cement their academic training by gaining in-depth insight into challenges businesses are facing. They also have the unique opportunity to visit industry-leading companies such as Uber Eats, Paypal and BMW. What's more, through interactions with highly impactful managers, participants will build a door-opening professional network and discover how to lead organizations through high-pressure commercial challenges.
During the 2018 Global Immersion Week, Anna Marmyleva joined other Master in Management students in Silicon Valley. Curious to discover the secret to success of tech companies and startups, Anna joined a group of students on an immersive trip to this global tech hub. Visiting influential organizations such as Google, Facebook and Tesla—as well as newer incumbents like Forward and Zendesk—the team discussed the latest tech trends with accelerators, VCs and managers. Speaking of the trip, Anna reflected that, "We truly dived into an exciting environment of creativity and innovation, where ideas become reality and investments are paid off."
Global Master in Real Estate Development – Explore innovative urban environments
Studying the Global Master in Real Estate Development means diving into urban architecture and the sustainability and innovation models transforming real estate. From Madrid to London to vibrant Mexico City, participants are immersed in evolving, cutting-edge real-estate landscapes. In each ecosystem, students meet with up-and-coming entrepreneurs and innovators, and discover new investment approaches, tech solutions and public and private partnerships.
Global Master in Real Estate Development students also get the opportunity to participate in Europe's largest event for sustainable cities: the Urban Future Global Conference (UGFC). The event brings together passionate urban developers from around the world, who debate and share knowledge on sustainable and smart cities. Students have the unique opportunity to attend the UFGC, placing them in the same room as the leading decision-makers, politicians, scientists, private companies and NGOs driving urban development.
Master in International Relations – Fieldwork visit to Brussels
Designed in partnership with the Organization for Economic Cooperation and Development (OECD), this master's program combines academic expertise with an internationally renowned multilateral organization. Students are empowered to contextualize their learning with a week-long fieldwork visit to Brussels, alongside the opportunity to visit the OECD headquarters in Paris. The group is able to learn firsthand from the key regional and global players in international relations, including both the public and the private spheres. With unrivaled insights into principal issues impacting global policymaking and international business, they can discover how public and private players come together to shape global policy trends.
During their Brussels trip, the class of 2019 visited the headquarters of the EU Commission and Parliament. This was further complemented by trips to European Political Strategy Centre, the North Atlantic Treaty Organization (NATO), the American Chamber of Commerce, Uber and the economic think-tank Bruegel. With access to such incredible organizations, participants were able to experience how the concepts and methodologies they learned in the classroom are applied to high-pressure situations.
Executive Master in Digital Transformation & Innovation Leadership – Global residential periods
Innovation is no longer a choice, but a necessity. As global events and changing market trends push transformation higher and higher up the commercial agenda, businesses must innovate and adapt to ensure their organizations thrive. During the Executive Master in Digital Transformation & Innovation Leadership program, ambitious mid- and senior-level professionals spend three residential periods in cosmopolitan Madrid and one in innovative Shanghai.
Diving into Agile, Lean and Design Thinking methodologies, participants interact with top executives who are fluent in digital transformation and innovation leadership. What's more, they visit industry leading companies to experience firsthand how digital transformation projects take place. These residential periods empower participants to apply the knowledge they acquire throughout the program, and learn from real-life innovators and practitioners as they expand and develop their business' capabilities.
Why wait until you graduate to put your training into action? At IE University, we incorporate immersive international experiences into our world-leading master's programs to enhance our students' education.
Through hands-on, interactive excursions at leading organizations and institutions, our students graduate with the experience and professional networks they need to make a global impact.