Sustainability is serious, but we can have fun with it as well. We've been exploring the connection between sustainability and the humanities, and turning the IE Tower into an exhibit space in the process.
4
min read
If you've walked around the IE Tower recently, you may have noticed that it's been converted into something of an art gallery. That's because the IE Arts & Humanities Division has collaborated with the Thyssen-Bornemisza Museum for IE Sustainability Week, which took place from November 2–5.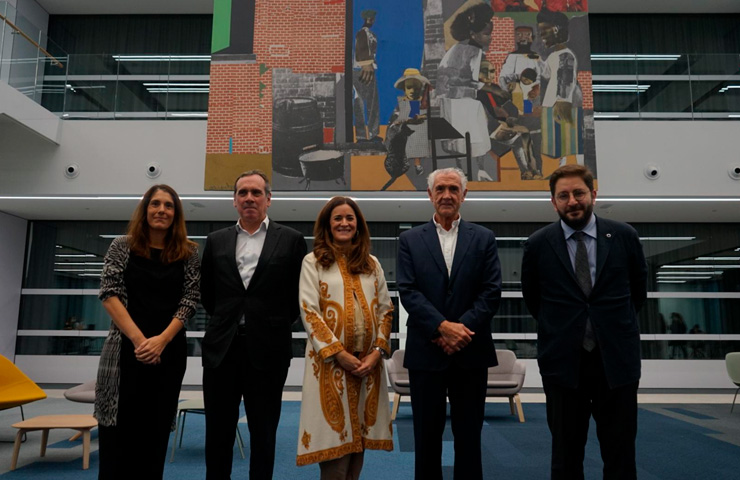 As part of the initiative, we hung five large-scale painting reproductions across the IE Tower and the IE University Segovia Campus.
Not only are they printed on recyclable materials, but each one represents an aspect of sustainability. Read on to find out more!
1. The Grand Canal from San Vio, Venice, by Giovanni Antonio Canal (Canaletto), 1723
When looking at Canaletto's painting, it's hard not to notice that today's Venice looks a little different from the way it did in 1723. But one thing remains constant: the Floating City has always been a tourist hotspot.
The Grand Canal from San Vio, Venice is what's called a "view" or a "veduta" painting—the perfect souvenir for a visitor to treasure after their trip.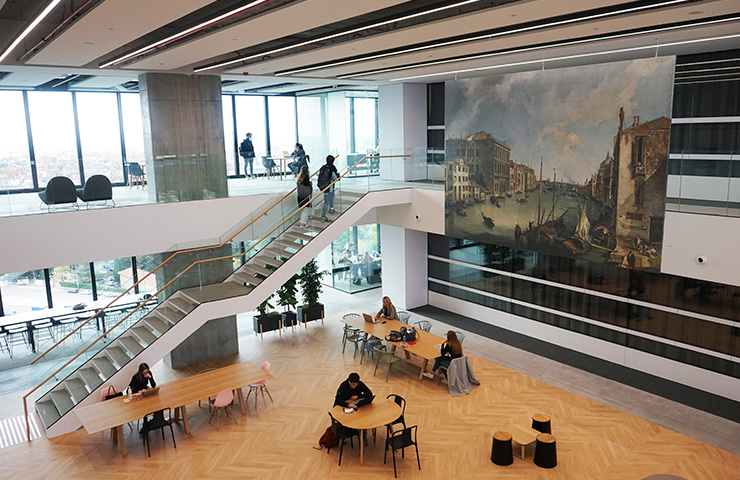 Three centuries, thousands of cruise ships and millions of visitors later, and we're watching Venice sink before our very eyes. It's predicted that the city will be underwater in just a few years, as a direct consequence of mass tourism and global warming. If we want to restore the city to the way it looked in Canaletto's painting, we have to work together on resource management and sustainable solutions to mass consumption.
Read about the importance of sustainability at IE University
2. Simultaneous Contrasts, by Sonia Delaunay, 1913
One of the key pillars of sustainability is the social— otherwise known as the "people"— pillar, which has a direct link with the humanities. Simultaneous Contrasts is just one of the successful pieces of artwork which Sonia Delaunay created to support her family. Despite being a pioneering artist, Sonia was never given proper recognition among her peers. Her work is symbolic of the fight for gender equality that still persists today.
In fact, gender equality is goal number five of the Sustainable Development Goals established by the UN. Education is one important way to work towards eliminating gender inequality. At IE University, women comprise 39% of our full-time faculty and 69% of all staff. You can find out the percentage of female students in each master's program by checking out the corresponding program's website.
Learn about the IE Women Initiative here
3. The Stevedores in Arles, by Vincent Van Gogh, 1888
This painting is the third in a three-part series created by Van Gogh during his time in Arles, southern France. It's inspired by Japanese art, and depicts workmen unloading coal onto the Rhône from a boat.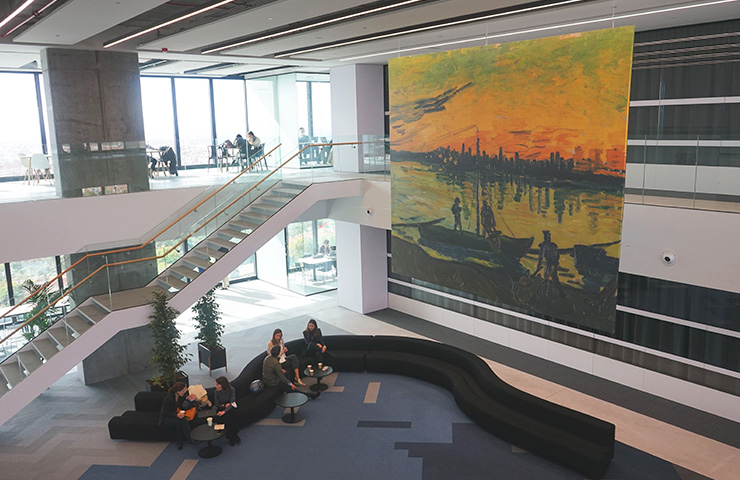 The Stevedores in Arles highlights the topic of energy sources, and how some things never change.
The Rhône is still an important route for energy sources: in fact, it carries water to the dams that produce 20% of France's hydroelectric output.
One of our sustainability objectives at IE University is to reduce greenhouse gas emissions to zero by the year 2030. Not only do we carry out environmentally friendly practices on campus, such as reducing energy consumption from lighting and air conditioning, but we also strive to reduce our carbon footprint.
Read about our 10-year Challenge that we launched in 2020
4. The Flight into Egypt, by Claude Lorraine, 1635
This pastoral landscape painting takes us back to a time when humans lived at one with nature. The painting shows an idyllic natural setting, and if you look closely, you can see ruins of an ancient temple, as well as a bridge. This was before climate change became a threat as a direct result of the way that we treat our planet.
At IE University, we're conscious of the environment and our impact on it. With that in mind, on April 19, 2021, we collaborated with the ®Forest Project and City Hall to plant trees in the Parque de La Ventilla, a park near the IE Tower. We started with 80 trees, and plan to reach 625 by the end of the initiative.
Find out more about being sustainable at IE University
5. Sunday After Sermon, by Romare Bearden, 1969
Our fifth and final art piece is a collage that depicts the merging of western culture and African American social practices in New York.
It represents two causes that are very important for IE University—diversity and social inclusion.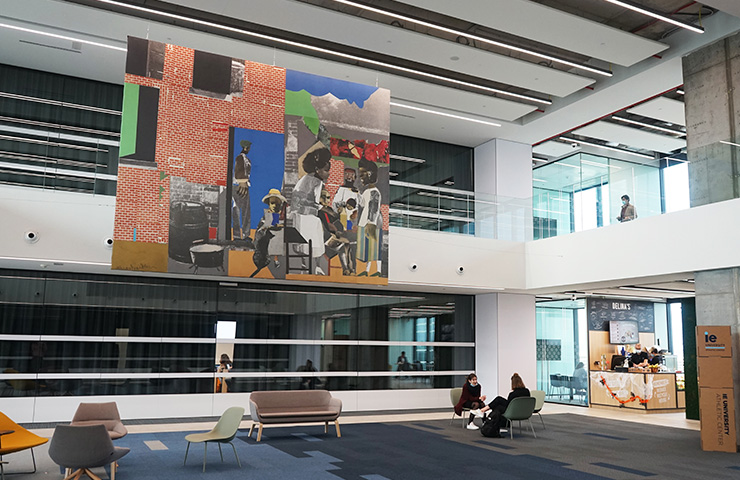 We strive to promote equal opportunity at IE University. Not only do we welcome over 140 nationalities onto campus every year, but we carry out a range of social and diversity initiatives that drive positive change across our community.
Check out the social impact initiatives that you can take part in