Marketing, communications and sales is a huge sector, so it can be difficult to see where your skill set might best fit in. Here's a breakdown of our MARCOM programs and the kind of candidates they're designed for.
4
min read
You may be sure that you want to work in marketing, communications, or sales, but it can be difficult to identify the best next steps—or even which options are out there. How might a master's degree in one of these areas help shape your professional career?
It's a field that is constantly evolving, so it's important to keep on top of the trends and stay relevant. IE University constantly updates the content and structure of these programs to make sure you are among the most qualified professionals out there.
What programs are available in this pathway, and how are they different?
No matter which degree you choose, rest assured you'll get fundamental business training and an international perspective. You will graduate as a well-rounded professional with specialized skills to maximize the value you can offer throughout your career.
The programs are:
– Master in Creative Direction, Content and Branding (MDCB)
– Master in Strategic Marketing & Communication (MSMC)
– Master in Digital Marketing & Analytics (MDGA)
– Master in Market Research and Consumer Behavior (MRCB)
– Master in Customer Experience and Innovation (MXCI)
There is certainly overlap between the content of each program, but in the end they cater to slightly different professional profiles, or personas. Our programs are grouped around three core skill sets: People & Influence (MSMC, MXCI, MRCB), Analyzing & Explaining (MCRB, MDGA), or Creating & Developing (MDCB, MXCI). While the scope and possibilities of each program are incredibly broad, here's a snapshot of the differences between them.
More technical types might be inclined towards the MRCB, where they'll utilize their research and data analysis skills in combination with psychology studies to draw business conclusions. Designers and artists with a flair for marketing may be drawn to the MDCB, where they bridge the gap between creativity and management. This option might also be a good fit for those that have business backgrounds and want to move into a creative field.
The MSMC helps build B2B, B2C and internal communication skills, which are key for success in multinational corporate endeavors. In the MDGA, you get an in-depth look at the best tools, techniques and omnichannel strategies for modern-day digital marketing campaigns, and the MCXI provides a future-forward training in driving customer experience innovation across products, services, organizations and businesses.
What is the day-to-day of the program like?
Classes are face-to-face Monday through Friday, with a focus on teamwork and practicality.
As Blanca Del Cuvillo, Senior Global Recruitment Manager at IE University, shares: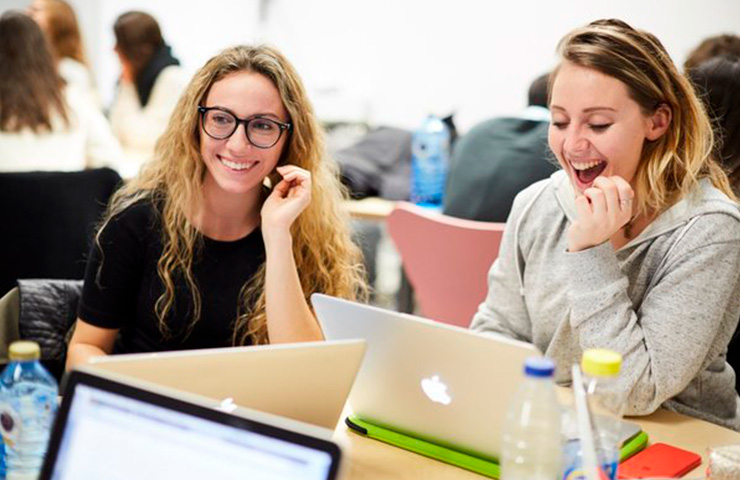 "Something that is transversal to all of our programs is that they are very hands-on, and take a uniquely practical approach."
This extends to collaborations with top companies and program professors, all expert practitioners who apply their real-life knowledge to their teaching. As a student, you get to implement the skills you are learning from day one.
For example, students from the MDGA program work with a top technology company for an intensive 1-week workshop where they develop and present solutions to real business problems, in the past, for example, they have worked with Amazon Web Services. MRCB students collaborate with Neilsen, and MSMC students can work with multiple companies depending on their area of interest, such as Adidas, Cartier, or Unilever.
Program content also prepares students to gain certifications from major tech companies like Amazon and Google, which are highly valued by many different companies. Whatever your objective, a range of expertly designed subjects across all MARCOM programs means you'll get the specialist training and knowledge you need.
Where do alumni from each program usually work?
Sometimes, students land positions at the same companies where they performed their final project, thanks to their applicable skills and internal connections. Common companies that recruit from these programs are Tik-tok, Netflix, Amazon, Nielsen, Unilever, Nike, and Ogilvy.
Graduates from these programs work in a variety of industries, commonly as brand managers or project managers.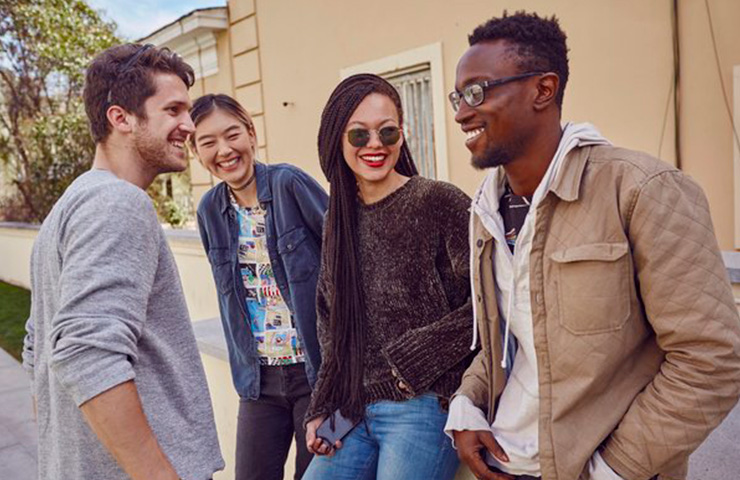 Some degrees, like the MXCI or MSMC, also prepare students well for careers in account management, sales, or human resources. MDGA graduates frequently find opportunities in business development as digital marketing specialists and digital communication consultants, whereas MDCB graduates may aim for titles such as creative directors, content production or brand specialists.
The IE Talent & Careers department is well prepared to identify and support students along their career path. They host multiple talent forums and speaker series on campus, and they also offer personalized services and coaching sessions to help students clarify the possibilities ahead of them.
What's the best way to make a decision?
First of all, remember you can always talk with the recruitment team, students and alumni, or academic directors of each program to learn more about it.
It's normal not to know exactly what your goals are, but these programs can help you develop new skills and narrow down your options. Each individual joins with completely different previous experiences, and there's no one-size-fits-all rule to choosing a program.
Therefore, Blanca likes to answer this question with a question. Before you make your decision, identify what you most enjoy doing in your day-to-day life. If you're looking for an effective way to do this, we've got you covered with our 10-question program quiz to get the ball rolling. After all, it's only once you understand your main interests that you can play to your strengths—and to your passions.