The IE University ecosystem derives its strength from its international character, outlook and philosophy. With offices all over the world, and students from over 130 countries, it's a truly global place to be.
4
min read
Studying a master's degree at IE University is a genuinely international experience. It's not simply that you will be learning from a faculty of sector leaders from all over the world. Or that your peers could hail from any part of the globe. The structure, outlook and approach of the institution itself is deliberately international and diverse. You will come to IE University to learn—you will leave transformed.
IE University's international offices
Our international offices can be found on every continent, minus Antarctica. With over 30 offices in total, our students are ensured the help they need before, during and even after they study with us. You can find out about all of the IE University programs at any one of these international bases. Additionally, you can discover what makes an ideal candidate for each program, or receive extra support during the admissions process.
And the personalized advice goes beyond just your application to IE University. Help is at hand for questions about visas and traveling, financial aid and settling into Spain, if necessary. Whatever you need, our international offices are there to guide you as you embark on your life-enriching IE University experience.
It's important to note that even if you can't get to an office in person, you can still seek assistance. Our international team of representatives are available for live chats online. They can answer specific questions about individual programs, or general questions for anybody who wants to find out more.
After graduation, the offices continue to play an important role in helping students on their chosen career path. Across all our locations, we host a total of 5,000 events each year. Whether through these networking activities, lifelong learning opportunities or job placements, the offices are hubs of professional progression in regional corporate or startup ecosystems.
Incredibly diverse student body and faculty
Three quarters of our students come from outside of Spain. They represent over 130 nationalities and speak over 45 languages. The student-centered approach to education at IE University makes for a supportive community that truly values what makes each individual unique.
Different perspectives, different approaches and different solutions are combined in every program so that our students all learn from each other as much as from the faculty. Eyes and minds are opened, horizons are broadened and the overall experience is enriched by this diversity which is as much a key element of the educational philosophy at IE University as the curriculums of the programs themselves.
During their time with us, students build an international network of friends and contacts that will carry the value of their IE University experience far beyond their studies, and into their future careers. The IE Community is truly global and it lasts a lifetime—once you join, you'll become part of an international network of over 66,000 alumni worldwide.
Our faculty, too, is exceedingly diverse. It's made up of over 500 professors who are at the top of their respective fields. In addition to their teaching responsibilities, they're real-world practitioners who are committed to carrying out research and adapting the program material to keep up with changes in their sectors. What's more, each one of them shares our values, our entrepreneurial spirit and our international outlook.
Global partnerships
IE University has agreements in place with over 160 of the world's most prestigious universities across over 50 countries. These include Yale, Bocconi University and the National University of Singapore, to name a few. Many of our programs feature a period of study at a partner institution. In the Master in International Relations, for example, students can enhance their profile by completing an exchange with renowned partners like the University of St. Gallen, the University of Pittsburgh or Sciences Po.
The global nature of IE University programs is also reflected in the alliances forged with leading worldwide institutions, such as the United Nations System Staff College, allowing us to embed students in real-life situations as part of their program. The same goes for the Master in International Development, which provides direct exposure to the inner workings of a truly global organization through a week-long immersive experience in a United Nations operation.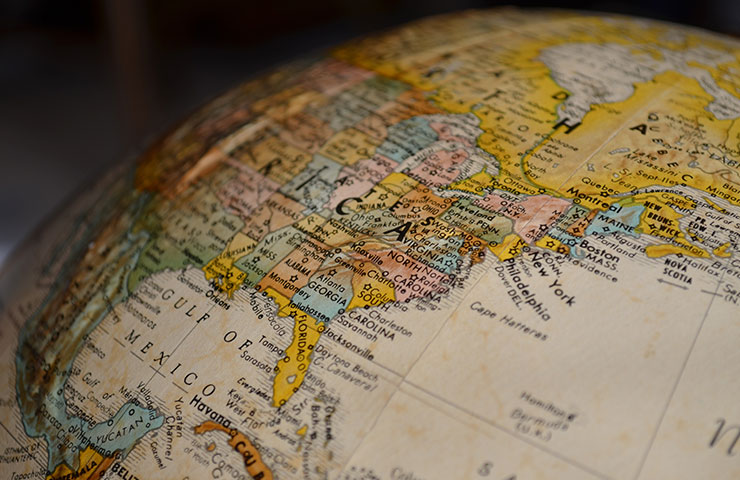 The global network of diverse, highly reputable partners and collaborators built by IE University reaches around the globe to offer exclusive international learning experiences, unparalleled network-building opportunities and real-life insights at the very highest levels of business and beyond.
Embedded in the fabric of IE University
Every aspect of life at IE University is diverse and unique. We think this makes for a deeper, richer, more complete educational experience, and our students agree with us. According to Valentín Gómez-Iglesias, a Master in Corporate & Marketing Communications alum, at IE University "diversity is not only about nationality, it's also about backgrounds. Seeing reality from different perspectives just gives you a more holistic, 360º point of view."
And this international vibe isn't just a coincidence. It's part of the holistic ecosystem that's been carefully fostered and strengthened ever since our founding year. It forms a key part of the learning experience both inside and outside of the classroom. Most importantly, it has generated an eclectic network of international alumni that will benefit from a lifetime of personal and professional connections.